"A few days ago in Hong Kong, students went down the streets and they're protesting against the Chinese government's recent decision to undermine Hong Kong's democracy by stating that the candidates that [the Hong Kongese] would vote on in 2017 must be approved by Beijing, prior to election," said Michael Law to me at the solidarity event that took place at McGill University last Wednesday on October 1.
Law was one of the people who arranged the said solidarity event, which was the first one to be held in Montreal. All around the globe, other Hongkongers who are living abroad are organizing similar events to show their solidarity with what is happening back home.
"We're staging rallies to show that we are in solidarity with the students and protesters in Hong Kong. We're allies of democracy and human rights," Law added.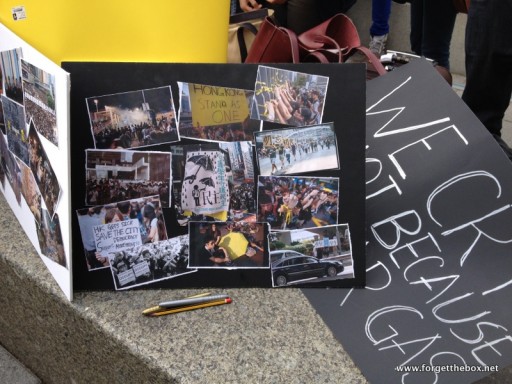 Alex Liu, the North American representative of the Black Island Nation Youth Front — one of the leading student protest groups and advocates for democracy, human rights and political transparency — was also present in the crowd.
"The fact that the government is above the law is unacceptable; this is best demonstrated by the excessive violence the Beijing-appointed government has used against its own people. Peaceful protestors have been subjected to tear gas, water guns and the government now even threatens to use military forces against the protesters," Liu said. (Alex Liu's full speech can be found here.)
The fear of having to face the Chinese military is real. Hui Peng, who is from mainland China, expressed that what is happening in Hong Kong is similar to what happened in China 25 years ago, at Tiananmen Square. Yet he still expresses hope.
"There are some things that are familiar, and some that are different. This time, the people there, they are more disciplined. They know that they are not going to fight and they peacefully argue for their rights. I think there is hope. And what we can do is to urge the government to talk with the people, with the students, to work out a solution to what's now happening in Hong Kong," he said.
The Chinese government has declared the peaceful protests illegal, and Chinese media has claimed that these events have been organized by foreign powers to upset the political stability of the country. Yesterday, however, things escalated. Anti-Occupy mobs started attacking the demonstrators, while the police stood by and watched.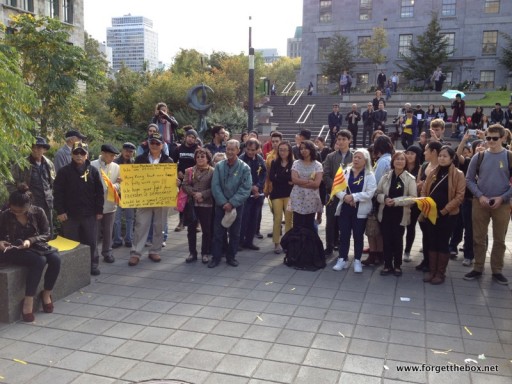 Yet what we say here does not matter too much. What we need to hear is the voices of those who are fighting for democracy, those who are fighting for their rights. Below you will be able to read the raw words of students who are currently in Hong Kong.
Joei Chan
"I've always identified myself as a Hongkonger, and whenever asked the question why we consider Hong Kong different from China, I proudly explained how we enjoy a high degree of autonomy, have different governments, different legal systems and most of all, we enjoy freedom of speech, freedom of press, freedom to use the Internet and freedom of demonstration and assembly. None of those claims, unfortunately, seems to hold true anymore. Hong Kong is my home. It is, however, ceasing to be the home I've loved, known and recognized.
Many question the effectiveness of OccupyCentral and laugh off people who expect to change China's mind as 'naïve'. But I cannot be more impressed by how posts after posts regarding the protests have flooded my newsfeed and Whatsapp since yesterday, and that even the most politically apathetic of us are provoked to speak up in face of appalling, heartbreaking injustice.
The certainty of death doesn't prevent us from living. The unlikelihood of victory shouldn't prevent us from fighting."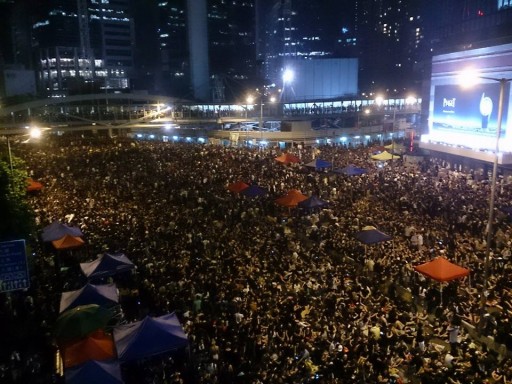 Edwin Cheung
"The biggest challenge of participating in the Umbrella Revolution is never the tear gases or the police, but your parents who don't support it. When you think you are doing the right thing for the future of Hong Kong, they don't appreciate and even do or say anything to make you stay home. I hope all Hongkongese should understand what is happening in Hong Kong and why Umbrella Revolution is necessary."
Ken Lee
"Hong Kong had changed a lot since 1997, the return of sovereignty to China. The mainlanders (China residents) keep flooding in, affecting our daily life. I think this time, Hongkongers had enough. Everything we had — justice, freedom of speech — became nothing but just a word. This time, the government has pushed too far by using excessive force against unarmed students/protesters.
I feel really sad and disappointed seeing Hong Kong's government become like this: ignoring citizens' voice."
Bridget Clancey
"I am a supporter of universal suffrage and for real democracy in Hong Kong. Students came out last week beginning with the boycott of classes to make a point to the government that we care very much about what is happening, and also it is a very good opportunity for us students to learn about what really is happening in Hong Kong. This is due to the fact that actually HK students and citizens weren't really politically aware before.
As the Occupy Central movement started Sunday night, a lot of people criticized that the organizers took advantage of students' innocence, but actually we cannot disagree more. We have our independent minds to analyze what is happening at the moment, we know that illegally occupying roads is risky as we might be caught, yet we continued because we know that if something wasn't done now, we would regret it in the future when it's too late to change.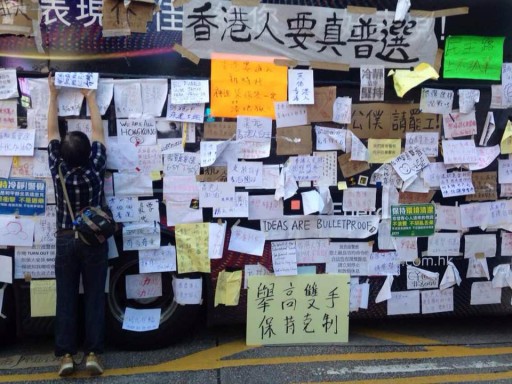 As for violence used by the police, I just had a change of opinions. Before yesterday, although I've also witnessed how heartless policemen could be by exercising violence, but I would say that they also have their orders, that even when some of them were inhumane by purposely removing their goggles and spraying pepper spray right into people's eyes; even when I didn't agree with what they did, I sort of understood what was going through their minds. But after two incidents, I couldn't help but feel hopeless about the atmosphere in Hong Kong.
The first incident was on Sunday, right before the series of tear gas was used. As I was leaving (I'd heard it would be dangerous), I saw a group of policemen, all geared up with weapons, protection and half of them had long guns loaded with rubber bullets.
At that moment, I could imagine what could have brought the police to have decided in using such violent measures. What were they planning to do? Did they really think they could chase away the 40,000 people a kilometer ahead of them?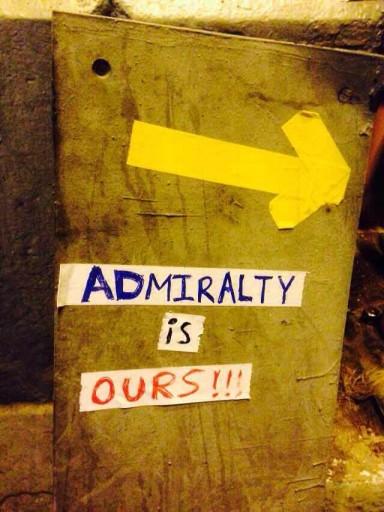 And then this girl came up to the group of policemen. She was a student. She walked right up the them and asked several times why they planned to use violent measures. She begged them not to go on ahead 'cause there were many students, as a lot of participants were students. She cried and begged and tried to stop the policemen with words. However, after a couple of minutes, they simply ignored her and after the command was given by the head police, they ran forward.
At that moment, the only thing that came to my mind was what happened in June, when that one single man stood in front of a whole train of tanks. That girl was so brave, yet it must be so terrifying to be in her shoes, she was so powerful yet so weak. The moment the police ran forward into the the direction where the crowd was running down from where they were, it seems very much like a battle field to me. I didn't understand how the police could continue hitting people or using tear gas when we have nothing to use really to defend ourselves. And we weren't violent, we didn't even have weapons, as we had all along stressed that we are peacefully occupying the roads and wouldn't do it by force.
The second incident was what happened yesterday (it's Saturday morning here now). In short, the opposing group came to make trouble, hitting people and sexually harassing girls of our side. The police condemned us, not them. We did nothing wrong. We were the victims yet the police had ' joined forces' with the other side, which was pro-China, and didn't act like a policeman should. There are many examples from yesterday of police catching the persons making trouble and then secretly letting them go at the corner of the street. How is this justice? Who can we depend on now?
Though all this is heartbreaking, I try to pull myself together, because these are the times when they want to break us, but we would stand strong in demanding what we want. If we don't start now, if we give up now, I really don't see when we could have the opportunity to demand for universal suffrage again."
Photos by Cem Ertekin, unless stated otherwise.