Canadian Icon Sarah Polley's directorial debut Away from Her is a beautiful and heartbreaking story of love and loss.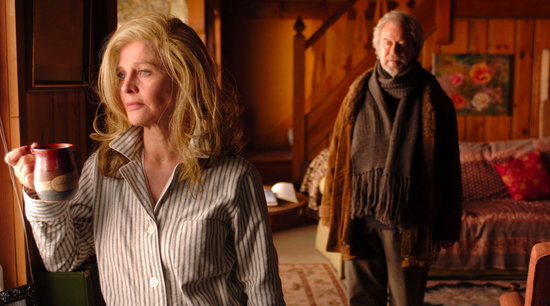 AWAY FROM HER (2006)
Starring Julie Christie and Gordon Pinsent
Written and Directed by Sarah Polley
Distributed by Capri Releasing and Mongrel Media
110 minutes
I admit I see allot of romantic comedies.   Usually it's to appeal to my mother, but I can't deny that I occasionally get wrapped up in the fantasy of the happy Hollywood ending.   A relationship with two young, lovably neurotic characters in fabulous outfits who always seem to work it out is fun to dream of. Away from Her is a sentimental but realistic story that shows that to make love work, you can't just show up at the airport at the last minute.
Romantic dramas, of course, aren't immune to their problems as well, the most obvious being they can easily fall into melodrama.   While they've had their share of drama there's nothing melodramatic about married couple Grant (Pinsent) and Fiona (Christie) living out their retirement in a fabulous country cabin, the pair is just as in love in their sixties as they were when they met as teenagers.
If her future films are as strong as this, Sarah Polley will become a brilliant director as well as talented actress.   She's shot a beautiful looking film, which unfortunately, because of tight budgets, is rare for Canada.   While I would be happy with a whole film devoted to watching the gorgeous Julie Christie and Gordon Pinsent go skiing on their country lake, I understand there needs to be a thing called plot.
Sadly the plot of this film centers on how after 50 years of being together, Fiona is diagnosed with Alzheimer's.     Most relationships end because you make the decision not to be together or the person dies.   This film asks the question how do you live when the person you love the most can't remember you?
Julie Christie got all of the attention for her performance when this film came out, along with Polley for best screenplay earning an Oscar nomination.   While there's no doubt that it's a great performance, for me the real shining star of this film is true blue Canuck Gordon Pinsent.
When Grant confides in head nurse Kristy (Kristen Thomas) that he feels Fiona slowly forgetting their life together is karma punishining him for past bad deeds, it's some of the best acting I've seen in a Canadian film.   Grant never denies he's a flawed man, but his love is real and true and I find it hard not to lavish all your attention on his character.
Of course, as we all know, there is no cure for Alzhemiers.   Therefore like real life, there is no easy answer for Grant about how to keep living without Fiona.   He's just got to take it one day at a time, and make sure that his memories of her last as long as possible.