Alcohol and I don't mix. I am second guessing my whole attraction to the party scene, I just don't want to be a clouded disaster anymore. Also, and more importantly, it's bad for my body.
Why do I have to be drunk to dance and meet people? I have more meaningful relationships that begin with chance meetings at art openings or while volunteering, nothing good has ever come out of the bar. It's just a place to spend money and waste away. Pay to rot in the darkness while everyone is trying to get their dick sucked. Bumping around at last call to find someone just as drunk as them to bump uglies with.
Going out all the time is a game. You see the same people, spending their money, playing pool, throwing back beers and shots, looking more attractive to each other by the second.
When you are the only sober person in the group it is interesting. You can see the dark side of the depressant that is alcohol. People spiral out of control and act a fool. Barely able to walk or create sentences, bumbling, spilling, spending money, desperation, mindlessly grabbing for any shred of connection they can get. Nobody realizes how silly the whole thing is if everyone is drunk.
I have noticed a disturbing trend among my friends: everyone is fucking depressed. People are drinking to forget instead of to enjoy. To medicate instead of celebrate.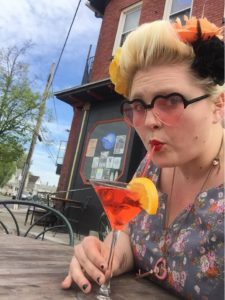 Like every other person with fading youth I have dabbled in alcoholism, been the girl who made all of the bad decisions. I have taken cabs home with strange men and women. I have woken up next to a person that I never remembered even meeting, let alone fucking.
Taking advantage of a drunk person is RAPE! What kind of feminist has such little self respect that the only way she can get some is by getting black out? You must respect yourself. The difference of good people who do bad things sometimes and bad people who do good things sometimes isn't clear when you are inebriated.
For me being sober has a better chance of leading to ghosting – the art of sneaking out without saying goodbye. I know this can be bad, people may wonder "WTF happened to Cat?" A lot of times my friends get pissed, but most times people don't even notice I am gone. Everyone is drunk and wrapped up in their own worlds, trying to get fucked or make a meaningful connection, pounding beers.
If I feel un-engaged I will bounce. I keep imagining how much nicer my bed full of kitties and books is than this dingy ass bar.
I have been inspired by a couple of my friends who have been reading books in the corner of the bar. This is a great upgrade from texting away. My bestie said that more people came and sat next to her when she was reading over texting or just drinking and staring off into the abyss. Being in your own head is more approachable. Being smart is attractive.
I find that my greatest sadness and isolation happens when I am in a full room of people, most of which I know and love, and I drink. Once I drink a wave of darkness comes over me. I am lonely in a way that is incomprehensible.
I often feel socially awkward when in a bar situation. I can't hear enough to conversate. I really get pissed off by drunk men above all, the worst are the flaming bro douches. The ones with oozing testosterone and backwards hats, the ones who flex their muscles while drinking their Labatt Blue. I have no time for your bullshit. Reading a book in the well lit corner is better than getting your ass grabbed by scumbags any day.
I am not going to preach about any kind of lifestyle choices because I cannot rule you, I am only in charge of my own actions. I can understand why people go straightedge. Being focused and strong, making sure they are ready to fight for the revolution. Giving up drugs because your friends are dying, your little brothers and sisters are overdosing. Live because they died. Cops killing in the name of the racist war on drugs, quick money, and it all goes by in the blink of an eye.
Never judge anyone for not drinking or partaking in drugs. Respect every person's right to choose. They will be the people you look too when you are messed up and need help at 4am.
How can I expect to have a real connection with someone that I consistently meet at 4am at a bar? He is always fucked up. Singing and dancing like a sprite, perfect to the sight, no idea how bright. So beautiful, but not cogniscant of what I am capable of. I will keep you warm and fed, I will hold you when you are sad, I will travel to the end of the world with you, holding hands against adversity. I want to be someone's everything kind of love.
Yet I grasp for straws.
I hate that moment when someone decides they are not interested. Hot guy comes up and initiates conversation, it's going well, we are both laughing, then all of a sudden "I need to get a drink." He goes to the bar, gets his drink, and walks away like we were never talking.
LAME. I don't want to monopolize someones time, but it's kind of rude to walk away with no viable explanation. I'ts not like he owed me anything, but come on. He then started talking to a smaller, cuter girl. Typical.
People fight with their significant others only when they are both drinking. Some people only get the balls to communicate when they drink. Important things that should be discussed with a clear mind are haphazardly thrown on the table.
There is something so wrong about fuzzy conversation, basing your decisions on the clouded mind of a drunk. Like Kimya Dawson says: "Without 40 ounces of social skills I'm just an ass in the crack of humanity." I am socially inept, downright scared to talk to people when I am out of my comfort zone. But to be fair, sometimes I isolate myself by going out in full makeup and costume after one of my shows. I would be afraid to talk to me, too.
As a bartender I was definitely a therapist. I did not like drinking while I worked for that reason. I know a lot of bartenders who think otherwise. It really got to me after awhile, seeing the effect it had on people made it not appealing. There is nothing sexy about drunk people.
Being a bartender is HARD! stressful work. People are basically on vacation and some treat you like a common slave. I can't be fake nice for a tip anymore. I have a tip for you, don't be a misogynist asshole and go fuck yourself. How's that for a tip?
Do you really know someone if you only see them when they are all fucked up? IS that them? If someone is drunk more often than not does that define them? Are they just "a drunk" now? That's sad.
I don't want to think that. Sobriety provides clarity and focus, not hiding behind the false good feels. I don't want to be an asshole anymore. People get mean when they drink and make excuses. "Oh I only smoke when I drink." "Oh I only do coke when I drink." "Oh I only beat my wife when I drink." "Oh I only smash up my car and kill entire families when I drink."
Moderation is everything, I know that, but sometimes you just gotta dry out and start over. I have never had a bad reaction with marijuana. Cocaine is not a social drug. People end up in the bathroom, then tweak out, nobody wants to share it because it's so expensive. Weed is about community, a peace pipe, I am always happy to pass the joint. Alcohol is also a party substance that people are happy to share. Arriving with a case of beer can save the party.
Most are trying to fill a void with liquor and drugs. Alcohol is social fuel for the terminally awkward. Our generation is confused. Real honest connections are blurred.
It is lovely to be the one who can keep their shit together among an incapacitated crowd. The responsible one, the human that you look for when shit gets too weird. The party hero. Carrying around a solo cup full of water.
Clarity now, the fog has lifted and I can see your true colors. Now is the time to take chances, be weird without alcohol. An aggressive drunk girl can seem pathetic, but an aggressive sober girl is different.
People can be uncomfortable around sober folks, so don't brag about being sober, drink your water and act a fool. The only one stopping you from having an amazing time is yourself.
Cheers,
Cat