You will never find a man! NEVER! Ever. Nope. Not if you don't put down that fucking Snickers bar. Shopping in the husky section of the store while other children are starving all around the world. Eating thousand plus calorie Happy Meals and whole cans of cherry pie filling in the closet, with only my Barbie dolls to judge me. They were my role models. Where were my jelly roll models? My Barbies were all skinny whores with unreasonable breasts having plastic crotch orgies with the Ken doll, Jordan McKnight (complete with a rat tail) doll, and each other.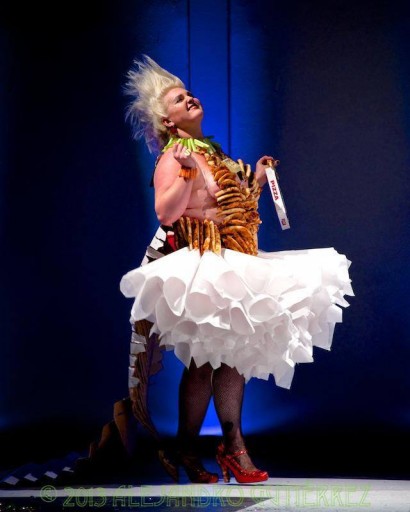 Fat Cat. I have been fat my entire life, considered morbidly obese at a young age, but I have never had trouble finding a man, or whatever I was looking for. I remember getting my first phone number at 11 years old (I was big for my age), it was written on a sugar packet. I never could make out the number, but the name scribbled on it was Chester and he looked at least 13. I have always been whistled at in the street, as well as heckled by people in cars passing by – "FREAK" and "JENNY CRAIG" were some of my favorites – so it evens out. In fact I probably have more luck in the relationship department than most skinny girls I know.
Now my most meaningful experiences with romance involve eating food and cooking with someone. Good cooking is the key to someone's heart. Anytime I am held back or denied it is not because of my size, but it is because of my timidness, lack of communication, or pure incapability with the other person. People of all shapes and sizes have insecurity and doubt; it is the human condition. People always want to be what they aren't. A lot of people are not thin by choice. It can be health conditions, and it is not fair to say that all thin people are happy, just in the same way it isn't fair to say all fat people hate their bodies. Size 0 is just as hard to find as a size 20.
Being fat is not the only thing that people feel bad about. It's body image in a whole that is the problem. Celebration of body diversity needs to start trending. Fat shaming and unrealistic body goals are VERY present in our society, but also getting a little better. For instance the fashion industry is starting to show more than just thin models on the runway. Crystal Renn is someone who stood out to me at the Jean Paul Gaultier show several years ago. She was a plus size model for Torrid years ago, when I worked there. Plus size modeling still has a looooong way to go, often models are padded to create fuller figures, and that just pisses me off.
I loved working for a plus size store geared toward current trends for young women. I was literally helping girls feel beautiful that had never felt so in their entire lives. This is the prime time of your life to develop your sexual identity, not be down on yourself and de-sexualized. I was just like them, told that I was never ever going to find a man or be good enough because of my size. Fashion can be so empowering. A well fitting dress and the perfect accessory (a smile) is a game changer. As a young, fat girl I hated shopping. After Torrid, I became obsessed. Now I consider myself as someone who takes fashion to new levels.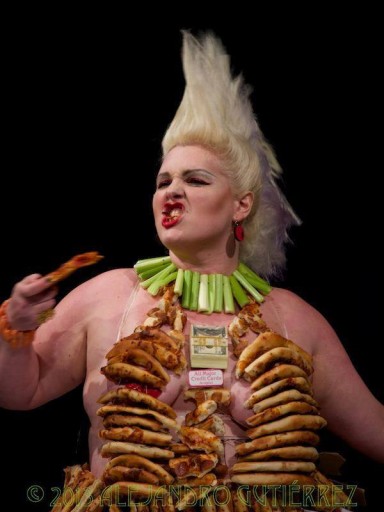 I am a burlesque performer, getting undressed for an audience is my game. However on several occasions I have taken to the runway and walked as a model for the wearable art portion of a large scale fashion show called Mass Appeal in Buffalo NY. It was exhilarating to walk in front of that many people wearing a corset made of Pabst Blue Ribbon cans or Pizza Crust. In those occasions I was the only large model. For the pizza dress, a project called "Upper Crust Punk," artist Melissa Campbell and I created a corset out of actual pizza crust. I was eating pizza while walking down the runway, people were shocked and freaked out. It was the craziest roar I had ever heard in my entire life, I felt like I had scored the big touchdown at a football game. I was featured on The Beckerman blog's Instagram (lil fashionista blonde twins from Toronto with a pretty serious following) and in a comment someone had mentioned I was the biggest model they had ever seen. This seeming insult turned into a slew of compliments and positive reactions. For every hater there will always be celebrators.
Back stage after the show I had to pee really bad. I tore the pizza crust dress off of my body and ran greased and mostly naked through a sea of teeny tiny models. They all looked so jealous and hungry. They were hungry for more than just pizza, they yearned to have my confidence. They wanted to not give a fuck. I think that these girls feel responsible to be "beautiful" and perfect. It must be exhausting to care that much. I am freed by my imperfections. My body is unique. It is squishy. It is delightful. I am the Venus of Willendorf. I am strong. As my grandmother would say I have good birthing hips. I am healthy. I am thankful for the gifts that I have been given. As Meghan Trainor would say "Don't worry about your size, boys like a little more booty to hold at night."