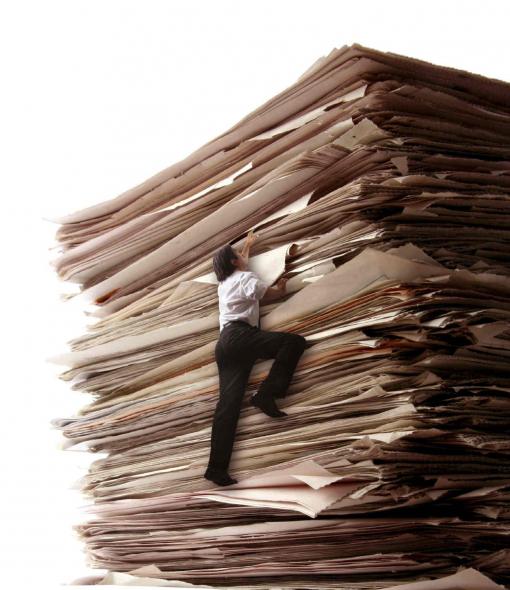 Forgive me if this article is a bit short on adjectives, but I'm writing after spending the night reading a 450-page government document. Most of my adjectives were lost along the way.
Nestled between the streams of student strike headlines and Luka Magnotta profiles, Montreal can probably be excused for focusing its attention elsewhere this week, but given that this is Harper's second omnibus bill this year I figured it could use a bit more attention.
So, with dinner heating up, playlist blaring, and the basketball and hockey playoff scores clicks away, I read it – for 14 hours.
The omnibus budget bill – better known as Bill C-38 – continues its slow march towards ratification this week, despite numerous coast-to-coast campaigns protesting what non-profit groups and MPs alike are calling the entire Conservative agenda rolled into one bill that at times seems to have very little to do with the budget.
Indeed, "Omnibus Budget Bill" is a bit of misnomer. The official title of the bill is "An Act to implement certain provisions of the budget tabled in Parliament on March 29, 2012 and other measures."
Emphasis on those last three words.
Because the bill doesn't only cut back on government spending by dissolving some government departments, raising the pension eligibility age, and making it tougher to qualify for Employment Insurance (more on that later). It also proposes giving American law enforcement agencies RCMP-like powers on Canadian soil for cross-jurisdictional operations, and deconstructs swaths of environmental regulation that are being questioned by, among others, former ministers of Fisheries and Oceans.
The websites of hundreds of environmental groups are going dark on Monday in protest of the bill, which organizers say will "weaken environmental laws and silence the voices of those who seek to defend them."
A dozen leading environmental groups, including Greenpeace, Équiterre and the David Suzuki Foundation, are co-organizing the BlackOutSpeakOut campaign against the proposed changes to environmental legislation.
Sandwiched between clauses which makes the Governor General's $270 602 annual salary taxable and clarify PPP Canada Inc.'s relationship to the Queen, the bill overhauls the Fisheries Act and replaces entirely the Environmental Assesment Act with the Canadian Environmental Assessment Act, 2012.
Environmental groups and MPs say these changes will weaken protection for fish and other species at risk and make environmental assessments off possibly environmentally destructive projects less comprehensive and less accountable.
In an open letter published in The Globe and Mail, four former ministers of Fisheries and Oceans question the Conservatives' omnibus tactic, even going so far as to casually float the term "interest groups outside the government":
Regrettably, despite the significance of the legislation, to date the responsible ministers have provided no plausible, let alone convincing, rationale for proceeding with the unusual process that has been adopted. Quite frankly, Canadians are entitled to know whether these changes were written, or insisted upon, by the Minister of Fisheries or by interest groups outside the government. If the latter is true, who are they?
Changes to environmental assessment policy also incorporate amendments to the Canada Oil and Gas Operations Act, shifting assessment responsibilities for pipeline projects to the National Energy Board.
The changes would come just in time to apply to the Harper government's second bite at the Keystone XL pipeline apple, now trying to pipe oil from Alberta's tar sands to the BC coast for export to China after US President Barack Obama blocked the pipeline from running to Texas.
After the roughly 170 pages of amendments to Canada's environmental regulations, on page 298 you encounter the Integrated Cross-border Law Enforcement Operations Act.
This act would, according to the bill, give US law enforcement officials from agencies like the Coast Guard and the FBI "the same power to enforce an Act of Parliament as a member of the Royal Canadian Mounted Police" when participating in an integrated cross-border operation.
300 pages in, you finally get back to what the layperson would consider budgetary issues – and they're not so great either.
Proposed changes to the Old Age Security Act would raise the age of eligibility for the program to 67 from 65 gradually over a six-year period starting in 2023. One hundred pages later, proposed changes to the Employment Insurance Act would split Employment Insurance recipients into three categories, with frequent users given just six weeks of EI to look for work in a similar occupation before they would be expected to take a job not necessarily to their liking.
Eyes burning and head spinning, with sunlight creeping back through my window in the most unwelcoming of ways, the bill provides the coup de grâce on page 427: "The Kyoto Protocol Implementation Act, chapter 30 of the Statutes of Canada, 2007, is repealed."
Perhaps it's no surprise then that hundreds of websites are blacking out next week or that Green Party MP Elizabeth May is vowing to debate the bill in the House until she collapses, or that one Conservative MP suggested to constituents he may vote against the bill, then backtracked the next day.
With a majority in the House and all its committees, the Conservatives could easily make all protestations meaningless.
It might not all be bad. I certainly missed some things, including something about the Canadian amateur athletic association, and SIN cards. Nevertheless, given the history omnibus bills have of provoking escalations in parliamentary tactics, the drama around this bill may only just be beginning.
I'll be sleeping, but let me know how it goes.