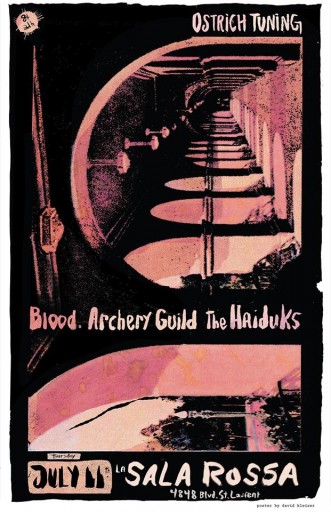 Summer in the city means sweating profusely dancing to some live tunes with buds while making new buds. Coming up on Thursday, July 11th at La Sala Rossa, local up and coming band Archery Guild will take the stage with the Haiduks, Blood, and headliners Ostrich Tuning for the ORG 713 show.
Confused as to what ORG stood for, I got in touch with show organizer David Kleiser of ORG to ask him a few questions. Kleiser explained that ORG is multimedia creative collective with a tape label (DT!Records) made up of Kleiser (of Blood), recent London transplant Daniel Pacrami (of Swansea Recreation Center), Ben Griffiths (of She's) with a hand from Michael Cota and Mashal Vaillancourt (of Archery Guild). Although the members have their own individual working spaces and projects, they convene at local rehearsal studio/compound Il Fattal in St.Henri.  They create zines,make comics, concert films and publish music through DT!Records. In the spirit of DIY shows, ORG throws events to showcase the media created by the collective as well as that of friends. These events are titled in the vein of serial numbers, like comics, and focus on a Toronto/ Montreal connection.
Kleiser explained, "a major concept of ORG thoughout all its mediums is memory function. We put on shows to create memories and compilations to facilitate in the recollection of the memories." Shows are accompanied by compilations and ORGZINES. This is fitting since ORG began as "a fantasy-corporation" in Kleiser's comics  entitled Ontario Reality Generation which he began for his thesis on the function of memory and how it constructs interpersonal and intrapersonal reality. In the comic, ORG "is a company who deals in commercial reality generation-creating realities for clients to live in a free firming delusion which is informed by the clients memories (like a controlled, permanent dream)," Kleiser added. In this way, ORG is "studying the relationship between fantasy and reality making the comic come to life to some degree". The diegetic and the non-diegetic begin to inform each other with events in the comic being performed outside the world of the comic and with events outside the comic making their way within.
I've been keeping an eye on local coterie Archery Guild and am excited to see them playing a bang-up venue like La Sala Rossa. Archery Guild is an experimental indie rock band with an impressively lengthy line up: Michael Cota (vox, guitar, synth), Marshall Vaillancourt (drums), Omar Mustafa (vox, guitar), Matthew Aulis (guitar synth), Tristan Giardini (Bass), Mariah Andrews (trumpet), Eva Goodman (violin), Ian James Gibbons (cello), and Chelsea Woodhouse (misc. percussion, keys). Archery Guild is known for their dynamic wall of sound and their joyful cacophonic melodies. They recently released their full-length album DIN, which we reviewed here, and also recently returned from a mini tour playing Toronto, Guelph, and Kingston.
Headlining the night is experimental four piece Ostrich Tuning made up of Ami Spears, Ian McPhedran, Jeremiah Knight, and Scott Harwood. Kleiser of ORG names Ostrich Tuning as his favourite psychedelic Toronto band.
The Haiduks is Christian Richer who composes, writes, records, performs, and mixes his tunes. The Haiduks' full length 1968 is available at Kinnta Records, whose catalogue Kleiser recommends highly. The album title is fitting to the tracks I gave a listen to evoking a definite late 60's early 70's retro vibe.
Blood is Kleiser's band which he likens to "Elephant 6 forming a kc and the sunshine band cover band". He is accompanied in this project by members of the band She's.This project is brand new and the tracks on the compilation provided by ORG prior to the show (which you can download here http://orgdt.bandcamp.com/album/org713).
ORG 713 promises to be an energetic night of experimental music making, multimedia expressions, and lots of creative minds having a blast together. An ORGZINE will be available at the show. See you there.
ORG 713 at La Sala Rossa on July 11th @ 8:00 p.m.
*Featured image by David Kleiser via kleiser.ca