For this year's edition, Montreal street artist Whatisadam was commissioned to create a poster with the Osheaga 2014 lineup hidden in the illustration. It was a fun way for fans to guess who would be playing this year's festival before the lineup was officially announced. Participants were given the chance to submit their guesses for a chance to win a weekend festival pass.
Now that the Osheaga 2014 lineup has been officially released, you get to see how many you guessed right. I did it myself, just for fun. There are lots that I can't match up so help me out in the comments below.
Silkscreen prints and T-shirts of the 2014 cryptic lineup poster are for sale on the Osheaga website.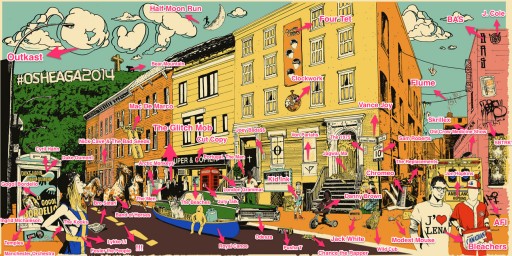 Osheaga 2014 takes place August 1, 2 and 3 at Parc Jean Drapeau. Weekend passes are now on sale with individual day passes to follow.