3… 2… 1… 4/20! And with that, the smoke floated en masse up towards the emblematic clock tower that signifies Canadian parliament. Even though I didn't smoke, my thick wool jacket smelled otherwise.
The approximately 10 000 people that gathered on Parliament Hill to mark 420 / 4:20 / 4/20 or simply Weed Day was the most ever in Ottawa according to organizers. The legalization of weed in small amounts last November in Colorado and Washington is mostly to thank. There, marijuana is now legal if you are over 21, smoke in private and possess less than one ounce. That is, unless the FBI comes knocking at your door because the US government has not ok'd the reform.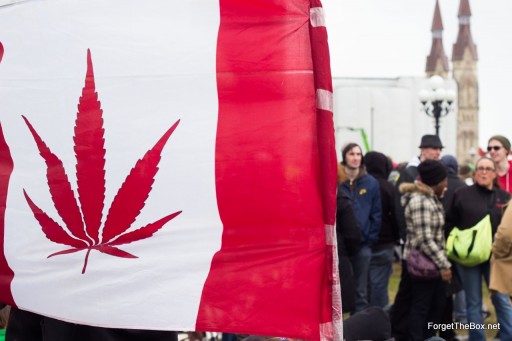 Meanwhile, Canada, one of the top producers of marijuana in the world, still maintains strict laws against the consumption of earth's most popular drug. In fact, sentencing has been increased by the Federal Omnibus Bill C-10, which adds stricter six-month mandatory minimum sentences for anyone who grows six or more marijuana plants.
In an open-letter to Prime Minister Harper last year, The Global Commission on Drug Policy, one of the world leaders on the study of drug use across United Nations member countries, attacked the Canadian government's weed crackdown. "Canada is at the threshold of continuing to repeat the same grave mistakes as other countries, moving further down a path that has proven immensely destructive and ineffective at meeting its objectives," wrote the Brazil-based organization.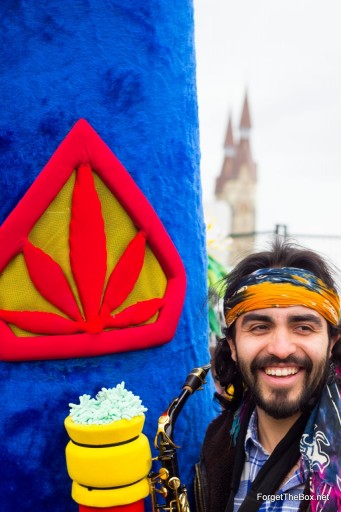 Thus, this year, more than being a day to see who can roll the fattest joint, or dawn the most outlandish weed paraphernalia (see Facebook album for victors), 4/20 on Parliament Hill was meant to be more of a political demonstration in favour of legalization.
"I am the Justin Trudeau of marijuana," joked Precious Chong, daughter of one of the most famous pot-smokers in Canadian history, Tommy Chong of Cheech and Chong fame. She MC'd the day's events from a podium in front of a backdrop of neon-jacketed police officers. Like the new Liberal leader, she is following in the giant footsteps of her father. Also like Trudeau, she supports the legalization of marijuana.
While members of Trudeau's Liberal party and the Green party did attend, they did not deliver any speeches in support. Chong, however, was joined on stage by other Canadian weed-leaders who have received a major boost to their campaign since a British Columbia $25 million lottery winner injected $1 million to the legalization movement.
"How do we get people who don't smoke or don't like to smoke to support legalization?" shouted a pro-legalization leader from the podium. "Get 'em to smoke one!" responded a grey-haired woman from the crowd.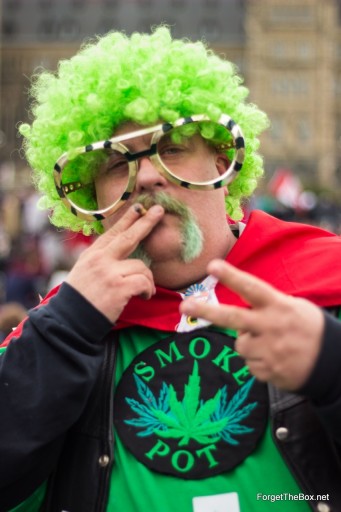 Even at the biggest celebration of weed of the year there wasn't a unanimous decision on legalization. Three men who hid their names told the Ottawa Citizen that they don't want to see their green legalized because new taxes would stack prices.
Despite the growing attention to legalization in Canada, it was hard to take the rally seriously when a guy dressed up as a massive bong was distributing skunk suits to rallying stoners. Still, what can you expect when most of your prospective voters are blitzed out of their minds?
While the Ottawa rally was completely peaceful and calm save for when a stampede swarmed the Trailer Park Boys as soon as they showed up (they were there despite Kathryn May reporting in the Ottawa Citizen that they weren't), the 4/20 rally in Denver, Colorado, which was expected to be the largest in history at 80 000 smokers, was thrown into chaos shortly after 4:20pm when gunshots injured three people. All victims are expected to survive.
Not very peace and love of you Colorado.
* photos by Joel Balsam, for more, please see our Facebook page