When I think about what I want in a show, the first thing that comes to mind is stage presence. The performers have to want to be there (or at least act like it), otherwise I won't either. If they're not having fun, I'm not having fun. That being said, I had so much fun at M for Montreal.
The first band I saw was Midland, Ontario's Born Ruffians. The set was short, but it was full of energy. To be honest, I'm getting bored of the whole "perfectly polished, four-piece indie rock band" thing, but Born Ruffians is a breath of fresh air.  Luke LaLonde's unique vocals are what attracted me to the band in the first place, and seeing him onstage belting them out was so satisfying. The band looks like they're there because they love playing music, and that's it. Its fun and refreshing, and they play in Montreal often, so go see them!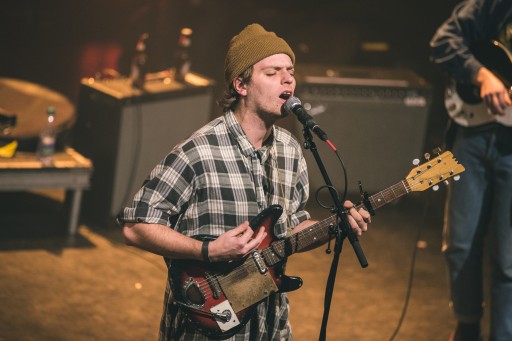 My M for Montreal journey also brought me to Club Soda on Saturday for Mac DeMarco. As I expected, it was absolutely insane (in the best way possible, of course). From stage dives to making out with half-naked boys onstage, Mac DeMarco came ready to have a good time. The whole thing felt like a house party, which is hard to achieve in a sold-out venue as spacious as Club Soda. The best thing about the show was the fact that his antics, as well as those of his band, never seemed staged. Just like Born Ruffians, they were up there for the sake of having fun, they just have a more extreme way of doing it.
I guess the moral of the story is be cool and I'll think you're cool. Or, to put it more eloquently, have fun, whatever you do. It makes all the difference.
Photos by Ellie Pritts and Maximillian G. San Juan for M for Montreal