This year I was very excited to be taking part in my first ever Nuit Blanche celebrations. I know I'm more than a little late to the game, but better late then never right? Of course we all know when you're with a large group of people, especially a group with an anarchist spirit like Forget the Box, plans of where and what you're going to do never quite works out the way you wanted it to. But I had a lovely evening none the less, and who's to say we don't all need a little more spontaneity in our lives?
My grandiose plan was to see a large range of risque and subversive shows. But then when my sister mentioned her plans, I knew exactly where my night had to start: Penguin watching! My Nuit Blanche 2012 began as I headed to the Biodome to see some penguins.
I had this vision that there would be hundreds of penguins roaming around the Montreal Biodome parking lot. Even though the reality was five penguins in a small ice enclosure, I can tell you it brought out immense childish glee for all of us in attendance. In between penguin watching, my companions and I found respite in the stands of the nearby Olympic pool. As we warmed up (all the Nuit Blanche veterans amongst me let me know that the universe deemed it impossible to have a Nuit Blanche in Montreal unless it's uncomfortably chilly) we ate popcorn, drank hot chocolate and wished we'd brought our bathing suits.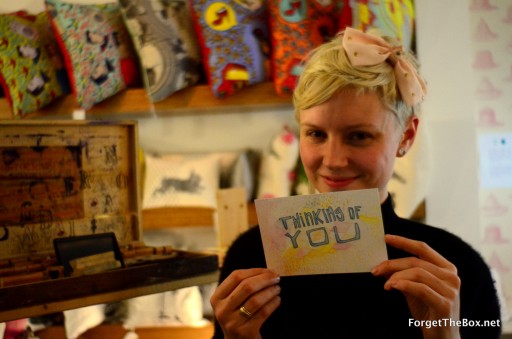 The next stop was a show/crafting event called The Postcard Project, created by artist Sarah Nesbitt. By either purchasing them or making one yourself, the idea was to encourage people to use social networking the old fashioned way with postcards. We heard about the event and immediately tweeted all about it! FTB's Creative Director Chris Zacchia took pictures and schmoozed, check out his article about Sarah Nesbitt!
I sat down happily cutting out newspapers and applying glitter to my homemade postcards. Watch your mailboxes out of town friends of mine. You'll be getting a surprise in the weeks to come…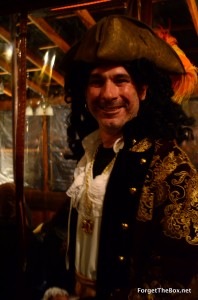 Completely off course from my original Nuit Blanche plan, I was up to join new FTB writers Kristel and her suggestion for the next stop on our journey: Toasted Belgian Waffle Pirate Stories. I've been fascinated by the art of good storytelling since getting into Confabulation (who had their own Nuit Blanche evening that I sadly missed but I'm sure was great), and the added bonus of pirate costumes sold me. After downing more free hot chocolate (woot!) Chris, Kristel and I packed ourselves into the front row of the "theater" (aka the back of the restaurant, which was painted to look like a ship) hoping to get right in the heart of the action. Unfortunately we also got to experience the one bench in the packed house located immediately over a leak. Was the drip and cold theater annoying? Sure. But as we listened to the traditional french folk songs and stories, we cuddled up together  to keep warm, and I wouldn't give a good cuddle up for anything.
My last stop of the night was the Belgo building. I don't regret going, but the truth is in future Nuit Blanches I think I'll skip this event. Five floors of seemingly endless art galleries, this extremely packed venue totally wore me out. There was so much art to see that it was hard for anything to really make an impact. One artist did make a big impact on me, James Olley. His vibrant paintings of suburban settings stood out so much for me amongst everything else that I made sure to pick up his card on the way out.
By the time Chris and I finally made it through all the shows at the Belgo, I was worn out. Waiting for us in the lobby were fellow FTBers who as always were ready to keep going into the wee hours, and so Chris took off with them and I made my way west, into the night.
For more pictures from the evening check out the Nuit Blanche Photo Album on FB!
Photos by Chris Zacchia