This past Thursday and Friday, a wide range of accomplished doers and thinkers gathered for the McGill Institute for the Study of Canada and the University of Alberta's Petrocultures Conference. Presentations took many interesting turns, from Brenda Longfellows' interactive documentary Offshore to Lynn Millers' discussion of how to save oil-soaked birds. Most presenters focused on the current and future state of Canada's energy-producing resources as well as on the cultural, social, political and economic implications of shifting toward a sustainable green economy.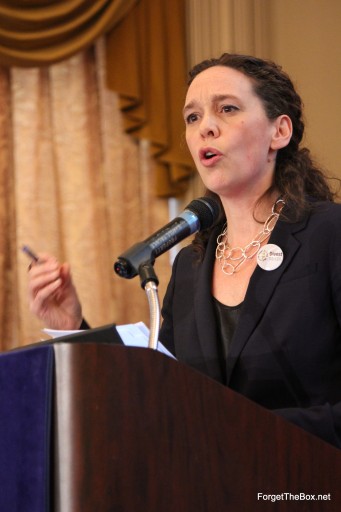 For some, technology was advanced as the solution. Cenovus Energy, one of Canada's "green" oil  companies sees technological solutions remedying the array of problems plaguing their industry, from reducing air-born pollutants to minimizing the impact of drilling by using helicopters to access remote wells.
For others, technology is no panacea. Darin Barney, Canada Research Chair in Technology & Citizenship at McGill instead sees politics as the arena where problems will be resolved. His talk focused on the prevailing discourse that  promotes oil-sands through a nationalist and especially a technological-nationalist discourse. Though this is viewed as a last resort strategy on the part of oil-advocates, appealing to nationalist sentiment nonetheless remains effective in quieting dissent and excluding alternative opinions by delegitimizing opponents as radicals and un-Canadian.
This nationalist veil also serves to mask the fact that, far from being a country-wide project benefiting all Canadians, it is the people who shoulder both the risks and costs while subsidies and profits flow directly into private coffers. Barney stated that while only 13% of oil reserves world-wide are privately owned, 51% of those are in Alberta.
Every year, oil industries benefit from over $1.4 billion in government subsidies. If you think this cash contributes to impressive job-creation stats you would be mistaken. Equiterre's Steven Guilbeault stated that for every $1 million invested in the oil industry only 2 jobs are created, compared to 15 jobs in the green energy sector.
According to Tzeporah Berman, investing $1 million in any other sector yields more jobs than investing that same amount in Canada's petroleum industry. Berman, a leading Canadian environmental activist, delivered one of the most memorable, informed and impassioned speeches reminding us that safety and health must trump the current trend of subsidies, production and pollution.  "We have a right to debate," she said "and a right to the right debate."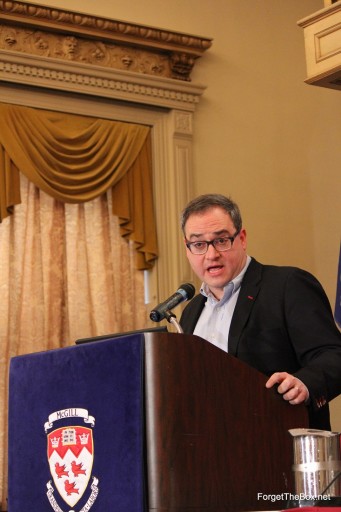 Preceding Berman's talk, Ezra Levant, our national court jester, appeared as his usual brash and boring self. While he was light on the reasoned argument front, he scored points nonetheless for giving the loudest speech (yet not loud enough to cover the audible derisive snickers from the audience). It was a wise decision on the part of the moderator to quash Levant's question period; he was the only speaker to merit the distinction. Let's give him another point for that too.
While Levant may have been the loudest, the students involved in Divest McGill were the most persistent. They came armed with relevant and hard-hitting questions, such as when Lily Schwarzbaum asked Gerald Butts, former President and CEO of WWF-Canada and current Trudeau advisor who also sits on McGill's Board of Governors, why the university had not agreed to divest the $50 million it has invested in tar sands, fossil fuel and Quebec's Plan Nord. He declined to answer, thus delivering a slap in the face to his fellow panellists and audience members who repeatedly called for more dialogue and openness throughout the conference.
Perhaps the most thought-provoking speech came from University of Alberta's Imre Szeman who, echoing Mike Hulme's Meet the Humanities, advocated for the inclusion of humanistic disciplines, the energy humanities, in discussing and solving the ongoing climate crisis. One of the main difficulties inherent in discussing pertrocultures is that we are all deeply imbedded in it; our daily lives are so dependant on energy that we have all become petro-subjects. Our identity and culture have developed in tandem with cheap available energy making it very difficult to untangle ourselves from that on which we have become so reliant. It has also made for easy targets; just think of when Al Gore was skewered because he would fly to speaking engagements.
The bright minds engaged in the energy humanities can help us conceptualize and move toward a viable "after-oil"  society that hard scientists, governments, and industries have been unable and unwilling to put forward. Part of the solution must involve the study of values, power, psychology, mobilities, meanings and institutions in order to finally get society to act on the mountain of facts about climate change it already possesses.
The Pertrocultures Conference may be perceived by some as a room full of white men, inherently conservative and exclusionary, and to some degree the accusation is warranted. Nonetheless, the conference brought together some of the smartest and most engaged players who both advocate for and act toward a cleaner and greener future. Hopefully new partnerships between allies were formed during this two-day event. Partnerships dedicated to bridging the chasm that currently exists between knowing and acting.
Perhaps the one line of thought all participants and attendees could agree on comes from Cenovus' spokesperson: "The status quo is not acceptable."
* photos by Jay Manafest, see the complete album on our Facebook Page