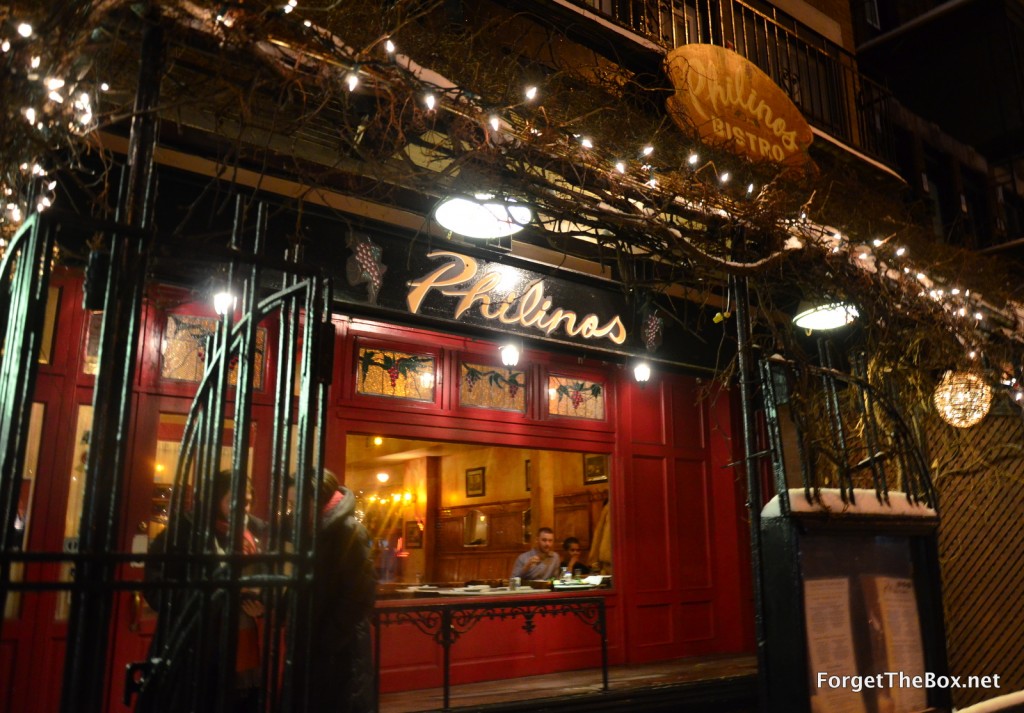 tbcredit.ru
For this week's Wine and Dine we went on a Mediterranean escape to Philinos, a Greek joint on Parc unobtrusively located on the main road just north Mount Royal, wedged in a row of duplexes. But what is it they say about judging a book by its cover?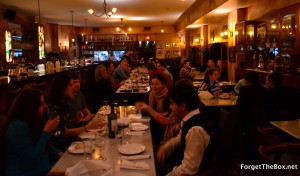 Once inside, the decor seemed more bistro meets pub, with dimmed lighting, a deep red colour scheme, stained glass and wood paneling on the wall. It being a Wednesday, I expected our table of seven to be the largest that night, but we walked in to find a banquet of about thirty sitting next to us. The unexpected noise and boisterous cheer gave a burst of Opa! to an otherwise understated atmosphere.
Once seated, we were greeted by baskets of warm bread and silky olive oil with vinegar. Had this been the main course, I would have still left with a full belly and raving. The crust was perfectly crunchy while the centre was steamy and fluffy, and the light green olive oil was simply divine.
Then we met the man with the beautiful blue eyes. Friendly and charming, he was responsible for waiting on our lively neighbours, us, and three other tables out to dinner that evening. He was also the bus boy. I thought the service was remarkable, and then I realized it was a one-man show. He shall henceforth be known as the blue-eyed waiter god.
As for the food…
For the most part, everyone settled for a main course, no appetizers, except for a friend and me, who like to be rebels. We ditched the main and shared a selection of appetizers. To accompany the meal, we opted for the white house wine, an Italian production that was sweet and pleasant.
The main courses came with a salad to start. The obvious choice was to go for the Greek salad (though I did catch another rebel in the group who ordered the chef's salad instead). While I didn't get my own, I nibbled on my neighbour's (for review purposes, obviously), and I can say with authority that it was delicious. I need to find out what cheese they used because I have never had feta do such wonderful things in my mouth, the taste and texture were extraordinarily fresh and soft.
The plating was delightful. The mains came out in large boat-shaped plates full of colour, each one more beautiful than the last. I actually heard some ooh-ing and aah-ing when we were being served (which may or may not have come from my own mouth, it's hard to recall). The portions were generous, but not offensive. I was the only one to leave with a doggie bag, but that's because I ate two loaves of bread when we sat down. I'll also note that the leftover calamari and grilled veggies tasted just as delicious the next morning. But I'm getting ahead of myself.
Our table filled up with a diverse sampling from the menu. To my left: grilled chicken and gigantic shrimp, across the table: veal, spinach and feta filled phyllo pastries, moussaka, calamari, chicken brochettes, and in front of me: a trio of dips hot peppers and feta (my fave), a tzatziki, and an eggplant dip dolmadakia, and fried calamari. I added an order of pita bread to go with the dip, which turned out to be not so bready and more (fried? baked?) cracker-like. The main courses were served with grilled veggies and potatoes.
I helped myself to samples from every dish, in the name of this blog. I would usually not order chicken at a restaurant (other than Romado's), but both the grilled chicken and the chicken brochettes were delicious. While the veal was my unexpected favourite of the mains, every single dish, including the sides, were exquisite. Not one single bite was sub-par. Same goes for the appetizers: the dips were fresh and flavourful and the calamari were tender and deliciously seasoned.
I peeked in the kitchen and it looked pretty standard, but I am convinced they are hiding a camp fire back there; the grilled meat and veggies tasted like they were cooked by a fire in the middle of the woods. Though I didn't find the open flames, I did have a charming exchange with the chefs who graciously let us snap a shot.
Even though by the end of the meal we were all stuffed full, much like the dolmadakia, we indulged in little pastry puffs covered in warm honey and cinnamon that the blue-eyed waiter god brought us, compliments of the house. Isn't it funny how you always find room for more food?
For more Photos from our Philinos adventure checkout our Facebook page