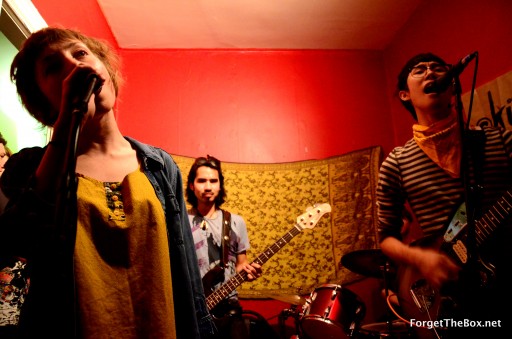 In the last few years, I've been increasingly interested in Montreal-based musicians who occupy alternative spaces in terms of their music making. I am most interested in those musicians who walk the fine line between a musical career and a musical hobby, who question what it is to be a musician and when music "counts". I want to see how musicians construct themselves and how they choose to go about it.
The Pinyin Pals captured my attention a couple years ago when I played an open mic alongside their sibling band – The Argyles. I've seen them perform many shows since then in a number of different contexts and have come to noticed just how, pardon my french, fucking cool they are.
This quirky bunch of friends deliver something that is hard to describe yet so easy to relish. Jubal Wong (vocals and guitar) describes The Pals music as "cute punk. It's cute, it's pop-y. It's not quite pop punk." Band heart-throb Leona Siaw (vocals) adds: "We have punk aspirations but we aren't quite there yet." As for the two other members of the band, Andrew Miller (drums) and Cas Kaplan (bass), they describe the music as "surf pop" and "twee" respectively. Amongst their tunes, "Sheep Sheep" and "Huo Hai", which means sea of fire, are the most notable.
http://www.youtube.com/watch?v=GJv3tMcBW0E
Jubal and Leona met in residence while attending McGill University and began performing together during a party-filled trip to China when Jubal, who had been looking for a female singer to join his band, realized that Leona knew Chinese and could sing. Bingo, the two things required. Cas met the crew whilst playing an open mic at the Arts lounge and became friends with Jubal after sitting next to him on a trip back from Boston.
As for Andrew, he met Jubal on the metro: "Andrew approached me and asked me if I sang in French. For his other band, his Visual Kei band at the time. Do you know Visual Kei? It's like this scene in Japan where it's kind of metal but all the guys dress up like colorful girls, super flamboyant, and they dye their hair and have make up on." Andrew and his friends followed Jubal on the metro car, even after Jubal tried to walk to the next cart to ditch them. Although this might sound like the beginning of a slasher film this encounter resulted in cute-punk twee propaganda songs about dim sum.
Why call themselves The Pinyin Pals? "After I started calling us The Pinyin Pals for a while, I realised it made a lot of sense as a bridge between Chinese and English." Jubal explains. "At first I wanted to call us The Furries."
Music making for The Pals consists of Jubal bringing songs to the group and them each adding their contributions: Cas filling the space with bass inspired by nimble players like Peter Rork and Alex James, Andrew channeling 16th notes and playing as fast as possible without stopping, Leona adding her soft voice and caterwaul: "There's teletubby and then drunk teletubby", she explains. Jubal gets his inspiration for the tunes from the underground Beijin scene with bands like Car Sick Cars and Hedgehog as well as Andrew's other band Parapraxis.
The Pinyin Pals perform at the usual venues, citing Trois Minots as their favorite spot to perform. What is perhaps more interesting is their extensive resume of apartment parties, various fundraisers and benefits, Chinese New Year parties and even performances at cultural centers for seniors. This is what they do and this is what they love. What is their favourite place to rage? "Martin Bradstreet's shower," was the unanimous answer. The Monkeyhouse, an apartment where they used to hold regular hootenannies is another. Their favourite place to chill? "Nonstop rage," says Leona, "We chill we die."
The Pinyin Pals will be recording with Paul Col from People Person in the next few months. Leona suggested the band make a nude calendar with months like "Raguary and Chillember." The other members of the band did not seem convinced. I look forward to an upcoming EP by The Pals and more opportunities to dance to tunes like Sparrow.
Forget The Box would like to thank The Pinyin Pals for an entertaining interview.
Photos by Chris Zacchia
For the full Pinyin Pals photo album