Over 100 demonstrators marched through downtown Montreal yesterday protesting police brutality. The protest lasted two hours and was notably peaceful – Black Bloc protestors were visible but, despite launching a few fireworks, subdued – no arrests were made, and the action's reward was scant media coverage.
The demonstration merited a short QMI story, a Journal de Montréal video, and a 79-word Radio-Canada report. There was no English media coverage (that I could find).
This was in marked contrast to the slew of headlines generated by the anti-police brutality march three months earlier, part of a worldwide day of action held annually. The protest in March involved thousands of demonstrators and ended in 226 arrests – the enduring image being the flipped-over police car on Ste. Catherine's.
Police brutality in Montreal – especially killings at the hands of police officers – is a year-round issue, a point yesterday's demonstration was attempting to make. The lack of sustained political pressure and media coverage is clearing the path for a controversial police brutality bill currently under debate in the Quebec National Assembly.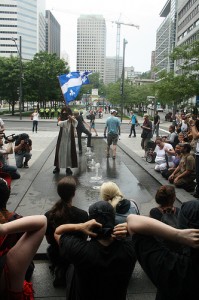 Bill 46 – "An Act respecting independent police investigations" – seeks to form an independent civilian oversight committee which would ensure, in theory, that investigations of police officers are on the level.
At the moment, for cases involving a police officer – including when an officer shoots and kills a civilian – the investigation is conducted by a police force external to the force involving the officer being investigated. So for example, when a Montreal police officer shoots a civilian, the investigation would be conducted by provincial or Quebec City police.
On the surface, civilian oversight of these investigations looks like a good thing. The actual bill, however, observers would not be allowed to speak to either principal characters in the case or the investigators. A spokesperson for the investigating police department would answer all questions.
The restrictions provoked a fiery critique from Quebec ombudsperson Raymonde St. Germain, who called for an independent civilian board to carry out investigations itself. St. Germain's model is inspired by similar bodies in Ontario and BC, and has been lauded not only for its comparative impartiality, but also for its cost-saving effects.
Hearings on Bill 46 began in March, but the debate has proven polarizing. Police unions are supporting the bill, while human rights and civilian groups as well as the Montreal city government and its opposition parties are siding with St. Germain in opposing its current form.
Meanwhile, police killings continue in Quebec – and continue to cost the taxpayer money. In January, Montreal police shot and killed homeless man Farshad Mohammadi in Bonaventure Metro station. Last summer, Montreal police shot another homeless man – Mario Hamel – after he allegedly threatened officers with a knife; police also shot a bystander on his way to work during the altercation.
More high-profile cases continue to drag through the courts. The August 2008 shooting of 19 year-old Fredy Villanueva in Montreal-Nord, and the September 2007 death of Claudio Castagnetta in Quebec City as a result of being tasered by police, have yet to be fully resolved.
The officers involved in both incidents were exonerated by their respective police-led investigations, prompting renewed legal challenges of the legitimacy of those rulings. As of last summer, the inquiry into Villanueva's death has cost $1.8 million, plus a further $760,000 in lawyers' fees for police, paid for by Montreal taxpayers, according to 24 Heures.
According to a report conducted by the Commission des droits de la personne et de la jeunesse, there were 339 investigations by police of police action causing death or serious injury, but criminal charges were laid in only three cases.
The core of St. Germain's arguments were that the public has lost faith in the credibility of these police investigations. Improving Bill 46, she said in her recommendations, is one route towards regaining this trust.
"The bill can and must be improved, in the best interests of the public and the police," writes St. Germain. "The status quo cannot continue."
With the student conflict and the Charbonneau Commission driving Quebec towards a seemingly inevitable September election, one can only hope that Bill 46 and the investigation of police brutality can manage to sneak back into the public and media consciousness.
That said, the media hasn't been terrible. The Gazette has a useful compendium of police incidents in Montreal dating back to 2000, including a map of all police shootings on the island.
*all photos by Henry Gass