Last night I was at The xx's show at salle Wilfrid Pelltier, in Place des Arts – for those of you who are unfamiliar with The XX, they are an indie electro-pop group from the UK. They're super hot in Europe right now and gaining popularity in North America quickly, cause well they rock! Their show for POP Montreal sold out weeks ago and their previous shows a few months ago were sold out as well. Basically, if you haven't heard these guys yet,   Get on it! ASAP!!!
So they're playing this super chic venue to a huge crowd and the one thing I'm noticing is… this isn't like any other POP show I've ever seen. The venue is pristine and clean, people are well dressed and behaving like themselves (everyone is looking super stylish, but neat) and there are no dirty hipsters anywhere!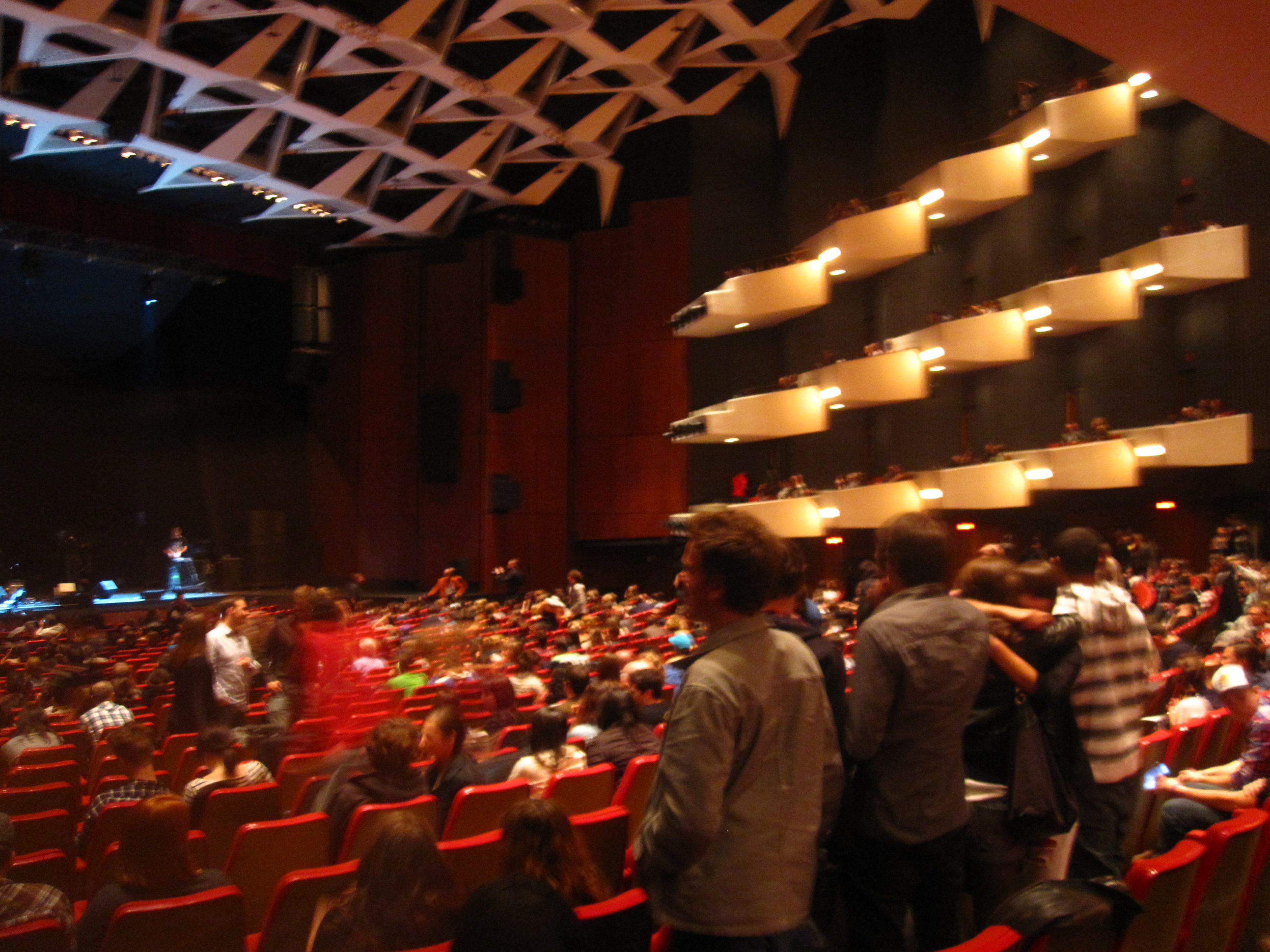 I was at The Dears show the night before and everywhere I looked it was plaid and tight jeans, greasy hipsters in every direction. The show was in the Santa Cruz Mission hall, a glorified sketchy church basement that reminded me of the days when my friends and I would play any shitty venue if you just gave us some big speakers and a bottle of booze. So what in particular was it that made this venue so sketchtastic? Well, besides the bad sound and the fact that it was little more then a linoleum floored gymnasium, I got to see a sketch show for the ages. I witnessed a dude, barefoot, takin' a dump in the public washrooms (mid-show) squatting and gruntin' and forcin' it out! I didn't even want to touch the walls of this place and here was a guy walkin' around without any shoes!
All this brings me to the question of when did POP go from shoeless joe in the crapper to putting on shows at Place des Arts? – When did POP start getting classy?
When did pop go from being the new kid on the block festival struggling to get by and playing super hip shows, for super cheap at super sketch venues ( I <3 church basements and my friend Cassie's living room) to playing concert halls like salle Wilfrid Pelltier?
(photo)
One of the coolest parts about POP is the intimacy it creates between the artist and the spectator. I've met almost every band I've seen person after the show and have had the pleasure of shaking their hands and congratulating them personally. I like that!
Anyways enough about venues and classy smashiness, let me get on to the review of the actual show:
The opening act was
Zola Jesus
, and everyone loved them! Both the second band, War Paint, and The xx gave them lots of kudos, and the audience really seemed to have enjoyed them. Unfortunately, I missed the opening act but I did check them out on Youtube and they seem pretty cool. You can check out their latest
video over here
.
Next up was the band
WarPaint
. WarPaint is a 4-peice band led by three powerful women up front and they've got some talent. They call their sound experimental art rock… and well, their songs are pretty and flowy, they aren't quite my bag. They're not really the jumpin' around type music but more of the swaying around in circles with long scarves type of music. Unfortunately at some points I found it sounded whiny, and I wasn't overly impressed by their energy. I would have preferred to see someone who would get me in the mood for The xx. Either way after WarPaint's set there was a half hour intermission, which kind of defeats part of the purpose of warm-up acts in my opinion but anyways.
Ok and now finally on to the review of the xx…WOW! The xx rock! I had no idea what to expect. I've heard their album and a few of the remixes but nothing prepared me for this. They were so tight as a band, every guitar lick and cymbal crash perfectly timed! They exhibited a degree of musical professionalism rarely seen and much appreciated. The venue was assigned seating, which was weird, but it forced/encouraged everyone in the audience to really connect and pay attention to the spectacle on stage. The lights, smoke and showmanship of the band combined to make this one of the best shows I've seen in a long time!
Take a look at the video below, and keep an eye out for more footage and photos from last night's show on Forgetthebox over the next couple days.