Hey yo POP Montreal— treat me like a pirate and give me that booty. That's the hook for Flossy's new single. The guy is on some next level shit right now. I strolled down the wet Plateau streets with the freshest girl I know to catch the Turquoise Jeep set at Club Lambi. I was ready for whatever, like who goes to see Flynt Flossy, right!?
We chilled in the alleyway for a bit, took some flicks and got faded. Pure trap bass was just slamming in the building. Shaydakiss and A-Rock took turns spinning the opening set— they had snifters on the table beside the ones and twos, the place was crunk up. There were some pretty fly dancers on the floor, this one dude was leaning back way under the limbo stick. A throng of girls in AA tights were dipping that shit low too! I don't know if you're up on what Flossy's been doing since Turquoise Jeep, his label, started dropping albums back in 2010—
The sexualization of women is rampant and there's a super cheesy aesthetic to the lyrical content. These guys that form the Turquoise Jeep crew, Whatchyamacallit and Yung Humma and Flynt Flossy are constantly rapping about sordid encounters with live women. Sounds like a train wreck, no? But yo, trust me, these tracks are so stupid that it's actually funny. The tracks almost feel like parody. Now, I don't think Flossy's as self-aware and pointed as Ween. But there is a shrewdness to embodying something you're making fun of, marketing it and taking it on tour. Plus, the beats really bang.
At one point each of the members chose a girl from the audience and had them come up on stage— But yo! These girls got mad lap dances, dudes were grinding all up on these poor girls' faces. Flossy's turned the place out. I'm not saying none of those ladies enjoyed it though. The show was just live with strange outfits and dank beats, after an hour I had to dip and walk the streets— photos in the after-rain are so reflective.
If you don't bump Flynt Flossy once a week just to get low and laugh then you slipping. And also peep that video for "Treat Me Like A Pirate". It's all American Appeal and thick gals wining as the beat rolls out.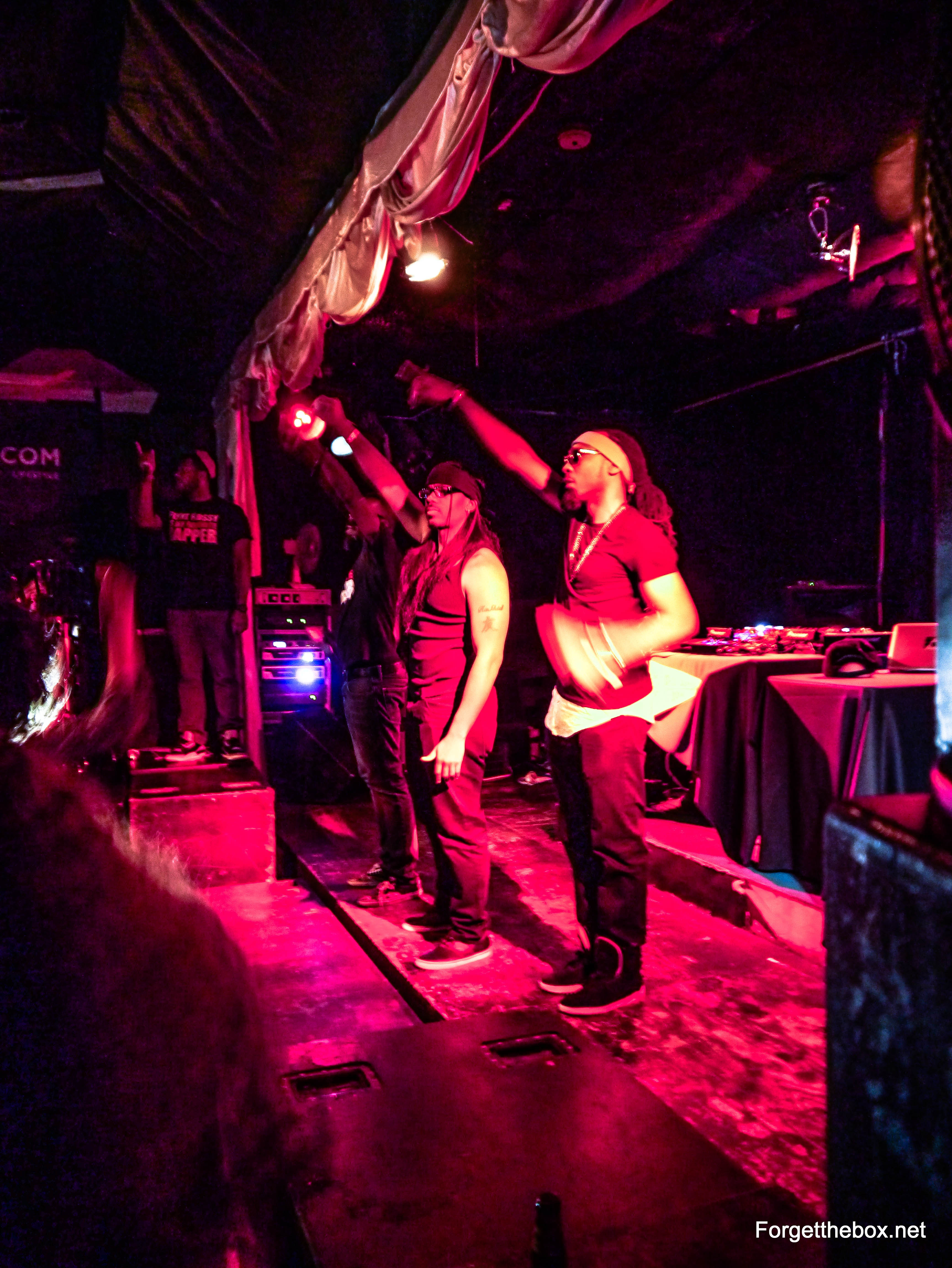 Werd.
Photos by Jesse Anger.