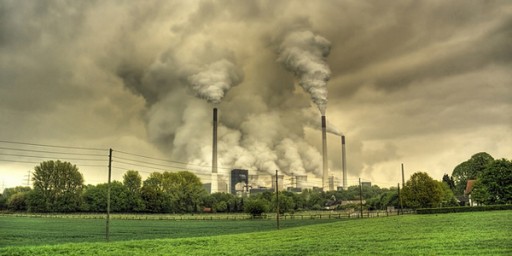 It probably comes as no big surprise, but Canada may be drastically off its emission targets, despite contrary promises from the government.
Though the Harper government says Canada is halfway to reaching its 17 per cent emissions reduction target by 2020, critics say the country has only cut emissions by as little as 3 per cent.
The devil, it seems, is in the details, according to CTV.  The Montreal based environmentalist group Équiterre says the government is skewing the data to make it look more palatable.
Canada's 2020 emissions target of 607 megatonnes is based on the projection that 850 megatonnes of harmful gases would have been released into the atmosphere had the federal government done nothing to reduce emissions.

By using that projection as a starting point, instead of the roughly 750 megatonnes of greenhouse gases Canada emitted in 2005, the government can say it's halfway toward reaching the goal. However, emissions are currently down only three per cent from 2005 levels, at 720 megatonnes.
Other projections have placed Canada's 2020 emissions as much as 19 per cent higher than its goal. This is good news, though, according to The Province, but only because its emissions targets have been so bleak.
Environment Canada's previous estimates from 2011 projected the country's annual emissions would be 29 per cent above Harper's 2020 target, set under the 2009 Copenhagen climate change agreement.
Perhaps the contributing factor is the government's lax stance on emissions from the tar sands. The Environment Minister Peter Kent said the government doesn't want to inhibit job growth. This winter Canada also earned some well-deserved international ire when the country pulled out of the Kyoto Protocol, joining the United States, Afghanistan, Andorra, and South Sudan.
However, with global warming in full swing, Alberta can expect to be scorched anyway by 2100. Maybe the seat of the Conservative Party will have to acknowledge the "climate change" problem by then?
*Photo by Guy Gorek (Creative Commons)