The clanging of pots and pans rang through Toronto's west end Wednesday night as an estimated 2000 people of all ages came out to march in support of Quebec's student movement and against the province's Bill 78.
"We were both inspired by what was happening in Quebec and we'd both spent some time there in the last couple of weeks," said Leila Pourtavaf, one of the event's organizers. "Coming back to Toronto we wanted to both show solidarity, but also recognize that austerity is not affecting only Quebec."
Wearing red t-shirts, hats, jackets, accessories and the now famous red squares of the Quebec protest movement, people gathered at Dufferin Grove, a west end park, and began the percussive protest at the appointed 8 p.m.
From the outset, the protest had the makings of a family affair. Claudio, a native Chilean, attended with his wife and four-month old daughter. He noted that pots and pans protests were originally used against the Allende government in Chile in the early 1970s, and were later renewed during resistance to the Pinochet dictatorship.
"In Chile there's a very strong student movement protesting things similar to what's happening in Quebec," he said. "So for me to be here with my wife and child, it's to express our solidarity with the students in Quebec, especially with this oppressive legislation that's being put forth by the Charest government."
Vast numbers of Quebecers have turned against the Charest government in reaction to strict limits put on freedom of assembly and of expression by Bill 78, broadening the protest movement beyond simply the issue of a tuition fee increase, which first sent Quebec's students into the street en masse.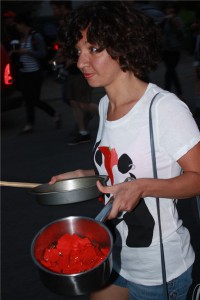 After half-an-hour of noisemaking that seemed only to attract more people to the park, the crowd started its march through the surrounding neighbourhood, bringing their sonic message to locals, mirroring demonstrations in Montreal and elsewhere in Quebec that began May 19.
A contingent of seven Toronto police officers on bikes watched the crowd grow and followed the march, calling in support from squad cars to block streets along the route. Over the course of the evening, police repeated that the protest remained peaceful.
Along the route, some neighbours seemed puzzled, some snapped photos while others brought out their own cookware to beat along with the marchers.  Resident Jason Albuquerque said, although he was not aware of what the protest was about, he found it enjoyable and wouldn't mind if happened again nightly, as long as it wasn't too late.
As the stainless steel parade snaked through the streets and up towards Bloor Street, all appeared amused to watch, red squares materializing on their shirts in the procession's wake.
"I was surprised that there is a movement going on here in Ontario, and hopefully it won't be negative in terms of violence or destruction," said Lorraine Heimrath a resident of Hepbourne Street, sporting her new fabric red square, husband Jean-Marie standing by.
"It's in defiance of these new laws," he said, referring to Bill 78. "I think people finally got up off their asses and started to say something because they're not going to put up with it anymore, and I'm glad."
On Bloor, the march seemed to reach a crescendo, attracting attention and support from bars, restaurants, cafes and residents along the main thoroughfare. The steady stream of people would turn south towards College Street before heading back towards its starting point and making a second round, though far fewer remained as the march headed east on Bloor at 10:45 p.m.
The march was the largest of several gatherings planned in Toronto and was part of a Canada-wide rallying call dubbed "casserole night in Canada," after the Quebec "casserole" demonstrations that have broken out nightly in neighbourhoods across Montreal and elsewhere in Quebec.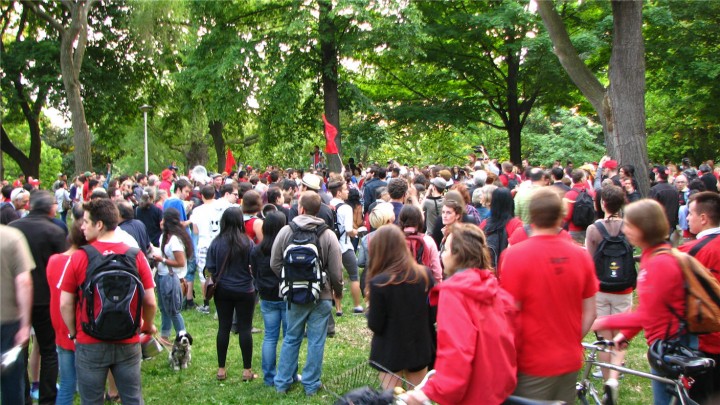 The wave of arrests and clashes with police have made headlines internationally, with the UN Special Rapporteur on the rights to freedom of peaceful assembly and of association, Maina Kiai, weighing in on the crisis on Wednesday. "It is regrettable that the authorities have resorted to a restrictive approach, rather than seeking dialogue and mediation to resolve the current situation," said Kiai in a public statement.
Responding to mounting pressure, both student groups and the Quebec government are in the midst of negotiations that are now stretching into a fourth day, and have seen concessions made by the government on the tuition fee increase. Offers and counter-offers continue to be debated in what Gabriel Nadeau-Dubois, spokesperson for the student organization CLASSE, called "a bit of a ping-pong match" on Wednesday night.
Photos by Malika Pannek and Tomas Urbina