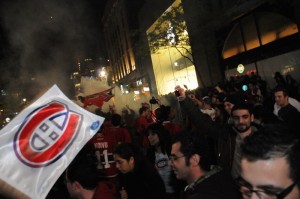 It's only preseason everyone, chillax! Wait, is chillax even a word? Chillax is a lazy man's way of saying calm down.
Aw Carey Price, could you have picked a better word?
I had time to go into the office this past Monday night.
My office, being the Copacabana on St. Laurent. It was a quiet rainy night, the bar was full of a handful of regulars, watching the Montreal Canadiens beat the Florida Panthers 6-2. It was the fourth night in a row that our Habs had play, a mixed squad of fresh faces and familiar ones, a different goalie each game.
It's the preseason, you can play as many games as you want however it's a new name playing hero each game.
The guys that stood out that night were centerman Lars Eller and Ryan White. Eller has made a strong presence   during the training camp. This great big Dane has proven he's more than what the St. Louis Blues threw in, in the Halak trade. White on the other hand is gritty and isn't afraid to drop the gloves. He's a draft pick from 2006 who may have a good chance of making the roster.
The kids are fighting for a spot in the big show and in that game they also made the veterans very enthusiastic. With guys like Plekanec and Cammalleri scoring also, it was like watching a couple of kids playing a game of pick up. Even Travis Moen was able to drop the gloves in place of White, who had a game misconduct (and was still the 2nd star of the game).
Ah yes, this team is a good mix, however very young.
There's talk of a line of Pacioretty-Boyd-White however, the concern is can Pacioretty stay in the lineup? He made the squad last season but then got sent down to Hamilton. White: can he finally make the team?
So many cuts to make. Louis Leblanc was sent back to the Montreal Juniors but good news, you get to check-out the future Hab for cheap, in Verdun.
Other names that stood out:   Defenseman Alex Henry does great things with his size, Left winger David Desharnais played great however just got sent down. D Yannick Weber, who I've been waiting for to make the team for the last couple seasons and was hoping for a tag team on defense with PK Subban.
Ah yes, PK, he's already plastered on posters all over the city. Make sure he makes the team, they made a mistake with Maxim Lapierre when he didn't make the team but put his face all over Montreal, oops!
The other oops in the last few days was our favourite target Carey Price; he had a sub par start and everyone was in a panic. Reading from a facebook status from my friend, I normally see hockey games with the words "Price Sucks" on September 22. A little too early for doom and gloom.
Price made a point that it's preseason, not a playoff game. However, they want to see this guy take this team into the month of May, maybe even in June at on day one of the preseason.
Yes, it sometimes sucks to be a Montreal Canadiens fan when you have guys like my friend already on the "Price Sucks" bandwagon – way to have some faith on the goalie. But don't forget, there are 23 other guys on the team you can tell to suck also.
This why we got Alex Auld. For a minute there while he was sitting on the bench he kind of looked like Jaroslav Halak…
coincidence?
Lineups are a funny thing because they make you think, "who can be good mix or who's gonna be the weakest link?" The same goes for those who I watch the games with. I was alone at the Copa, no one really to talk to about stats and learn more about defensive play. The only word I got in was with a guy who carries chili powder in his bag for meals.
Seriously, it's a genius idea.
In my viewing lineup, I had: guys who like to argue, girls who know the game well, guys who can only speak of hockey (that's it, that's all), guys who swear in French to look cool and pick up girls. And yes, the occasional guys who end up trying to pick me up all because I'm a girl who watches hockey.
So, in my lineup I'm looking for: anyone who can afford beer, if you're going to make fun of Carey Price can you elaborate other than "Price sucks", girls not too new to the game, very passionate for the game, can come out in the middle of the week also, still need someone to argue, anyone who can tolerate my yelling at a TV and my occasional ogle of Kirk Muller…
it's a long story.
No girly girls who won't pay attention, no guys who will make an attempt for my pants, I'm not bailing anyone out of jail on anyone the next time we have a hockey riot and no doom and gloom early in the season. We'll hit the panic button in the second half when in counts more – Montreal has had a taste of May hockey in our mouths and want more.
The funny thing is, my friend's girlfriend said that Price was good looking. Price is also a well paid, somewhat talented man. And from what Facebook photos have shown in the past, he's always looking for a good time. Not a bad catch.
So what's the lesser of two evils: either Carey Price plays awful and makes the team lose or that my friend's girlfriend finds Price more attractive than him.
Oh, chillax! It's only pre season hockey.