What can you expect at a Lachine Canal Pirate Party? Maybe a few pirates prancing around with loot, eventually forming a conga line and   dancing off the plank?
Ahoy Matey! These are not  your father's scurvy ridden, sea motion addled pirates. These pirates like to party-down!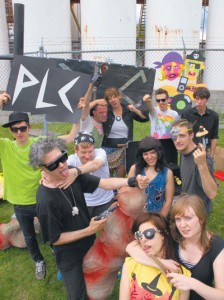 The Pirates of the Lachine Canal are a community based promotions group with a focus on the south west of Montreal (encompassing the neighbourhoods of St. Henri, Griffintown, Verdun, Pointe St-Charles, Ville-Emard, Little Burgundy and N.D.G.)–the group started so musicians and hipsters who lived in the south west would have a venue to hang out, perform and listen to great music.
From there it developed into a thriving underground music scene, and brought a now flourishing nightlife to the area.
There wasn't   much to do in terms of nightlife before the mid 2000's in the southwest. The pirates have brought  fun, parties, good music, good times, and a more or less buccaneer attitude to the music scene;   sailing around the marginal regions, treading darker, more experimental waters.
Oh, you might remember the days of their live outdoor shows. Unfortunately Parks Canada had their way and interfered during an outdoor premiere Bar-B-Q. So now, most of their shows are held inside.
As a production company they have been quite successful. Some of the bands they have promoted in the past have gone on to great things. You've probably heard of a few of these names: Jay Reatard, Times New Vikings, Tyvek, Clockcleaner, Human Eye, Vivian Girls, etc.
Performing this Saturday (May 21) at 9:30 will be : SXW Rager, Fried Alive Membrane boys! Porn Persons and Father Dust.The event is pay-what-you-can and will take place at the Fattal building, 617 St. Remi street (enter through the parking lot and hit the stretch along the train tracks. Beware of the razor sharp fence with vicious barking dogs…Just kidding!)
I'll meet you at the edge of the Plank. Land Ho!
Photo courtesy of the Montreal Mirror (2008).