When I think of the word pride I automatically think of the LGBTQ community, I think of the Stonewall activists, I think of my gay, lesbian, transgender and queer warriors that have paved the rainbow brick road for me to love as I see fit. The stone dykes and sweet twinks who have danced and marched to overcome stigma. These sparkly strong freedom and equality yearning hearts beating broken down by a society meant to be straight and white. The fallen brothers and sisters who have been left dead in dumpsters due to crimes of hate.
Denial of rights and basic necessities or even your life due to who you take to bed at night or which bathroom you use? There is nothing easy about this life. How can anybody accuse someone of choosing to be tortured or forcing physically healthy people into cruel, painful conversion therapy to normalize them.
I can't believe in some ways we have come so far but still trans women of color die by the handfuls each week. Still LGBTQ youth are targeted, still people cannot even take a piss safely. If we can pee in peace we can be in peace.
Pride is a word that has been appropriated by a disenfranchised community of misfits and perfectly fits where hearts and not parts are what matters, love is love is love is lovely. Pride is seeing the Gay Straight Alliance that you helped start in high school with your friends (because there wasn't one) march in the Pride parade. Pride is knowing that a silly little club is actually a safe place that saves lives. Pride is knowing two trans women that needed to be there.
I know that I am meant to be part of great things. I am proud that I can be part of things that help others. My pride is in my community. We promote visibility, self-affirmation, dignity, accessibility, and freedom from the binding of heteronormativity.

Pride is standing up for what you believe in, it is not backing down when faced with unjust adversity. I will not live in a world where being honest with yourself and simply telling the truth is impossible.
Censorship and evil gender expectations within a racist capitalist system of oppression that dates back to the dawn of government. Pride is a celebration of diversity. Pride should be about love and not about hate.
Many groups fight for their proper slice of humanity. Pride can be used to describe the Native Americans at Standing Rock, being beat down for protecting the water. We should all have more pride in our Earth.
Pride is a single mother surviving and making sure her children are safe and warm. Pride is the immigrant family who didn't stand down when the brick was thrown through their business, they have seen a lot worse. Pride is connected to culture and struggle, to diaspora and overcoming oppression.
Black Pride is a movement encouraging people to take pride in being black, Asian pride is a positive stance on being Asian, and White Pride is a slogan used by white supremacists, neo-nazis,and racists.
Isn't it interesting when pride becomes one of those mortal sins that everyone with Christian guilt is so afraid of? Good ol' american pride is always taken too far, these are the same folks who voted for trump (I am purposefully not capitalizing his name and spell check gives it a pass because trump is a real word).
The American dream is exclusive to those who came here willingly. The American dream excludes those bonded by slavery, those who were raped and pillaged, their hopes and dreams burned to the ground.
White is not something to be proud of. I am proud of my Polish, Irish and Scottish roots for sure, but not proud of what the color my skin represents. Raping Natives of their land and stealing others from their native lands and forcing them into slavery, and then a history of oppressive behavior and supremacy, nah, no pride in that ,bro.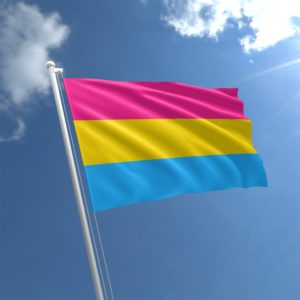 I was always taught to be proud of myself and my accomplishments, but also to practice humility and be humble. The spotlight needs to shine on others once in awhile, but bask in it when the heat is on your face.
Praising and supporting others is crucial. We need each other to survive. Love and a deeper connection to all humanity is the only answer. I am proud to be pansexual, I used to be bisexual but not I do not believe in the gender binary, hearts not parts!
Last year I went on a adventure alone to California. I couch surfed and then eventually ended up at San Francisco PRIDE. It was magical, so much beauty and talent, but I was missing something, MY FRIENDS!
Pride is about lifting each other up and feeding off of the positivity of the ones you love. Pride was dead inside, it was cold without the warm embrace of my people. Pride means standing up with and for others. It means taking off your hat to a diverse and ticking world.
I am pissed that the Buffalo Pride celebration is going to cost $10 to get into. This festival was always free, then last year it was $5, now this? I do not understand how capitalism and gentrification always ooze in and taint the fun. A reminder that we have so much more to fight.
This festival is now not all inclusive. It is a direct disrespect to the poor, to those who already lack in privilege. So lets take the streets!
Get ready for the party, I have 5 shows this week. My boobs are going to be sore from all the tassel revolutions.
I love riding my trike through the sea of bliss. A safe place in a scary world. Pride weekend is like Christmas only better, I love everything that this time represents, rainbow flags and smiling fags, dykes on bikes and queers with booty shirts, unicorns and drag queens, trans men and non binary beauties. This is the time to let your freak flag show.
There will be the haters saying we will go to hell, but I bet hell has a better DJ anyways. There is no conversion therapy here, only a celebration of what makes us unique and the differences that connect and suppress us. Even if it's sunny this parade always gets rained on, which is fine because we love rainbows.