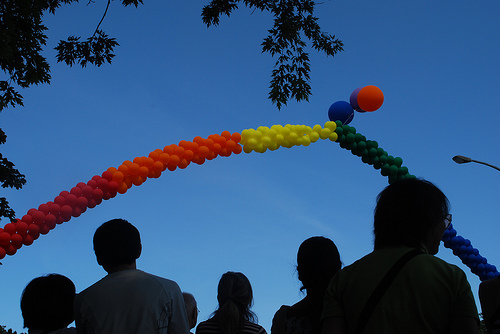 As the gayest week of summer slowly sashays our way, organizers of Montreal's pride festivities may have more to worry about than how many thousands of condoms to order.
Fierté Montreal is the target of a new Facebook campaign, "No Pride Under Law 78", organized by queers upset about the organization's close ties to the Liberal Party, which less than three weeks ago enacted Law 78, legislation that has been called Canada's most regressive since the War Measures Act of 1970.
Ironically, on the same night that the Liberals unanimously voted the contentious law into effect, Fierté honoured Ministers Jean-Marc Fournier and Kathleen Weil (both in absentia) at the annual Gala Les Bâtisseurs for their efforts in fighting homophobia.
"No Pride" is calling on Fierté Montreal to revoke the awards given to the Liberal ministers, saying, "Members of the National Assembly who supported this draconian legislation have no place of honour in our community."
They are also demanding that Fierté join in the legal battle against Law 78 and use all funds raised at the gala to fight the law in court. Lastly, and most symbolically, they want Fierté to name les Carrés Rouges—the student strikers—as the leaders of this year's Parade.
Let's stop for a moment, first, to think about what exactly Fierté is and what is really being asked of it.
Fierté Montreal is an organization whose biggest partners include the provincial and city governments, a major bank, and a pharmaceutical company. As sad as it is to say, Fierté now exists only to throw a week-long party, hand out some awards, and make a wad of cash for the city—all the while toeing the party line.
Long-gone are the days when the parade was a political act of asserting your right to live as you are, free from discrimination. As mainstream acceptance of gays grew—and with it a larger cash payout—Fierté was able to cut itself off from the very roots on which it was founded.
Sure, political statements can still be made at the parade: for example, the anti-capitalist contingent is allowed to march. Any action, though, that directly threatens Fierté's current base will not be accepted easily, which is why members of "No Pride" will have to push hard.
Montreal's Pride Parade is not the only one suffering from this apolitical blight. In 2010, organizers of Toronto Pride banned the overtly political group Queers Against Israeli Apartheid, whose members take issue with Israel using its own tolerance of gays to brand itself as a haven of freedom despite its continued occupation of Palestinian territories. QuAIA was eventually allowed back into the parade after extensive backlash from other parade participants.
Just as Toronto Pride was forced to backtrack, Fierté needs to be forced to take a stand against a government that is trampling the rights of others in the name of "democracy and citizenship". Any organization which claims to represent people historically marginalized by governments and police must not stand idly by while regressive laws are enacted against fellow citizens.
Fierté's members need to be reminded of their organization's roots in the bathhouse and gay-party raids of decades past—specifically, the history of the Sex Garage Raid, which directly paved the way for Montreal to become the queer haven it is today. (Click here for an excellent, if not brief, history of the Sex Garage Raid.)
At the very least, Fierté needs to take back les Bâtisseurs—"The Builders"—awards from the Liberals who so clearly have no understanding of what queers have been building all along. That being, a more just and tolerant society, something to which Law 78 is antithetical.
The other demands of "No Pride" might not be so easy for Fierté to heed, though. Firstly, financially supporting those charged under Law 78 with money raised at the Gala, while admirable in principle, might be an impossible task. If the money was raised for a specific purpose, Fierté can't rightfully spend it on something else. If, however, they can use the money to fight the constitutionality of the law, then they would do well to remember that it's not just students whose right to protest is being limited—its theirs as well. And protesting, as previously stated, is how the gay rights movement started.
As for "No Pride's" final demand of inviting Les Carrés Rouges to the front of the parade, it doesn't seem necessary for Fierté to take a stance on the strike given that they represent all queers, not just those with pro-strike sympathies. Of course, Les Carrés Rouges should be allowed to march in the parade, but "No Pride" fails to make a strong enough case for them to be at the front.
Ultimately, what's important right now is that organizers of Montreal Pride festivities take action directly against Law 78. By getting in touch with its roots and defending the principles on which it was founded—democracy, freedom, and equality—Fierté will once again have purpose.
If, however, organizers of Pride refuse to speak up and act out, then I suggest the event's name be changed to Vanity, since that is all that will be left.