On July 19th around twenty people convened at the corner of Côte-des-Neiges and Queen Mary. The occasion was a solidarity event and press conference organized by Justice for Noé Committee, which is working to help ex-temporary migrant worker Noé Arteaga Santos, as well as other temporary migrant workers, achieve justice.
According to the organizers of the event, Noé came to Quebec in 2008 under the Temporary Foreign Workers program, which allows employers to bring non-Canadians to work in the country for a limited time under temporary work visas.
Noé used to work for a Quebec-based tomato producer called Savoura. During his employment, Noé participated in the organization of a very short strike to demand that a sick co-worker receive medical care. After that, Noé was abruptly fired and forced to return to Guatemala.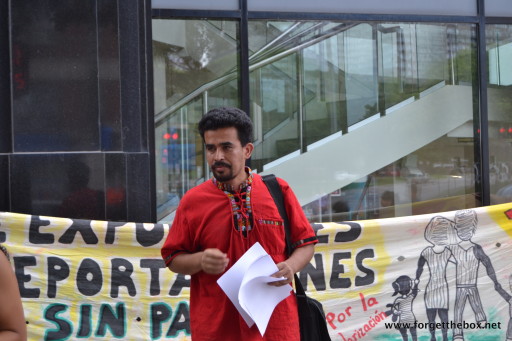 In 2014, a human rights tribunal decided that his firing was unjust and that Savoura had contravened articles 10 and 16 of the Canadian Charter of Rights and Freedoms. Later in 2015, as Noé was about to reach an agreement for compensation with Savoura, the company declared bankruptcy, even though, as some speakers pointed out, Savoura's products are still being sold at grocery stores everywhere and profits are coming in.
According to the Justice for Noé Committee, the amount that has been identified by Noé as damages in negotiations with Savoura is around $50 000, calculated on the basis of $10 000 lost salary per year for five years. The Committee has recently launched an IndieGogo campaign and is hoping to collect that amount through crowdfunding.
Plight of temporary migrant workers
According to Viviana Medina, who is a Community Organizer at the Immigrant Workers' Centre (IWC), Noé is not the only temporary migrant worker who has been mistreated by their employers. Medina explained that she talked to several workers at the demonstration and that they all expressed the severity of their working conditions.
"They asked us to go to their farm, because they live in a lot of bad conditions. They [also] said that they are scared to say anything," Medina said.
The main problem most temporary migrant workers face is that no one tells them what rights they actually have in Canada, because whatever information they receive, it either comes through an agency or the employer. Since they don't know their rights, they can't ask for them. And in case that they ask for them, they risk facing dire repercussions.
According to the IWC, most of these workers have closed work permits which bind them to one employer, which means that if they get fired, their status in Canada is compromised.
Helena Sanchez, a representative from the Temporary Migrant Workers Association, which functions within the IWC, told us that the Temporary Foreign Worker Programme differs from a regular work permit in the sense that it's "super precarious."
"Before, there were all these corporations which used to bring all their industries to countries where it was cheap to produce. Let's say Guatemala, let's say Africa – anywhere. Nowadays, it's even better. With [programs like TFWP], these corporations can actually bring the workers, not move their company there. So they have the cheapest labour ever. Labour that is frightened, that is isolated, that has no chance to know their real rights," Sanchez said.
Sanchez emphasized that their struggle for is not only for workers' rights, but also for human rights: "They can go too far to control their lives in a way in which they don't have the right to go outside their homes. […] They don't even have the right – I mean they have the right – but the employer does not give them even the right to speak with other people. We tried to speak with different workers. […] It's even difficult to speak to them, because they're frightened. They're fucking frightened, it's impossible."
The organizers hope that their activism will solicit a response from the Quebec Minister of Labor and from Savoura, and eventually improve the working conditions of all temporary migrant workers throughout Canada.