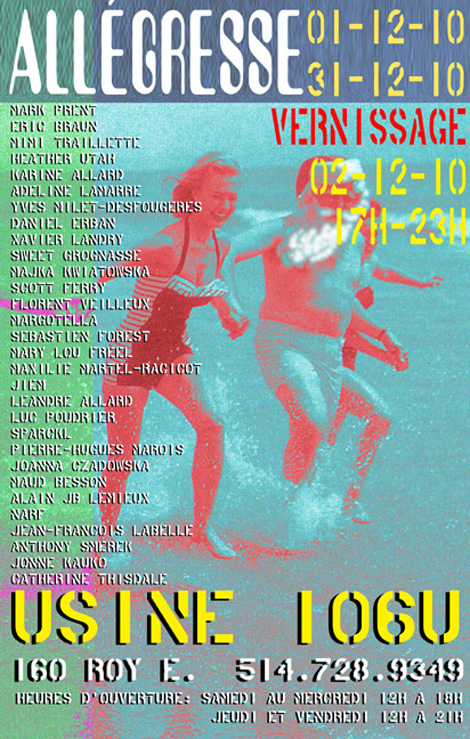 The gallery pulsed to the brooding chords of a Velvet Underground song, swelling with spectators clustered amidst the cubicle-sized space; a swollen heart pumping raw energy into Roy Street's lackluster landscape. Imaginary worlds laced with innuendos, vibrant pop art with saucy captions, street bondage photographs, and erotic etchings plastered every inch of wall and windowsill as an appreciative audience guzzled it in.
Last Thursday, USINE 106U celebrated the opening of its December exhibit with good music, spilled beer and art-junkie Montrealers. If you've never been to USINE 106U, you really ought to go. Tucked away on Roy, between De Bullion and Hôtel de Ville, it shares a block, and a brightly painted exterior, with Else's bar. It's a gem of kaleidoscopic visuals and mood-amending stereophonics—an overall joy to the senses, really, and this month's exhibit couldn't be more appropriately titled. ALLÉGRESSE, meaning "joy" in English, is USINE 106U's holiday-titled December show. But, aside from the promo flyer which features Santa running down the beach with a few sexy ladies, the theme ends with the name and the exhibit revolves around the art.
"I always have kind of a theme thing going, but it's very loose" remarks Eric Braün, artist and founder of USINE 106U. "It's more precise say, for February, we do an erotic show. But, the common thing that's present in every part of the show, I guess, is the fact that it's figurative art, so there's no abstract and most of it is outsiders, so for some reason the content can be a little more edgy. That could be the thing that people notice from one piece to another."
Edge is what makes this gallery stand out. Sébastien Forest, a professional photographer, is one of the artists showcased this month. His racy bondage-like photographs feature "trash urban muses"—naked femmes with gas masks, pretzeled around street poles, bent over with their asses in the air. Scott Ferry's painting "Eternity in Grannyland" featuring sexualized tranny-like grandmas, with a vibrant rainbow road erupting from one gran's withered vag.   And of course, there's Braün's own art. As a painter, sculptor, etcher and cartoonist, the gallery is filled with his provocative and humorous work— take the giant canvas of fornicating skeletons as a prime example.
ALLÉGRESSE features mostly local artists, with a few exceptions. "We have an artist, Yves Milet-Desfougères, he's a French etcher/painter in Paris" says Braün. "He knew Andre Breton from the surrealists and he was kind of part of the movement in the beginning of the 60's. He does a lot of erotics nowadays.   There's another artist, Majka Kwiatowska—she's a Polish woman about 60 years old. She's never been to Canada, but she has a friend who takes care of her pieces for her."
The gallery features around 30 artists each month, 12 of whom are permanent.   "I have hundreds of artists who have shown here.   Some come back and show again, a part want to show every month so those are compartmentalized, and then there's also people who drop in who are curious. I fill the months, one after another, and when it's all done, well, that's the show." Indeed. And luckily, for all those who've yet to see it, the show is still on for three more weeks. Because, take it from me, seeing granny's rainbow road is worth the trip alone.
Check out USINE 106U at 160 Roy E., Saturday-Wednesday 12-6 and Thursday & Friday 12-9.