You've doubtless heard the warning before – Canada cannot be defined in terms of how un-American we are. So too for that reason, Québec cannot define its character and identity in terms of how un-Canadian it is.
When you look to see what lies at he heart of Québec society, you find the very roots of Canadian progressivism, and that from which all of Canada grew. And we're expected to believe the trunk will live long and prosper while the roots are ripped from the soil; it astounds me how a political party has been able to convince so many of us of the seriousness of their message without ever producing any kind of plan for exactly how they propose to remove an already sovereign province from Confederation.
The PQ tells us not to worry about it – we'll figure it out as we go along.
It's not just that the PQ is both inept and lackadaisical in their efforts, it's that they haven't really ever bothered to explain to the public what they would do in a simple and straightforward manner. It's as if they don't even believe in the likelihood of separation, so much so that they wouldn't bother wasting the time or energy to draw up a 'to do list' of sorts.
No, no of course not – under promise and over deliver, right? Keep it vague; keep it emotional.
Ours is tabloid politics. Sensational. Scandal-plagued. An ad-man's wet dream, presto plastic pop politics, delivered straight to the heart like hot lead from propaganda machine gun.
We don't have a government; we have a bullshit machine that feeds the media, keeping us distracted from the fact that we who disdain and decry the mindless election of the federal Tories have subsequently elected a government with a leader of similarly dubious charismatic qualities and a profound lack of innovative, imaginative spirit or long-term vision.
The students are learning this lesson quite literally as we speak.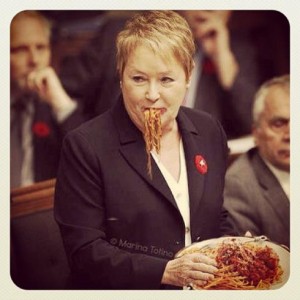 So are all the small-business owners who have felt the sting of an inebriated sense of entitlement by a marauding gang of over-zealous 'language cops' – have you ever heard of anything quite as absurd as this?
Remove steak from the menu.
Remove WC from atop the washroom door.
Pasta is an unacceptable term in an Italian restaurant.
Use masking tape to cover the On/Off button on your microwave.
And chew on this while we're at it – the OQLF has a budget of $24.7 million – enough to pay full annual tuition for nearly 9000 students.
The PQ wasn't happy at how quickly world media picked up the story and was hypercritical of the current, temporary separatist government. In her efforts to garner international support, Marois has come up flat, embarrassingly so.
Over the last few weeks the Anglo-Québécois community has felt the sting of a vindictive and comic government hell-bent on the destruction of Canada via the removal of Québec – the original Canada, the place from which all of Canada grew, from where all the money, labour and intellectual capital flowed for the hundred or so years prior to and immediately after Confederation.
The PQ will have you believe that Québec has no place in such a nation, and further still has so little in common with the Confederation that it must go forward as an independent country. They've been beating this drum for more than forty years, and it's been about that long that Québec has generally been on the decline in terms of political influence in Ottawa and economic influence nationally.
As the movement developed over the years it moved from the original goals of:
a) Securing the French language through legislation. Mission accomplished. Bill 101, as it was written in 1977, is more than sufficient to guarantee the supremacy of the French language in Québec forevermore.
b)Minimizing the revenue waste and corruption of the previous Liberal and Union Nationale governments. Again, job well done. Lévesque's government from 1976 to about 1981 was one of the least corrupt in Canadian history.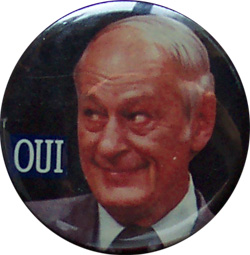 c) Re-negotiating Québec's place in Canada. Again, kudos. Though the 1980 Referendum was a Federalist victory, Trudeau made good on a campaign promise to repatriate the Constitution and develop a civil rights charter, itself based on the PQ-written Charte des droits de l'homme. The original referendum question was to do just this, re-open Constitutional talks, not independence, so again, I doff my hat in memory of Oncle René.
But as many go-nowhere independence movements, the PQ has transformed into something far less inspiring. Polls continue to suggest that interest in separation is still far too low amongst Franco-Québécois, meaning that regardless of Pauline Marois' narrow-minded vision, the so-called winning conditions still elude us.
And as such we're stuck in an interminable limbo. In the meantime the PQ government has no choice but to feed the machine as it were.
As they backtrack on various campaign promises and make horrific cuts to healthcare and education (something that affects all Québécois, regardless of mother-tongue), they push increasingly unnecessary, needlessly divisive and draconian legislation designed to fight a war of political attrition against a non-existent enemy. This is true to form for them as we've seen it many times before.
Enter legislation to eliminate government funding for Anglophone CEGEPS, of which there are five out of 48, with roughly 30% Francophone enrolment. Or legislation such as Bill 14 that seeks to eliminate the bilingual status of a number of small 'historically English' communities throughout the province. Or another bit of legislation, designed to require many small enterprises to function in French.
You see, the Anglo-Québécois are viewed as suspect requiring such legislation. It's all too often about making it clear English won't be tolerated so long as the façade of French linguistic annihilation can be maintained.
It's insulting, it's juvenile and transparent in the worst possible ways, but it's no need for alarm. To borrow a line from the Simpson's, the PQ is as impotent as a Nevada gaming commissioner.
Marois and the PQ are filling a vacuum until a real party is established. And let me be perfectly clear – the PQ is not a party; it wasn't created as a party, merely a protest movement to get Québec the recognition and respect it rightly deserved
.
Today it perpetuates old stories of racial and linguistic divides to perpetuate it's very own raison-d'être. There's no vision in reactionary, stifling social policy; Harper will learn that lesson himself in 2015. We can only hope Marois takes off long before that.
In the meantime the Anglo-Québécois needs to keep its collective head.
We cannot become a Diaspora. We don't nearly have enough self-confidence. At best, if we do nothing, we die out slowly, a cultural oddity of no real significance.
And many of us think that way – tell a minority they're the cause of the majority's problems often enough and they tend to believe it. Those who have the means leave, and those who don't grow sad, hold grudges, begin to hate, etc.
We've seen it a thousand times before. We're human and not too highly evolved either, because we continue that which does not work, that which has failed so many times before.
We keep it up because it's all we know – we're used to it. We're so unimaginative and easily swayed by mere propaganda we habitually miss the forest for the tress, unable to grasp the reality of our situation.
We're an odd minority, that's certainly one way of looking at it, and more often than not it tends towards questioning how we ever came to be in the first place. We're told we're rich, powerful, conservative, monarchists even, regardless of whom we really are and what we truly do.
We're a scapegoat and a political tool. What's ironic is that those of us who stayed – and who continue to stay – are those who lack the means to adequately safeguard our society and culture against unwanted, coercive assimilation.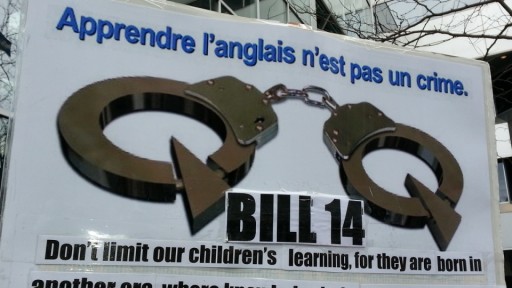 The WASPs left long ago, Westmount shed its Rhodesians, and the language of corporate Montreal is most assuredly French. But most importantly, and never forget this, French haven't disappeared, and neither have we. But we'd nonetheless be very wise to not let the PQ bother us, to simply carry on with what we're doing, living our lives as we see fit.
The question is not about whether Québec will separate, but rather how long it will take the PQ, as occasional agent of minor governance, to make this province uncomfortable for anyone who doesn't see eye-to-eye with them, Anglophone, Francophone and Allophone alike.
They're trying to shore up their position not by attracting new supporters, but by pushing people out of the contest altogether.
The only suitable response for those who have no interest in being dictated to is to learn French, integrate and bring our point to 'les autres.'
Ultimately, ours is the position of open acceptance, and it's the only way forward.