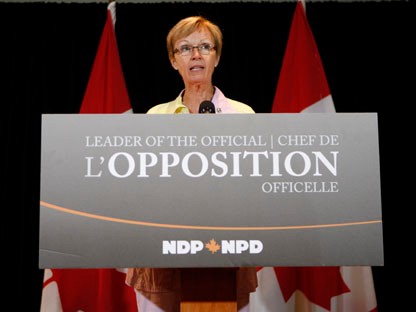 Watching l'affaire Turmel unfold this week has been something of an eye opening experience. I'm not sure whether the national media really don't understand Quebec politics, or are choosing to lie to Canadians.
Late last week Stephen Harper's Conservative party released a memo   "revealing" that NDP interim leader Nycole Turmel had, for a brief period, held a membership in the Bloc Quebecois alongside her membership in the NDP, which she has held for over 20 years.
This Tuesday, the Globe and Mail ran with the story and the feeding frenzy was on. One national news source after another lined up to bemoan this dastardly, dastardly thing she had done.
No surprise that the Conservatives would pick up smearing the leader of the Official Opposition where they left off with Iggy. Nor that they would do so to a lifelong Federalist who has never voted Bloc and voted No in both referendums, when their cabinet, like the Liberals' before them, boasts several real former sovereigntists and Bloc members. After all, the Conservatives' constant attempts to turn Quebec and the Rest of Canada (RoC) against each other for political gain are the chief threat to national unity in our country.
What appalls me, if it does not surprise me, is that the national media, with nary an exception, would gleefully follow them down the rabbit hole. They did so for two reasons: complete ignorance of Quebec and how our politics work, and a desperate flailing to cut down the NDP and their new leader for the egregious crime of being Socially Progressive while Popular (SPP).
Since facts have been given short shrift in this week's coverage, allow me to recap them. Nycole Turmel has been a member of the NDP for over 20 years, holding several senior positions in the party in the 90's. She voted No in the referendums of 1980 and 1995, and has never voted for the Bloc. Her crime is that, at the request of a close friend who was a Bloc MP, she took out a membership in the Bloc in 2006 and donated the paltry sum of $235 over the four years she was a member. During these years she remained a member of the NDP, and cancelled her Bloc membership in January of 2011. She was also, until hounded to renounce it this week, a member of Quebec Solidaire.
For the benefit of readers outside of Quebec, allow me to explain. Here in Quebec large numbers of federalists vote for and support the Bloc and Quebec Solidaire because they are progressive social democratic parties, which reflect their values.
Most national unions routinely endorsed the NDP in the RoC, while endorsing the Bloc in Quebec. This is because they saw the Bloc as the most viable progressive option when the NDP was not popular in Quebec, not out of an affinity for sovereignty.
Quebeckers of my generation have largely rejected the old sovereigntist-federalist axis and choose to organize themselves along ideological lines. The rise and fall of the ADQ and François Legault's putative right wing formation are good examples, while the best example is in fact Quebec Solidaire.
While nominally sovereigntist, this grassroots driven party is composed of a fairly even mix of federalists and sovereigntists who agree that the priority is to address the growing inequalities in our society. I am a supporter, as are most of my Anglo and federalist friends.
In the last election the "sovereigntist" Quebec Solidaire chose to abandon the Bloc and throw their support behind the federalist NDP. They did so because their priority is progressive governance. Their co-leader, Amir Khadir, is a member of the NDP and attended the party's recent convention in Vancouver. He was even quoted last year as saying "We are caught in the prison of the national question."
QS local riding associations have come out en masse to support newly elected NDP MPs with weak ground organizations. In fact the party debated removing sovereignty from their constitution at their last convention, a proposal which was only narrowly defeated, and will certainly be revisited.
But how dare Nycole Turmel support QS, the only provincial party in Quebec whose policies are even close to those of the NDP?
Never mind that mere months ago Canadians across the country were fêting the NDP for succeeding in convincing progressive Quebeckers that they could achieve more through the NDP than the Bloc. Never mind how insulting it is to Quebeckers that anyone who has expressed any sort of support, however fleeting, for what was until this spring the most popular party in the province is a target for this type of character assassination. Never mind that this week's events prove the point of hard-core sovereigntists, who argue that Canada will never understand or accept Quebec.
The question is, why is our national media lying to us? Why are they telling us that anyone who ever cast a glance at the Bloc, or any of their MPs, is a traitor who deserves to be branded with a scarlet B, and expelled from polite society?
I think that this week's conniption fit in a teacup is no accident. It is a calculated attempt to take down the NDP, that much is obvious. But I think there is another element to it as well.
For years Quebeckers were distracted from the "social project" by their division along national lines. The shift to viewing politics along ideological lines, in a largely left wing province, is a threat to many vested interests.
This week's firestorm will surely leave Quebeckers feeling insulted, and justly so. If our best and brightest federalists are judged unworthy by the rest of the country for no greater crime than the way Quebec politics work, then why bother trying to participate?
The RoC has spent years begging Quebec to give Canada a chance, to engage with the federation. As soon as we do so we are slapped across the face and told we are unworthy for our past thought crimes.
This mess will be bad for national unity, for the country and for all of us. But it will be good for the Conservatives and their agenda of division. Now remind me, who did all those national media outlets endorse in the last election?
Dear journos: Get your act together and do your job. Stop being so transparently partisan and hypocritical and tell Canadians the truth. Is that really so much to ask?
Follow Ethan on Facebook and Twitter:
[like url=http://www.facebook.com/pages/Ethan-Cox/173815282688113]