This week I'd like to share with you a summery-tasting little dish: quinoa pilaf, garnished with fresh dill and lemon zest. The dill and lemon really make this dish refreshing and light – perfect for a healthy summer meal. I learned this recipe from Rosie Schwartz, a Toronto-based dietitian.
I've already discussed at length the health benefits of quinoa, and that it is a complete protein all on its own. There are so many ways to prepare it – for breakfast, lunch and dinner – that quinoa can easily become a staple in any vegan or non-vegan home.
A pilaf is traditionally a rice dish, in which the rice is cooked in broth, and vegetables such as peas are typically included. Quinoa makes a lovely alternative to the rice for those of you looking to add plant-based proteins to your diet. Quinoa can be found in its red, white and black variety.  Below, I used a combination of red and white.
The vegetable stock I use to cook the quinoa in I also make myself since it is so easy to prepare. What I do is when I am cooking vegetables like broccoli, spinach, kale, rapini, mushrooms, etc., I keep the stalks instead of discarding them. I then boil them with an onion, a couple of cloves of garlic, sea salt, oregano, a couple of carrots and a celery stalk, if you have it lying around. A tomato is also nice to make the broth slightly sweeter, and any other vegetable works too. The more you add, the tastier it will be. Boil this concoction for at least an hour and then strain the liquid once it has cooled a bit. I store it in Mason jars. There you have a tasty vegetable stock to use as a base for soups or with which to cook your quinoa, rice, or lentils. Next week, I'll share with you a hearty lentil soup recipe for which the vegetable broth can also be used.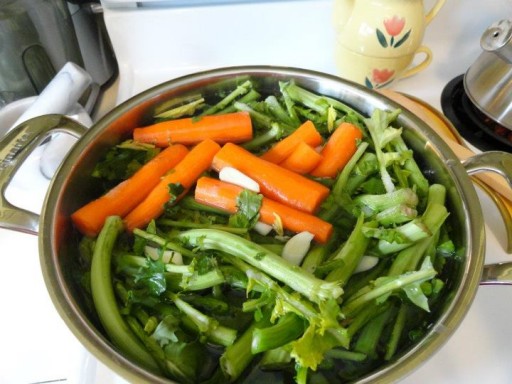 This vegetable stock is not only delicious, but also comes with a funny background story: I developed the method in a dream. I had a dream in which my mom (who is also a vegan) was complaining that she wanted broth but could only find chicken broth. She was appalled and saddened in the dream. So, Ms. Problem Solver and the Veganizer herself said: "Mom, don't worry, we'll make broth from kale stalks."
There you have it folks: Lina's Vegetable Broth was born! When I said I dream up this stuff, I wasn't kidding!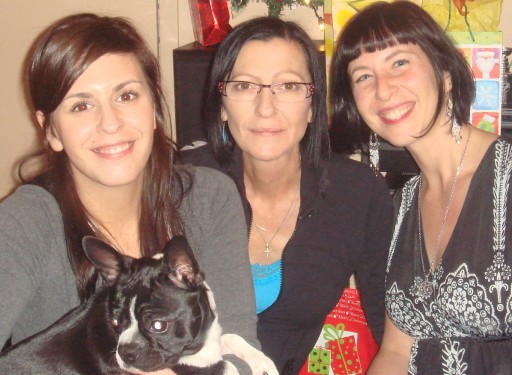 Enjoy, in joy and in health!
Lina's Vegetable Broth
Ingredients:
2-3 cups of green vegetable stalks of your choice
2-3 carrots, chopped in half
1 celery stalk
1-2 gloves of garlic, halved
1-2 onions, quartered
8 cups purified water
1 tablespoon sea salt
1 tablespoon dried oregano
Method:
1. Boil all ingredients together for at least one hour.
2. Cool. Strain and store in Mason jars.
Quinoa Pilaf
Ingredients:
1 cup quinoa
2 tablespoons grapeseed oil
1 cup chopped green onions
2 cups mushrooms, chopped
2 cups vegetable broth
¾ cup green peas, cooked
1/3 cup lemon juice, freshly squeezed
2 tablespoons lemon zest
2 tablespoons fresh dill, chopped
Sea salt and freshly ground black pepper to taste
Method:
1. In a sauce pan over medium heat, toast quinoa. Stir occasionally until golden, about 5 minutes. Set aside in a bowl.
2. In the same saucepan, heat oil and add onions with a pinch of sea salt. Sauté until soft. Add mushrooms and cook until soft, about 10 minutes.
3. Add quinoa and vegetable broth. Bring to a boil and then reduce heat to simmer. Cook covered until all the liquid has absorbed, about 15 minutes.
4. Once quinoa is cooked, add peas, lemon juice, lemon zest, dill and sea salt and pepper to taste.
5. Garnish with a sprig of dill. Serve warm.
"I have a dream today. I have a dream that one day every valley shall be exalted, every hill and mountain shall be made low, the rough places will be made plain, and the crooked places will be made straight, and the glory of the Lord shall be revealed, and all flesh shall see it together." ~Martin Luther King Jr.
Follow Maria on Twitter and Facebook.