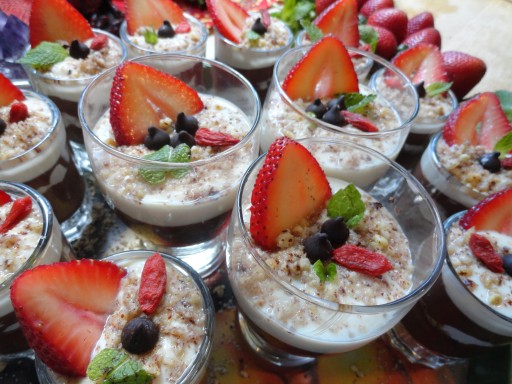 There are 3 Marias in my immediate family: my grandmother, my younger cousin and me. We are named after our grandmother Maria, as is the custom in Italian families for the first born girl to take her grandmother's name.Also typical is the shorter name "Mary" which family members and sometimes close friends use instead of "Maria." Growing up, my younger cousin was "Little Mary" and I was "Big Mary" or amusingly "Bobby" because Mary and her sister could not pronounce "Big Mary" when they were little babes just learning how to speak. My family, therefore, still calls me "Big Mary," "Mary" or "Bobby" – how cute!
When my cousin Mary heard about a challenge I created, which I call "Veganize This" (someone challenges me to render a favorite recipe vegan, and, if I succeed, I name the creation after him/her), she immediately jumped at the chance to have a vegan treat in her name. She asked me to create a raw chocolate cheesecake.
Ohhhh not easy at all – I tell you!  Any challenge that includes finding a cheese substitute is tricky (I don't want to compromise a cheesy taste and texture). I must admit this dessert took several trials. I persevered and was determined. After several weeks of experimentation, astonishingly, The Little Mary passed the ultimate taste test by none other than Mary herself!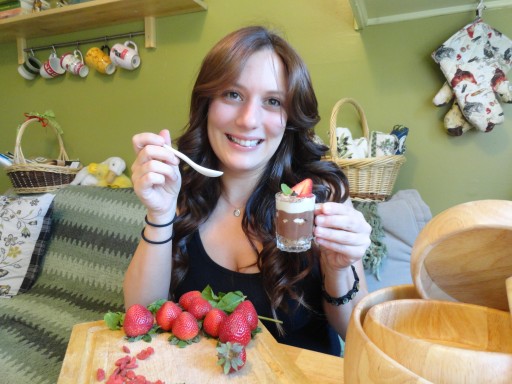 I had the pleasure of asking Mary about her opinion on the dessert and on a vegan diet in general.
1) What made you choose this particular dessert to be veganized?
"Two of my guilty pleasures are cheesecake and Nutella. I allow myself these treats on occasion, and when I do indulge, I prefer to eat dessert first, before the main meal! I wanted something with the cheese/chocolate combination, and the impression I get from a raw treat is that it is quick and easy to make."
2) How do you feel about the veganized result?
"I'm delighted! I like the degree of sweetness and the texture. I like the layered effect and the fact that each layer is a surprise of flavours. I love surprises! I really love it!"
3) What are your thoughts on a vegan diet in general?
"As I have become more health conscious over the years, I've started learning more about veganism. There are a lot of myths associated with a vegan diet, some of which I too believed before I researched them myself. For example, people tend to assume that a vegan diet commonly lacks nutrition, especially protein, that it offers little variety, that it's more expensive and just not practical. However, once I did a little reading, I realized that none of this is necessarily true. I also really appreciate all the micronutrients that are easily obtained in a vegan diet, most of which are completely lacking in common processed foods. Another important aspect for me is that a vegan diet is most often devoid of refined sugar, which is addictive and a toxin to the body."
4) Does trying vegan dishes such as this one influence your choice of meals on a daily basis?
"Definitely. You are my vegan bible! Trying your recipes and reading your articles motivates me to make some vegan recipes of my own and incorporate more vegan meals in my diet. I really appreciate how you've shown me that vegan meals can be readily accessible, tasty and quick to prepare."
There you have it folks. My cousin, Mary, a non-vegan experimenting with more vegan dishes is thrilled with The Little Mary. Now, you must try this perfect summertime dessert too!
Enjoy, in joy and in health!
Ingredients:
Makes 12-15 servings in small glasses, a little larger than shot glasses. Option to make larger (and fewer) servings if desired.
1 cup raw hazelnuts
½ cup non-dairy chocolate chips
15 dried godji berries
10 strawberries, thinly sliced
15 small fresh mint leaves
2 cups soft or silken tofu (500 grams)
1 large banana
1 cup raw cacao powder
½ cup raw agave nectar
2 teaspoons vanilla extract
2 teaspoons cashew butter
1 tablespoon chicory coffee substitute
¼ cup unsweetened almond milk
¾ cup vegan cream cheese
¼ cup maple syrup
1/3 cup apple juice
2 teaspoons egg replacer
¼ teaspoon salt
Method:
1. To prepare the bottom layer, place hazelnuts in food processor and blend until powdery.
2. Scoop 1 ½ teaspoons of hazelnut powder into serving glasses to form first layer. Set remaining hazelnut powder aside for later use.
3. Prepare chocolate pudding to form second and fourth layers. Combine 1 cup tofu, banana, cacao powder, agave nectar, 1 teaspoon vanilla extract, cashew butter, coffee substitute, and almond milk in blender and blend until soft and creamy.
4. Scoop 2 teaspoons of pudding into serving glasses to form second layer. Set remaining pudding aside for fourth layer.
5. Scoop 1 teaspoon of vegan cream cheese overtop pudding to form third layer in serving glasses. Drizzle small amount of hazelnut powder to this layer, along with one slice of strawberry and 2-3 chocolate chips into each serving glass.
6. Scoop 1 teaspoon of pudding overtop cream cheese layer to form fourth layer. Add more pudding if opted for larger serving glass.
7. Place all serving glasses in refrigerator for one hour to set.
8. Prepare creamy topping for final layer. In food processor, combine 1 cup tofu, maple syrup and vanilla extract. Blend until soft and creamy. Set aside.
9. In a small pot, combine apple juice, salt and egg replacer and simmer on medium heat until mixture thickens. Combine with tofu mixture in a large bowl. Refrigerate for one hour to set.
10. Remove serving glasses and tofu mixture from refrigerator. Scoop 2 teaspoons of creamy tofu mixture into serving glasses to form final top layer. Add more of this mixture if opted for larger serving glasses.
11. Garnish each serving glass with a thin piece of strawberry, a sprinkling of hazelnut powder, one chocolate chip, one godji berry and 1-2 mint leaves.
12. Refrigerate for 2 hours and serve chilled.
"Act as if what you do makes a difference. It does." ~William James

Follow Maria on Twitter and Facebook.