There are few EP releases I have awaited with as much anticipation as How Sad's Indian Summer. Their indie dance pop tracks, 'Macee' and 'Bad Time', have already claimed their spots in my top summer jamz playlist. Formerly known as Goose Hut, How Sad has landed back in Montreal just in time for their EP launch party and another edition of Pop Montreal, the city's main promulgator of all things love of pop. I had the pleasure of catching up with Harris Shper of How Sad and have a quick chat in light of their upcoming Ep release. When Goose Hut became How Sad, leaving behind their colourful costumes, I was left perplexed. Shper explained that the name change coincided with a change in the type of audiences and venues the band was playing:
"It started less as a band tailored to venues, but more as a band tailored for loft parties. Once you take the loft party show where everything is dirty, dancey, and crazy and put it into venues, where people are just hanging out watching and maybe having a beer or two, some things just don't translate well. Which is not to say, that everything doesn't. But sometimes when you are playing on a big stage it's just hard to take things seriously when you are acting like you are playing someone's basement." Currently, How Sad's live line up includes co-founders Harris Shper (guitar/synth/sampler/vox) and Rowan Cornell-Brown (drums/vox) along with newcomers Katie Lee (keys/vox) and Nic Scribner (guitar). How Sad is Spher and Cornell-Brown's first musical project together since they played in a punk band called The Apathetix back in their teenage years. As for Lee and Scribner, Spher met them through friends, had seen and liked their various musical projects, and asked them to come on board.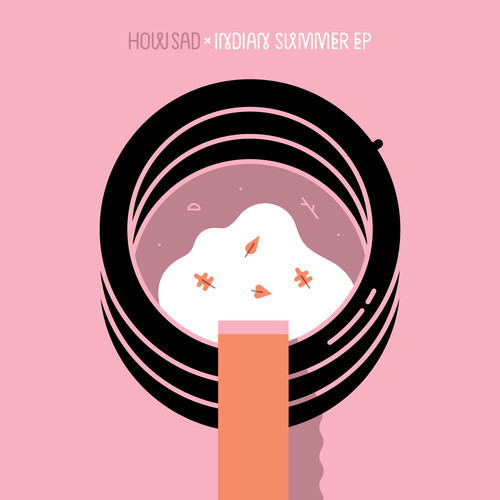 Indian Summer is a five song EP that weaves together sadness and happiness using synth pop melodies, bummed out lyrics, and catchy hooks skillfully. Having soaked up sunlight listening to previously released tracks, new anthem 'Hot Blur' took me by surprise and had me spontaneously breaking into my best awkward dance moves. There's something undeniably tongue-in-cheek about Indian Summer. The sharp cover art for the EP, by States-side artists Dustin Williams, encompasses the vibe of the tracks perfectly.
The songwriting process for How Sad, so far, has mostly consisted of Shper writing the tunes and working on the production with the other band members working out the live arrangements. Shper has written music for past musical projects and for his day job as well, working with other artists and companies as well as working as a recording engineer. With the new name, the new line up, How Sad's sound has clearly changed over the past year.
"For sure. I definitely will give things more time to expand and process. I'm not trying to make every single track be a banger, I think that there's room for some slower and softer stuff and working on the arrangement rather than having everything up in your face the whole time. Let things grow, since people might be listening to this at home also," Harris explained, "It's still kind of coming into its own. I think our sound will change as I change and as the project continues to transform."
In terms of influences, Shper, who describes himself as constantly in search of new music to listen to, couldn't pin point any one particular source in terms of influencing How Sad. "I was getting more into synth pop stuff when I started the project. It's rooted from older glam acts like David Bowie. Of course, in pop music. I listen to Taylor Swift and I really like the new Miley Cirus song. I like Katy Perry. All of that stuff. It's not the life changing music that I hear but I really respect the craft of writing a catchy pop song. I'm all over the place in terms of musical influences, most of the time I'm listening to old country songs from the 60s on my headphones but that doesn't translate into my music."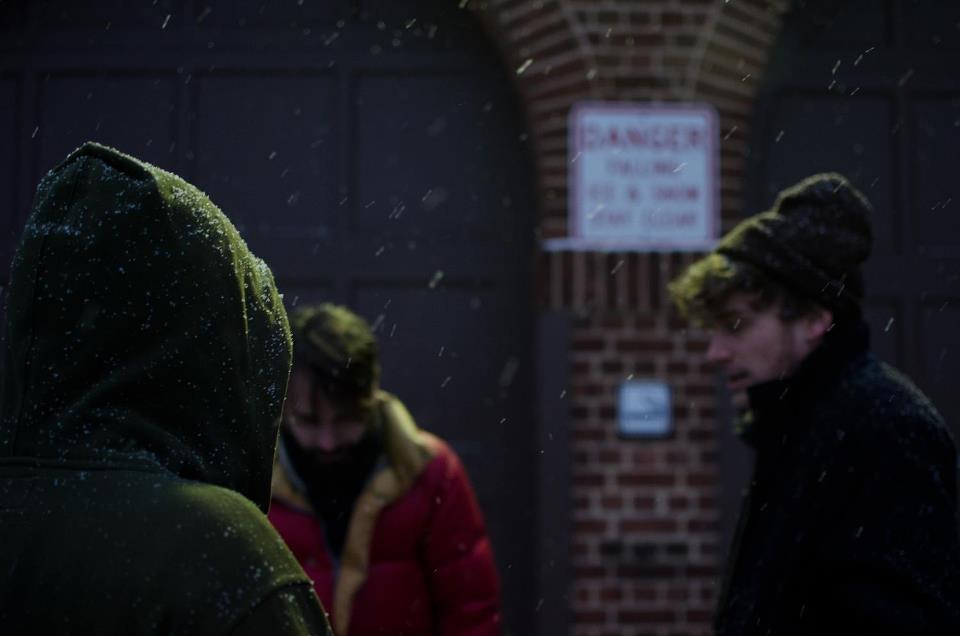 Although their roots are in playing at loft parties, How Sad is no stranger to the stage. They have played with the likes of acts like Purity Ring and Twin Sister and played festivals like NXNE, Sled Island, Evolve Festival, M for Montreal, and Pop.
"Tour is this great little world of craziness and being very zen. When you are on tour, most of the time you can't think about anything except getting to the next place on time and where you are going to sleep that night. It's always very inspiring and gets you energized about music. On tour, you're seeing a lot of music, meeting a lot of people who play music. I feel like writing a thousand songs while I'm on tour but there's so little time. Then, once you get off of tour, you kinda just crash for a while," Shper recounted, "I think it's  definitely a useful thing to  experience music from different places, see how crowds in different towns react to what you are playing. It's interesting to figure out what works, what people like and how it changes from place to place."
Touring aside, How Sad also enjoys playing in the band's home base, Montreal. "We always have a lot of fun playing The Plant. It's a great place, with great people and great music. It's an intimate setting which lets us be close to the audience.", Shper continued, "The Casa show should be great. Casa del Popolo is like home since I've been going there for so long. We are really really excited to open for Portugal. The Man show at the Corona Theatre for Pop Montreal. That's probably the biggest show we've ever played, which is gonna be terrifying and so much fun!"
Thanks to Harris Shper for such a friendly interview.
Don't miss How Sad's Indian Summer Launch Party at Casa del Popolo where they'll be playing along with Miss Elizabeth and Secret Sun. Cover 7$ doors open at 8:00 p.m. http://passovah.com/site/september-1st-how-sad-ep-launch/
How Sad opens for Portugal. The Man on September 26th for Pop Montreal at the Theatre Corona Virgin Mobile. http://popmontreal.com/events-tickets/portugal-the-man-invites