When Rick Perry announced he was running for the Republican nomination  for  President of the United States on August 13th, he did so with much publicity and fanfare, he even managed 700+ votes as a write in candidate in the Ames Straw Poll that same weekend. He was instantly dubbed as a man with charisma, a man of action, and a man who  isn't  too shy to let his voice be heard, kind of like a George Bush that can speak English. Perry has deep corporate pockets and will be a formidable foe for the other conservatives aspiring for the top job, but like Chuck D once said "don't believe the hype", at least not yet.
Rick Perry was molded by former Senior Advisor to George W. Bush Karl Rove, the notorious Republican strategist. Rove this past week turned on Perry and now wants to bring down the Frankenstein he created, warning people of his right-wing extremist views (ironic isn't it?).
Perry's views are as far right as one can get, he is quick to dismiss evolution saying recently that "God is how we got here." He also defended the teaching of creationism in schools because evolution "has some gaps to it." Unlike the bible which we all know is seamless without gaps and contradictions.
Going along with conservative tradition Perry, also does not believe in man-made global warming. He said Earth's temperature "has been moving up and down for millenniums now and there are enough scientists out there that are skeptical about the reasons for it." For the record, 98% of scientists believe man is responsible for global warming.
Not to be outdone by his predecessor, Rick Perry broke George W's record for state executions under a governor's watch, 234 at the last count including Cameron Todd Willingham. Willingham was executed via lethal injection in 2004 for murdering his wife and  three kids through arson. It soon appeared for certain that Willingham was innocent, but Perry declined to grant a stay of execution when presented with evidence that his case had been mishandled. When the Texas Forensic Science Commission was on the edge of concluding that the fire might not have been arson after all, Perry promptly replaced three of its members. An innocent man grieving the loss of his wife and kids was put to death and Perry pushed it aside then covered it up.
Perry is also concerned that the rich are carrying too much of the nation's financial weight. The wealthiest one percent of Texans paid only 3 percent of their income in state and local taxes while without having to pay income tax, the poorest fifth of Texans ended up paying about 12 percent of their income in taxes. Perry said during his announcement speech that "spreading the wealth punishes success." If that's true it's no wonder the poor stay deprived in Texas.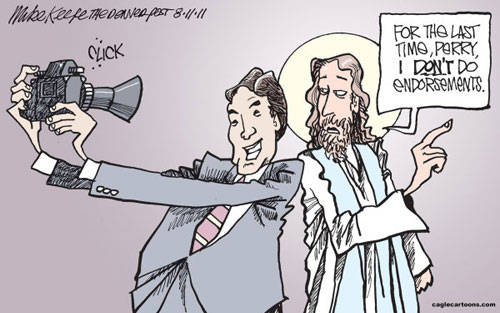 Speaking of the economy, Mr. Perry likewise took on the Federal Reserve and its Republican-appointed  chairman Ben Bernanke last week. He stated the central bank's leader would be  committing a "treasonous" act  if he decided to print more money to boost the economy before the election. Treason of course is punishable by death and boosting the economy is good for Obama.
If Rick Perry is trying to win over Tea Party members to his cause, he will have an awfully tough time. During Perry's time as Governor of Texas the state debt has almost tripled from $13 billion to $38 billion. The few tea baggers with half a brain should see right through him.
Furthermore, Perry's claim of high job creation in Texas (mainly minimum wage jobs) was by no means his own doing. It was due in part by the booming oil industry and Barack Obama's stimulus package, $17 billion of which went to Texas. 47% of all government jobs added in the US between 2007 and 2010 were added in Texas.
This Texas Governor has a good a chance as any conservative of winning the Republican nomination as long as he continues to convey the message of God, guns, no taxes, and the American flag wrapped in unrelenting support of Israel. While the average conservative might fall for all this, other high ranking Republicans think this message will make him unelectable versus Obama.
Rick Perry's bark might indeed be worse than his bite, but when it comes to elections nothing bites harder than money, corporate money. This is one area in which Governor Perry thrives. The corporatist knows who his friends are and how to make them happy, so he is free to bark as loud as he desires and his food bowl will continue to be replenished. Let's all hope that people will learn how to ignore that unintelligible noise coming from next door.
Attention!
I've decided to have a little contest for next week. For those who are interested, send me your favorite political cartoons (photos). I will pick the top 20 and post them in my article with the submitter's name underneath. Send your entries to quietmike@hotmail.com and be sure to include your name, thanks everyone!
Follow Quite Mike on Facebook
[like url=http://www.facebook.com/quietmichael action=like layout=button_count]