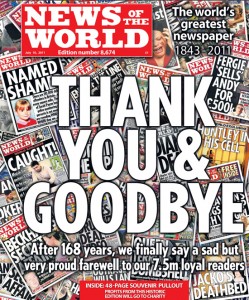 News of the Screws,  Screws of the World, you can call Rupert Murdoch's former weekly tabloid newspaper whatever you like. News of the World was the biggest selling English language newspaper in the world up until it printed its final paper last week, amid a high profile phone hacking and corruption scandal. While the world seems shocked at the depths of the allegations, I for one am not surprised.
The 168 year old News of the World was bought by Mr. Murdoch and News International in 1969. At the time it was a regular weekly newspaper that covered actual news. Fifteen years later in 1984 it was altered into a tabloid newspaper to cover all the slimy stories on celebrities and the royal family. Knowing how dirty and sleazy the tabloids can be, should we be at all surprised at a scandal involving NotW and possibly Murdoch and News Corp (News International's parent company)?  In my opinion, those that report on sleazy goings-on might have a tendency to practice a little sleaze themselves.
The scandal was initially thought to be restricted to celebrities, politicians and members of the  British Royal Family. Further revelations however exposed that victims of the phone hacking also included murdered schoolgirl  Milly Dowler, whose voicemail messages were hacked and deleted, relatives of deceased British soldiers in Iraq and Afghanistan, and victims of the  7/7 London bombings.
With multitudes of arrests and resignations in the U.K. following the closure of the tabloid, word of the News International phone  hacking scandal has since hit the ears of North Americans (and not through the mouths of Fox News).  There is no evidence as of yet that any of Murdoch's American newspaper outlets, including the New York Post and Wall Street Journal, have tried to employ the same methods as the disgraced News of the World.
The FBI on the other hand has launched an investigation into News Corp. after a report that employees or associates of the News  Corporation may have tried to hack into the conversations and  voice-mail  of 9/11 victims. U.S. Attorney General Eric Holder, while meeting with his counterparts from Britain, Australia, New Zealand and Canada, has said that investigations are underway into Rupert Murdoch's media empire.
Rupert Murdoch has made billions after taking over his father's Australian newspaper business in the 1950's, and has done so principally by focusing on what people want to read and watch, rather than what people ought to read and watch. In other words, sex and celebrities equals more dollars than truth and important stories. I'd like to say he's wrong in what he does, but from a business perspective he got it right and made a fortune doing so. It's the fault of the masses for eating up his "infotainment" like so much fast food garbage.
Regardless of Murdoch's political leanings he is first and foremost a businessman, he is there to make himself and his shareholders wealthy. Whether or not he does so by "any means necessary" remains to be seen. Most CEOs and business owners don't tend to get involved directly in the day to day operations of their various business ventures, however Rupert Murdoch seems to be a little different in that respect as he seems to dictate which direction to spin the news. I'm not sure I can prejudge whether Rupert is directly involved in the phone hacking scandal, but I know it'll take more than a newspaper closing to bring down his empire.
"You can't build a strong corporation with a lot of committees and a board that has to be consulted every turn. You have to be able to make decisions on your own" – Rupert Murdoch
Follow Quiet Mike on Facebook  [like url=http://www.facebook.com/quietmichael action=like]