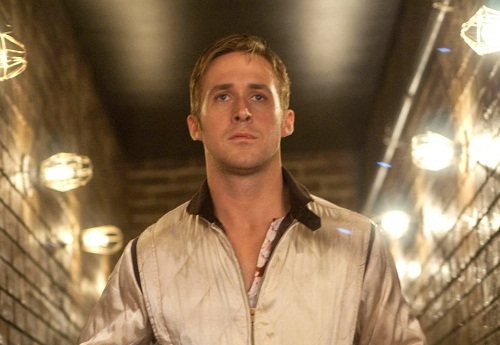 DRIVE (2011)
Starring:   Ryan Gosling, Carey Mulligan, Bryan Cranston and Albert Brooks
Written by: Hossein Amini
Distributed by:   Film District
Directed by: Nicolas Winding Refn
100 minutes
Hard to believe that a former star of the YTV show Breaker High is now one of the sexiest and most talented actors working in Hollywood, but it's true. Ryan Gosling has already been in two of my favorite films from the past year (Blue Valentine and Crazy, Stupid Love) and he keeps the trend going with Drive.  (I am also eagerly awaiting the soon to be released Ides of March, which I heard at this year's Toronto International Film Festival is Gosling's best bet for some Oscar love). You better watch out Ryan Reynolds. Sure you may have been married to Scarlett Johansson and all, but at this rate very soon there will only be one Ryan in Hollywood worth paying attention to.
We've all seen the LA gangster film before. What it lacks in originality, Drive makes up for in spades with its phenomenal cast which includes Breaking Bad's Bryan Cranston, an Americanized Carey Mulligan and the criminally underused Mad Men beauty Christina Hendricks. All of the actors in this film are top notch, but that being said the film wouldn't be half as good as it is without Gosling's performance of a man whose name we never learn. As a stunt driver who moonlights as a wheelman for hire, he is simply known as "the driver".
The driver's solitary life begins to change when he befriends his neighbor Irene (Carey Mulligan) and her young son Benicio. Just like with Michelle Williams, Gosling has a strong match with a leading lady like Carey Mulligan. Mulligan has more than proven her talent as an actress, and she will most certainly become one of those British actresses with a long, prestigious career. Her chemistry with Gosling here is adorable, and as the two make puppy dog eyes at each other in the early scenes on the film. I couldn't stop smiling.
Sadly just as Irene and the driver seem to be developing a real romantic relationship, her husband Standard (Oscar Isaac) returns from prison. Not wanting to see Irene or Benicio hurt by thugs who claim they are owed prison protection money, the driver agrees to help Standard with a heist. And after things go horribly wrong during the heist, the driver is left to pick up the pieces.
What makes the driver such an interesting character is the way he's capable of committing horrendous acts of violence while never coming across as a monster. Indeed the driver can play with children and kiss you sweetly in the elevator, moments before he viciously kicks a gangster to death in another elevator and you don't judge him for it. I'm still processing why exactly that is, and the choice to give the film an overtly 80s style? But what I am happy about is that it's looking to be a great year for fall films.