Despite the downpour, Said The Whale fans braved the stormy weather last Tuesday night and nearly filled Club Lambi. The air thickened with moisture and chatter as the last of the damp-looking latecomers trickled in from St. Laurent. The band opened with the fitting "This City is a Mess" and had the crowd re-energized and singing every word by the end of the cathartic Canadian tune. The fact that we could all hear the words was a refreshing change from the wall of sound that a lot of bands seem to create when attempting to fill out a small space or overcompensate for a sparse audience.
Although Said The Whale's music is complete with drums, guitar, bass and keyboard, it mostly serves as well-structured support for harmonized vocals that have the range and confidence to stand on their own. They bordered on an acoustic show for most of the evening until they cut the mics and closed with "Curse of the Currents", a tragic ballad that was drawn out with a lingering sing-a-long. The stripped-down version of the song fully exposed the emotional element that is usually lightened with subtle cymbols and twinkling piano. Ben Worcester modestly admitted that he made two mistakes during the song, but the overall effect was not lost on the audience who listened to the simply beautiful melody in stunned appreciation.
An impromptu a capella wasn't the only risk the band took that night. Between all of the familiar favourites, the band played new songs from their upcoming EP, which was a bold move "especially in Montreal", an audience member noted. Tyler Bancroft agreed, "Cracking a new city is difficult, but in the middle of a song sometimes I'll forget about where I am and it feels like we're just playing a show in one of our friend's basements." On that note they started into a set of new songs that eased everyone out of their nostalgic folk tunes towards more upbeat indie rock sounds. While the newer songs are becoming more complex as the group experiments with different arrangements, their light-hearted nature is a constant that reassures devoted fans that they won't forget where they came from.
The group showed their appreciation for their supportive audience with "The Light is You" and "Camilo (The Magician)", which combines catchy choruses, ukeleles and clapping in an ultimate Said The Whale thank you.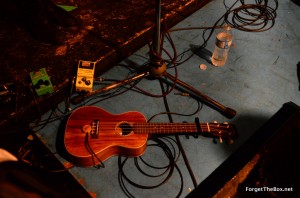 Speaking of thank-you's we'd like to thank Jon from IndieMontreal for the tickets he provided us with for our ticket give away! We'd also like to tell you that Jon will be running two showcase evenings this coming week with POP Montreal and you should be sure to check them out!