Continuing with my Sasquatch! Music Festival coverage, I contacted the Moondoggies, a Seattle-based hometown favourite that specialize in rootsy-Americana rock. Playing at the Bigfoot Stage at 2:00 on Sunday, they are one of the few groups I can confidently say are a must-see. The list is unusually short thanks to a house and a half worth of conflicts and scheduling mishaps.
Really, almost every hour feels plagued. Most painful of all, Sunday evening is a scheduling nightmare. The Flaming Lips, Flying Lotus, and Yeasayer at the same time? This has to be a prank.
So I'm aware that I promised a personal schedule in my last preview, but with this year's lineup, there is no way to work one out in advance without risking a tumor. As I've done for so much of my life, I'm just going to have to wing it.
Of the few plans my friend/photographer have locked in stone for Sasquatch, one of the most notable is meeting up with Sam Roberts. Getting the opportunity to speak with a rising Montreal-legend such as himself is an honor and I look forward to relaying the conversation via Forget the Box in a few days.
But first, as guaranteed, is my interview with the Moondoggies.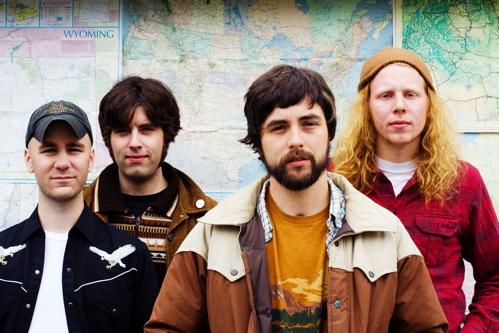 They've made a name for themselves in their old-fashioned harmonies, with all four members raising their sweet croons over genuine back-to-basics rock n' roll—a style which has helped them develop a core fan base in Washington State.
As the Moondoggies launch out of the bar scene and into the major festival circuit, the added exposure has helped their audience expand, while high praise seems to be coming from every in-the-know source imaginable.
Out of respect for their busy schedules, especially at a time like this, I kept the questions quick and along with giving their word to swing by Montreal next time they get a chance, this is what they had to say:
Tell me about the experience of getting the opportunity to perform at your home state's largest festival.
Moondoggies: The setting is insanely beautiful, it's great. Free pass to watch music all day too.
I've always associated listening to your records with road trips across the NW, which is precisely what I'll be doing to get to Sasquatch. How aware of the listener's potential setting are you in the songwriting process?
Well I think when you're creating a song it feels like a place or location you can go to or are getting to, and I think the same about music I listen to. People are going to create what that place is to them and I'll only know my own outlook. If people ARE listening to it to try and experience something  hopefully it's away from their computer desk…Unless they're at work. Otherwise driving around has always been my favorite.
Moondoggies photo from lettersmixtape.blogspot.com