Ron Baumber has been part of the music scene since the 70s and is one of those names that you probably don't know, but should, because he's worked on a surprising number of projects over the years with other artists both as a performer and a manager. He's also played in commercials and TV shows. He's got Gold and Platinum records on his wall at home. It seems he's done it all!
It all started for him when his own 1976 independent release China Doll did very well. That album immersed him in the music scene and introduced him to people in the industry. Though he doesn't like the focus of the conversation to be on the awards, rather on the music and the people, he worked on records with Sylvia Tyson, Joe Hall, Christopher Ward, Ronnie Spector, Marie-Lynn Hammond, Helix and many others in the 70s and early 80s.
He won a Juno award for his contribution to No Refuge, an album by Eddie Schwartz featuring the hit song "All Our Tomorrows" that made Billboard's Top 200 list (Schwartz also penned "Hit Me With Your Best Shot"). Baumber also worked on a campaign with Showdown which helped their 1980 album, Welcome to the Rodeo, sell over 300 000 copies and go Double Platinum in 1981. Yes, Baumber has been around the musical block once or twice.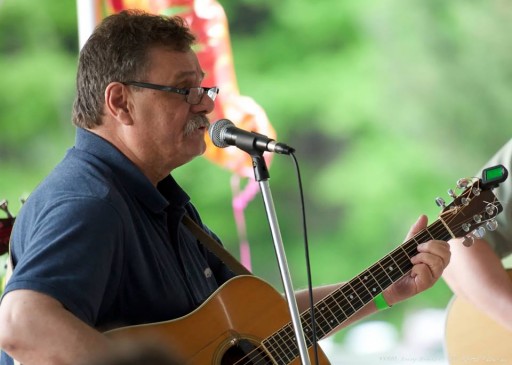 He left the music scene in 1982 and has only recently returned. Now he is focusing on producing his own music. Last year he released Side One, featuring a collection of original tunes that touch on folk, blues and singer-songwriter genres. Getting to know Baumber and his music a little bit over the past few years, I can say he is one of the most humble, talented, genuine and selfless artists I have ever met. I had the honour of discussing Baumber's illustrious career with him and gaining some insight into his current output and future goals.
Stephanie Beatson: How did playing music come about for you?  What are your influences?
Ron Baumber: I started playing at age eight in Regina on my Roy Rogers guitar. I got my first electric from the Sears catalogue. It was a Silvertone. I absolutely loved the Ventures and the Beach Boys and then pow… The Beatles… they are probably my biggest influence.
When did you start writing music?
Baumber: I started writing very young and had many influences. I came to Toronto in 1969 to study guitar and took a Berkeley course with the great Hank Monis. My major musical influences at the time were Lenny Breau, Tom Scott, L.A. Express, Larry Carlton and others.
Do you choose your subject matter or does it choose you?
Baumber: I'm not a formula writer. I write as it comes. It has to be real.
How do you choose the people you play with?
Baumber: Talent, skill, spirit, work ethic and their general love of music.
You're always including friends in your shows and recordings. It's rare to find a musician who is so eager to share the spotlight with others. What drives you to do this?
Baumber: There's amazing talent out there. I'm secure with what I do. I look at music as community and I want to be part of this community and share it with everyone. The talent, the spirit, the songwriters and the singers out there are outstanding. Good music should be shared.
I recently learned that you've had nice success overseas with digital downloads. How did that happen?
Baumber: Yes, in over 45 countries. How did that happen? The internet… maybe good tunes… sharing…? I don't really know but it's pretty cool. The live video for "Blanket" is well on the way to 6 000 views on YouTube. How? I don't know. I guess folks like it.
What's coming up for Baumber? He plans to release the follow up album to Side One, aptly titled Side Two, which will include a studio recording of "Blanket", and shoot a couple of videos. Otherwise, he plans to continue playing music for fun, with his friends, and doing as much community work as he can. Yep, he's a true gem.
Baumber is offering a free download for Side One on Bandcamp.
Photos by Erin Baumber and Terry Debono, respectively.