I want you to imagine you're Irish writer/director Martin McDonagh. Your 2008 debut feature In Bruges won you critical fame and the entire cinematic community is eagerly awaiting your next film, Seven Psychopaths.
But there's a problem. You're shit out of ideas. So what do you do? Well, you -could- make it about Martin, an Irish screenwriter working on a new film called Seven Psychopaths. But there's a problem, he's shit out of ideas. Luckily, his waaaacky friend the professional dog kidnapper gets him embroiled in a waaaacky series of waaaacky escapades full of waaaacky meta-humor and waaaacky dialogue?
You -could- do that. But I wouldn't.
So to get the elephant in the room out of the way and back into it's pen with all the monkey on my shoulder, the bug up my ass, and all the other metaphor animals, NO, Seven Psychopaths is not nearly as good as In Bruges. Very little in life is, of course, but Seven Psychopaths is a special kind of "not nearly as good as In Bruges"
Is it bad? No, by no means. What it is is desperate. Desperate to entertain, desperate to live up to its predecessor, desperate to be accepted. As I mentioned before, the film is about McDonagh's author surrogate character (here played by Colin Farrel) getting into an oh-so-zany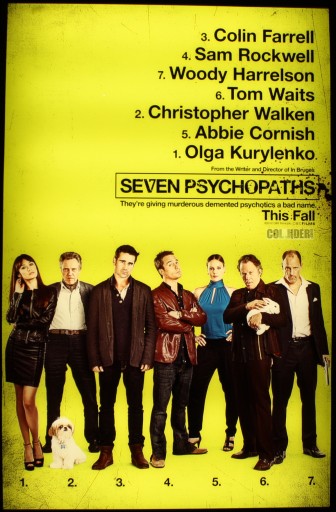 adventure when his friend played by Sam Rockwell kidnaps the dog of an insane mob boss played by Woody Harrelson. Now the two, as well as Rockwell's partner in crime played by Christopher Walken, have to untangle the barbed-wire fishing net they're caught in before they wind up like that girl in Suspiria, all the while making references to Farrel's script, which you'll quickly realize is the script for this very movie and isn't that just the whackiest thing ever?
It's loaded top to bottom with quirky characters we're meant to love, but a good deal of those characters just waft in and out of the film screaming "I'm quirky! Love me! Love meeee!" like the kind of girls you see around universities who wear bowler hats and have enough facial piercings for Macgyver to assemble into a small robot out of. Yes, I know, you're very quirky and unique. But what are you DOING with it? Rockwell's character seems to be cut in the mold of Ace Ventura, one of those guys who just does and says whacky shit because…well, it's funny, that's why! At least one scene where they all get whacked out on peyote gives some reason for his acting like a cartoon character, but the rest of the time I couldn't help but keep wondering how he had gotten so far in life without being shot a million times in the face.
Walken….well, he's Walken, what do you expect? He delivers lines funny, gives intense looks. You don't hire a baker to make you balloon animals and you don't hire Walken to be anything other than Walken. Tom Waits also stumbles in and out of the thing to eat up time and allow for a mid-credits gag. And to carry a rabbit around (zany!) and Woody Harrelson does an ok job at playing the short-fuse mob boss with a gun that doesn't work all the time (kooky!). And while Walken's character does come across as somewhat sympathetic or likeable, you'll be hard pressed to find a character you can appreciate or even like as much as Farrel's character from In Bruges.
But oh what about those seven psychopaths, the ones in the title and that the movie keeps conveniently pointing out for us? Hardly in the thing. Yeah, dead serious. Most of them just sorta float in and out and hardly figure into the action at all. If you're expecting some kind of film version of Killer 7 or perhaps Smokin' Aces, you're in for a surprise. But not the fun kind, like a stripper in a cake or a very small but still hard working stripper in a pie.
What we get more of is Farrel and company moving from what hilaaarious dialogue or zany escapade to the next, all the while making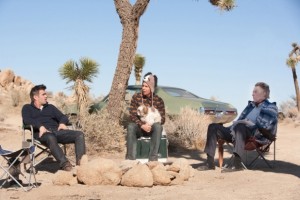 references to Farrel's script, and by extension the movie itself. "How about for the ending instead of a big gun fight, all the characters just go out, pitch a tent and talk?" "No, that would suck!" yes, I get it movie, you're making references to yourself. Droll.
And I mean, it's not like a movie can't be about the making of the movie itself and the creators involved. Jean-Luc Goddard can make entire movie out of his failing marriage to Anna Karina and the creative stagnation and self-betrayal he feels at making this very movie. But he did in it in an interesting way. Plus he had Brigitte Bardot in his movie. Sunbathing.
In Seven Psychopaths, it just feels like a desperate gimmick, a ploy to appeal to the kind of people who are instantly won over by that kind of narrative chicanery. Similarly, as I already mentioned, the wacky characters, for all their occasionally funny dialogue, just feel like a forced appeal to irreverent humor and offbeat zaniness. Sure that worked in In Bruges because it all led somewhere in the end, and was more consistently funny. In this, the quirk and wackiness feels more arbitrary and forced.
You can literally feel McDonagh trying everything he can to appeal to his audience, throwing in as much irreverence, as much zippy dialogue, as many oddball characters as possible. And while In Bruges struck the right balance between oddball black comedy and genuine drama, Seven Psychopaths is about as balanced as a teeter-totter with Rebel Without a Cause Marlon Brando at one end and Island of Dr. Moreau Marlon Brando at the other.