She was a good girl until she lit that reefer cigarette. Doobies and Boobies are what life is all about. Cannibis Culture hits mainstream and now suddenly even Justin Bieber is a stoner.
From classic reefer songs to Cheech and Chong and all the stoner comedy genre movies and now onto countless blogs devoted to marihuana culture and lifestyle. There is so much debate about legalization in the United States that I'm not even going to get into.
I think it's silly to outlaw a plant that makes people laugh and be calm. You aren't going to get into a high speed car chase when you are smoking weed. Nobody has ever overdosed from weed.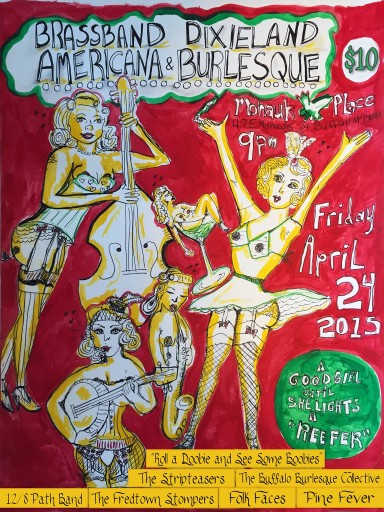 I'm always high but I'm grounded. Helps me focus on my art. Blurs the right lines and opens doors within my mind. I was gonna write this blog days ago, but the I got high.
Spending every last stripper dollar on $50 of blood shot baby blue bliss. Air fills with smoke as I exhale the sweet pungent skunky aroma of Maryjane through pursed red lips. Ganga goddess. Sticky icky chronic combustible herbage. Blunt burger whacky tobacky that Clinton just couldn't inhale.
Bongs and crazy glass blowing techniques make smoking devices into an art form. Bubblers, bongs, things that look like science experiments, pipes shaped like unicorns or naked ladies. Taking a moment to smoke weed under a willow tree or puff one on the roof watching the sunset on a summer night.
Legalization in the US and Canada is a hot topic. Medical vs recreational use is a debate and Colorado is making so much money on pot sales that they actually gave money back to the people.
Of course the government wants to capitalize on our fun with all the sin taxes. Don't want my drug dealers to go out of business. A marihuana arrest occurs every 45 seconds in the US.
Celebrities arrested for hittin the ganga: Fiona Apple, Bill Murray, Willie Nelson, Woody Harrilson, Lil' Kim, Snoop Dog ( or Snoop Lion), Macauley Culkin, and even Mischa Barten. So many more too. It's funny.
Classic reefer songs are the best. This Friday , April 24th, just four days shy of the 420 holidaze, my friends and I are having an old timey reefer dance party at The Mohawk Place in Buffalo NY. Brassband, Dixieland, Americana, and Burlesque with Pine Fever, The Fredtown Stompers, Folkfaces, The 12/8 Path Band, The Buffalo Burlesque Collective, and The Stripteasers. We will be doing live burlesque to every band. I'm excited to break out my Cheech and Chong routine for this show.
My life feels a lot like Fear and Loathing in Las Vegas, a wild and insane ride, like going to a circus on acid. It's unbelievable really. I often think I'm in a waking dream, lucid yet flying high. Performers and colors creating art and music collaborating and merging souls in unfathomable ways. I am so ridiculously lucky.
I often want to run away with a circus, just pick up and dance off into the sunset with my fellow freaks, my family of crazies. Can't wait till Friday night. It's going to be magical.
Featured image by Lindsay Zasada