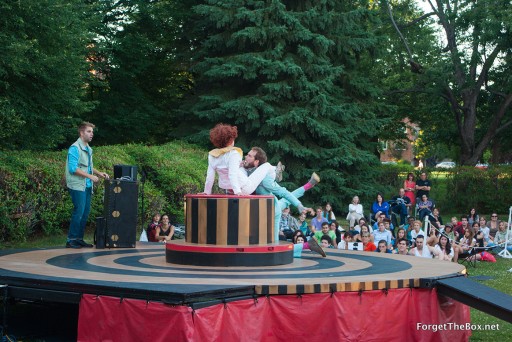 As Montrealers we are very lucky that there is always something fun and exciting for us to do any time of year, but in the summer the options seem endless. Sitting out on a beautiful patio and enjoying a nice cold beer. Head down to the old port for a lovely stroll. Go check out one of the million festivals that invade our fair city every summer. And of course there's Shakespeare in the Park.
I haven't been to Shakespeare in the Park for years, so I was excited recently to take part of the time honoured tradition of sitting in the park watching a play whose language I may not fully understand but whose sexual innuendoes are blatantly obvious. While most of my friends are well versed in the Shakespeare universe, I'll admit that as a pop culture junkie I know more about the modern re-appropriations. I may not have been able to tell you the plot of Taming of the Shrew before last Friday, but I could tell you it was made into the teen movie 10 Things I Hate About You in 1999 with Heath Ledger.
For those like me who may not know much about Shakespeare the story goes a little like this; The Taming of the Shrew is a story of two sisters; fair and sweet Bianca (Miriam Cummings) and her loud, temperamental older sister Kate (Kirsten Rasmussen). With their father unwilling to let Bianca's many suitors court her until Kate is married, the men design a plan to have Kate marry Petruchio (Alex Mccooeye). Petruchio woos the wild sister and upon marriage skillfully "tames" her so that she becomes a willing and obedient wife.
I was very impressed with the company of actors assembled for the production. Rassumen I heard joined the production only a short time before it opened and just as I wrote in my review of her Fringe show "Tough!" she is a very talented comedienne. Alex Mccooeye was also a standout with his strong use of physical comedy. I would love to see Rasmussen and Mccooeye perform inprov together sometime; I have a sneaking suspicion they'd be great at it.
All and all I had a lovely time at Shakespeare in the Park, despite being irked at the overtly misogynist themes of the play. Seriously while my date reminded me that the play had been written 500 years ago,  Kate's final speech in which she declares her happiness at being a submissive wife did produce more of an eye roll from this writer.  If you're interested in checking out the play for yourself you've still got time; The Taming of the Shrew runs in various parks around town until August 5th.
* photos by Matt Hovey