One of the things I love most about Montreal is the abundance of unique ways to spend your weekends. With all the standard pubs, bars and clubs that proliferate throughout the city, party planners are challenged to come up with fun and interesting ways to draw crowds to their events. Here are two of the sexiest ways to spend the subsiding, not-quite-as-sweltering nights of the Labour Day long weekend:
No Pants, No Problem
I am a huge fan of underwear dance parties. They frequently happen in the comfort of my living room, dancing wildly to everything from the Kinks to Boney M spinning on my turntable. This Saturday, I can enjoy all the fun of a pantless dance party in public as the infamous No Pants, No Problem night returns to Montreal.
The concept is simple: head on down to Il Motore (179 Jean-Talon W), check your pants at the door and dance it up for a good cause. The cost is $5, and the funds raised from the night will go to benefit Aids Action Now, who will be hosting a community table with provocative goodies. Also, Cactus, will be on site handing out condoms and other goodies promoting safer sex and harm reduction.
The night was born in 2003 as a place for like-minded people to come together and challenge the conventional ways of approaching sexiness. This involves creating a safe space for people of all persuasions and orientations to question binary norms on gender and sexuality, and engage in constructive dialogues about body image and self esteem… and have some fun while doing it!
DJs Hungry Like the Wolf and Bratface will be keeping the booties shaking til the wee hours of the morning. As well, there will be burlesque performances by Toronto's Mikiki and hometown favorites Glam Gam Productions. There will also be a Kissing Booth on site for you to practice your lip-locking skills.
For those who are a little shy about revealing too much at this cheeky night, there is an option of leaving your pants on for a $5 penalty.
For more information, check out the Facebook event.
Explore Your Fetishes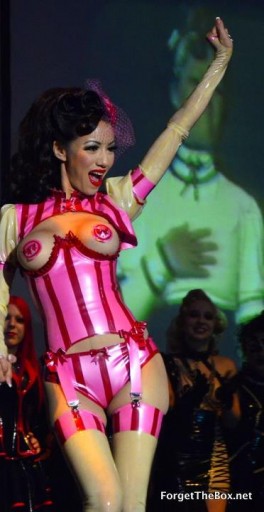 For those on the slightly more adventurous side, there's the 8th annual incarnation of Fetish Weekend. Members of the fetish community from around the world congregate in Montreal for an unforgettable weekend of kinky parties and enlightening workshops. Let your imagination run wild within a sensual playground of deviancy and delights!
The key events are Saturday night's Latextacy retro fetish extravaganza, where renowned entertainer Jean Bardot offers a thrilling sideshow-inspired experience for watchers and worshipers alike and Sunday's sensual Steampunk masked ball, where the anonymity of a mask allows participants and voyeurs alike to indulge their wildest dreams. Both take place at the gorgeous L'Olympia Theatre (1004 Ste-Catherine E), completing the sensual experience with its vintage glamour.
If you're interested in exploring the cerebral side of the underground, try one of the weekend's workshop at the Hotel des Gouverneurs (1415 St-Hubert). On Saturday, you can learn about kinky drumming and percussive play with Gaia, or get an insight into the D/s relationship from the submissive's perspective with Slave Petal. On Sunday, Viktor and Sasha can teach you about basic bondage for beginners, or explore the wonderful world of wax play with Contessa Alura.
For more information on either of the parties or the workshops or to purchase tickets, please visit the Fetish Weekend website.
Fetish Weekend pics by Chris Zacchia for more visit Forgetthebox on FB