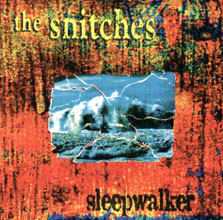 The mid nineties was a very good time to live in Montreal if you were into checking out local music. With bands like Frog Machine, Goldfish and Gaby, Jr. playing almost every week in various official and unofficial venues around town, there were things going on to say the least. At the forefront of all this were The Snitches.
As the hosts of the loft shows known as C-Pig, this extremely energetic six-piece would rock the underground scene at least once a month, and play sold-out shows in places as varied as Club Soda (the original Club Soda on Parc) and Dawson College. While they were known for their very high-energy shows, they also released albums.
Their debut record, A Day at the A, was catchy and fun. Their other album, Star Witness offered more punky tunes. For me, though, the quintessential Snitches album has got to be 1997's Sleepwalker.
The opening track, Ma Belle Diva, creeps up on you and turns into a highly danceable rocker by the end, setting the tone for the rest of the album. The songs range from outright pop tunes like, AKA (my personal favourite), to the punky and borderline grungy like That Somewhere Smile and by the time things are ready to wind down, they don't. This City (the second to last tune) may have a slower tempo and Andrea (the closer) may be an introspective acoustic ballad written for a lost friend, but both keep the underlying energy up.
Regardless of specific style of the song, there are three elements that are part of all of Sleepwalker: energy, catchiness and attitude. You can and will want to sing along, you can and will want to move (either fast or slow) and you will feel that there is something raw, emotional and even a bit dark behind all of it. You can't quite put your finger on it but you know it's there. It's in the lyrics, it's in the music. It comes close to contrasting the rest of the generally happy-go-lucky attitude, but The Snitches are so smooth in their composition that it just ends up complimenting it.
It's this mix of polished party music and raw attitude that first drew me to The Snitches (the fact that they're all talented musicians who play extremely well together helps, too) and it's this mix that is most present on Sleepwalker. That's why when someone mentions The Snitches to me, I instantly think Sleepwalker.
You can order or download Sleepwalker from Sugartune here, for now, this is an example of later Snitches: