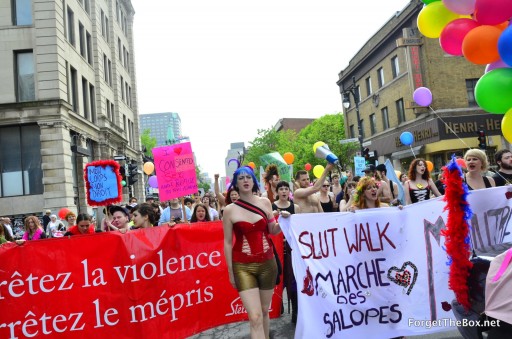 Montreal SlutWalkers gathered yesterday afternoon to send a message that no style of dress or behaviour should result in personal shaming, or suggest an openness to a sexual advance or assault.
Thousands of self-proclaimed sluts took to the main arteries of downtown Montreal chanting their messages of sexual freedom, pride, and solidarity. Gaping mouths, smiles, and general shock invaded onlookers' faces as the scantily clad collection of men and women flooded the streets with protest signs and impressive amounts of nakedness and cleavage.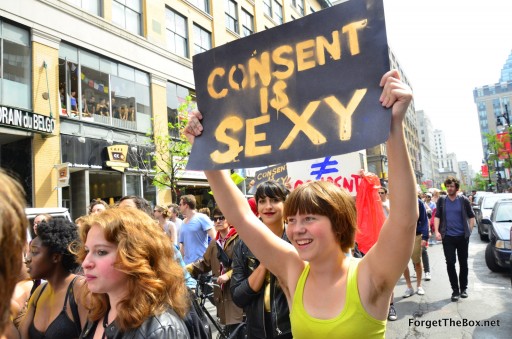 If you're as confused or troubled as most onlookers seemed about using the word "slut" for a seemingly positive cause, then there's more to the story that you need to understand. SlutWalk is a social movement that's seeking to bring pride, tolerance, and freedom into peoples' sexuality, to counter the negative dialogue surrounding sex and sexual expression.
In a series of speeches during the event, the Montreal SlutWalk organizers all agreed that contemporary society has taught us that being a slut (traditionally meaning sexual promiscuity, or simply being overtly sexual) is a shameful, or even disgusting thing to be. "Slut pride", as expressed by the event's participants, is about empowering people to dress how they want and feel comfortable as they are. An equally important goal is to sensitize the general public to the idea that this sexual freedom of expression isn't an open invitation to judgement or aggression.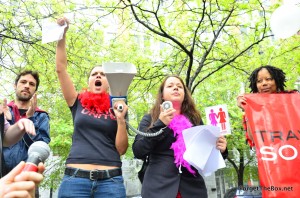 Montreal burlesque troupe Glam Gam's Julie Paquet elaborated that the word "slut" is usually used to shame people for being sexy or expressing their sexual freedom. Labeling someone as "slutty" is even used as an excuse to sexually assault someone who seemingly "deserved it". In response to this ongoing social condition, which ranges from derogatory name-calling to full-out sexual assault and rape, the SlutWalk speakers made their point loud and clear. Judging someone based on their promiscuity or other factors such as gender, age, style, and sexual history is unacceptable,   and is not a valid excuse to put someone down or sexually assault someone.
So, what does being a slut really mean?
Jessica Klein, FTB's sex columnist and one of the event's organizers, noted that the Montreal SlutWalk is all about taking back the word "slut" and re-appropriating it. "Being a slut is being in charge of your own sexuality", which Klein affirms "it should never be an invitation to judgement or violence".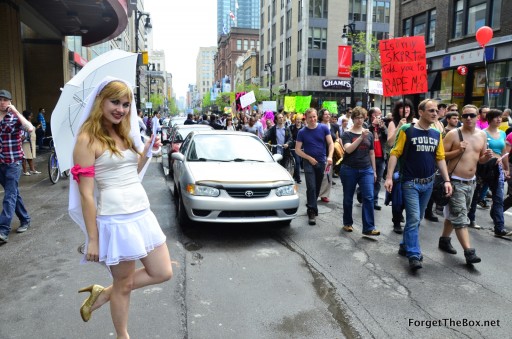 "A slut is someone who is sexual, who enjoys having sex, maybe with multiple partners or with certain fetishes" says one female SlutWalk attendee. Still cringing from using the word? "I acknowledge and respect the controversy [that has been associated with] the word 'slut'… but I'm comfortable calling myself a slut", she noted proudly, along with over a thousand other people who exercised their "slut pride".
What else is there to say, really, about a massive collective of confident, sexy, well-spoken, and nearly naked people who strive to clarify deep-seeded and screwed up ideas about sex and sexuality? Bravo, SlutWalkers, let's hope your message is one that's here to stay!
*   photos by Chris Zacchia
* for more SlutWalk pics, including shots of the Glam Gam Burlesque show that followed the march, please check out our Facebook page