It may seem strange that a musical about the events of 911 would make North American audiences grin and cheer, but according to the star of Come From Away's touring production, that is exactly what has been happening.
"People always leave the auditorium tapping their feet and laughing. It's not a downer or a hefty drama at all," Marika Aubrey says of the feel-good show, which has returned to Montreal for a one-week-only engagement at Salle Wilfred-Pelletier. "It's really about community and kindness," the Australian-born actress explains. "It reminds us that what unites us is far greater than what divides us."
Come From Away recounts how nearly 7,000 displaced and terrified travelers were warmly welcomed by the citizens of modest Gander, Newfoundland when 38 planes were diverted there during the chaos of September 11th 2001. Aubrey stars as Beverley Bass, the real-life pilot who had to take charge of the unprecedented and stressful situation.
Created by the husband/wife duo of David Hein and Irene Sankoff, the piece was workshopped in 2012 and staged in Oakville, Ontario before enjoying successful runs in San Diego, Seattle, Washington and Toronto. It finally opened on Broadway to standing-room-only crowds in 2017 and was nominated for seven Tony Awards, winning for Best Direction.
Though the Broadway production closed in October, Come From Away holds the record as the longest-running Canadian musical to ever land on the Great White Way. That would be reason enough for Canadian audiences to embrace it enthusiastically, but in truth, they are apparently more tickled by the references it makes to a certain iconic coffee chain.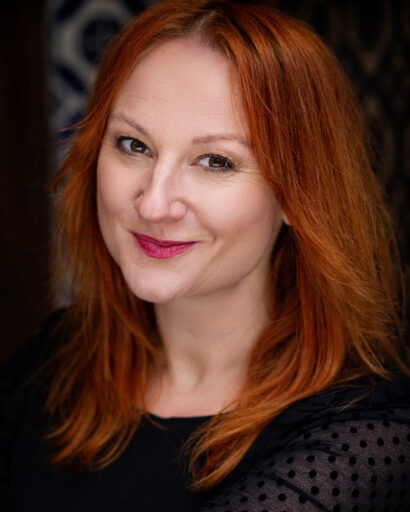 "Some Americans don't even know what Tim Hortons is…but in Canada? That is an immediate giggle," Aubrey shares.
"Canadians recognize everything. So I'd say our Canadian audiences are really proud and celebratory."
For her part, Aubrey is thrilled to have brought the story to so many different communities over the course of the tour. "We play houses that are twice the size of the Broadway house and we sell out pretty much everywhere we go. Our audiences are, on average, around the 3,000 mark," she notes. "That beautiful Broadway house is something like 1200 seats. You know, it's really an intimate show, not an arena spectacular, and yet it still works, thankfully, in these bigger spaces. I'm grateful that audiences have really embraced us."
Aubrey has a long history with the show, dating back to 2018. "I'd immigrated from Australia prior to getting the audition brief and I'd never seen it, so I took myself to the theatre and bought a ticket at like, two minutes to curtain," she recalls.
After familiarizing herself with the material, she auditioned and was cast as a standby performer in the tour, a position she held for 10 months, until the creative team summoned her back to New York.
"They were having trouble finding a replacement Bev for the company and wanted to see what I did with it. The next day, I got a phone call to say I'd be stepping into the track, so it's spanned a huge amount of my life."
"I think all shows tend to walk you through significant life changes," she reflects, "but this one? I can speak for everyone in the company when I say that this one has really earmarked a lot of good stuff and bad stuff over the past few years. It's been six calendar years, even though we did have that big 18-month enforced holiday," she quips of touring during a pandemic. "Still, this is the kind of show that only comes along once in a lifetime, so it's worth the sacrifice."
During Christmas 2021, Aubrey found herself having to emulate her character by making an emergency stopover to the Broadway production, as COVID spread through the cast.
"It was Christmas Day and I was at home with family when I got the call saying Rachel Tucker and quite a few other people in the company had come down with the Omicron strand," she recounts. "The show was going to be cancelled if I couldn't play Bev the next day. So, I woke up the next morning, went to midtown, tested negative and went on."
"I made my Broadway debut with 11 actors I'd never worked with before, with costumes that weren't fitted to me, with makeup I found at the back of my toiletry bag and with my own hair, because normally I wear a wig," she chuckles. "I was even singing in a different key because Rachel sang it slightly lower than me, so it was wackadoo…but the best kind of wackadoo. I think because I'd done the role hundreds of times by that point, I could just relax and enjoy it. I didn't have a single person in the audience (to mark the occasion) and there was no champagne, but it just felt like this really cool opportunity to serve and allow our holiday audiences to see the show they'd booked tickets for, so I'm glad it happened the way it did."
That can-do spirit seems to channel the very essence of Beverley Bass herself, who not only paved the way for women in her field by becoming the first female captain of an American Airlines commercial flight in 1986, but also cofounded the International Society of Women Airline Pilots.
"Originally, (the creative team) thought they might make the show mainly about Beverley because she has a really cool life story," Aubrey explains. "When they went to Gander and started talking to people, they realized the story was so much bigger than just this one woman." The resulting character seen on stage became a composite of the various pilots interviewed and their accounts of what happened, save for one particular song, entitled 'Me And The Sky', which is devoted entirely to Bass' experiences.
"It's this big four-minute number that spans Bev's life story and I think the reason it resonates is because it speaks to huge changes in male dominated industries. I get a lot of women and young girls either writing to me on social media or coming to see me at the stage door and telling me that they listen to this song because it galvanizes their spirits to know they can do anything that boys can do. I think that's why it's become such an anthem."
When asked if the real Beverley Bass has proven a personal inspiration, the actress is pleased to report they've become good friends over the last few years, even if neither is interested in pursuing the other's occupation. "She says to me all the time, 'I don't know how you do it! I don't understand how you get up and sing in front of all those people!' and I'm always like, 'Bev, you fly planes! Like…jets! Are you kidding me?' What I do is, to me, not nearly as scary as taking an enormous plane up in the air."
"Having said that, I have a very sassy 5-year-old girl who has been really inspired by Bev and her story," she laughs, "and I wouldn't be surprised if I have to bring her to the airport to take some flying lessons at some point. It would be a nice turn of events, wouldn't it?"
Come From Away runs from Tuesday, January 10th through Sunday January 15th. For ticket information, please visit the Place des Arts website
Featured Image: The North American Tour of Come From Away Photo Credit Matthew Murphy