Honestly, I'm torn.
I believe in solidarity with workers and I applaud protests that go where they're not supposed to. I'm also not a huge fan of Coderre.
You'd think the sight of a group of protesting firefighters holding a banner bashing the mayor and causing a bit of chaos right in the council chamber of Montreal City Hall would bring me all kinds of joy. Well, it doesn't.
You'd also think all the right-wing angryphone "Coderre, he's our man" type comments left on the CJAD Facebook page and other places online would remind me, as they generally do, that I'm on the other side of the fence. Not in this case.
While I support the firefighters, the transit employees and other municipal workers in their fight against the Quebec Government's Bill 3, there's another group in their fight that I have trouble supporting on an emotional, visceral level: the police. In particular, the Montreal Police Brotherhood.
When this group isn't trying to defend officer's pensions, they're standing up for officers like those who murdered Freddy Villanueva and countless others. Say what you want about the STM union and their tactics, but at least they've never argued for bus drivers to have the right to run over people if colour they don't like.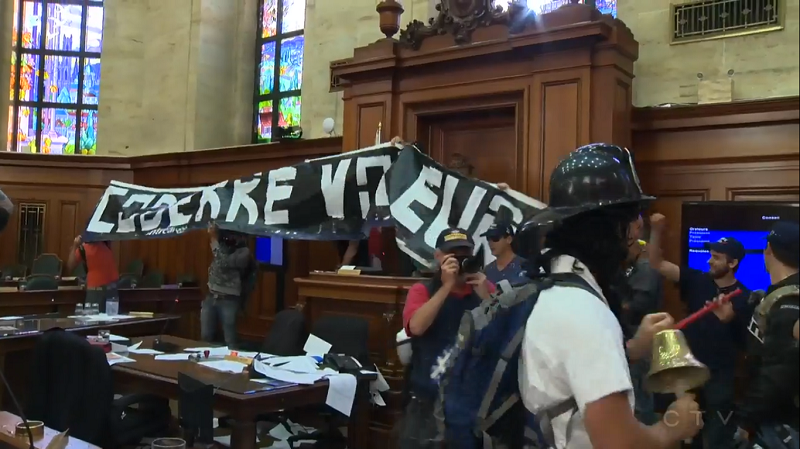 You can't separate the police from this fight, you can't even separate them from the action on Monday. The last time student protesters went to City Hall, they couldn't even get up the steps, never mind in the door and into the council chamber.
The only way Monday's protesters were able to accomplish what they did was through unofficial police support. That's cheating in my book.
So here we are, we can't have solidarity with this group of workers who are protesting without having solidarity with the cops as well. This is a bigger dilemma than that time a few years ago when I realized that supporting STM workers meant I also had to support that asshole bus driver on the 17 route who clearly saw me running for the bus, waited until I was almost at the stop and then sped off.
In that moment, standing on the corner, late for family dinner, I forgot my deeply held convictions and only thought about how I could get that one asshole fired. It's easy to see how people committed to social justice and workers' rights can have a problem defending the rights of workers who so brazenly defile the rights of others on a regular basis.
Is it right or is it smart to show solidarity with those who clearly don't show it to you? Can class consciousness include those who those who serve the elites primarily and only acknowledge that injustice exists when it affects them personally? Is being in solidarity with the police kind of like cheering on your high school bully when he scores a touchdown for the school's football team? Should we ignore who's involved and focus instead on the big picture?
These are all very good questions and I don't have an answer for any of them. What I do have is a suggestion for an action that is also a test.
I'd love to see ASSE or another group on the SPVM hitlist organize a solidarity demo against Couillard and Bill 3. Bring back the red squares, maybe use some of the wording from the red squares that currently adorn police cars, don't follow P6, don't provide a route and just see what happens.
Best case scenario, this ushers in a new solidarity where cops in future demos start ignoring their commanders and refuse to enforce bullshit laws against those who stood with them. Most likely scenario is the cops either let the march happen or kettle it quickly and hope it doesn't get much media play.
No matter what happens, though, this would be a chance for activists to truly take the high road while flipping the script on those in power and their enforcers, if only for a bit.
* Top image: Shayne Gryn via Facebook