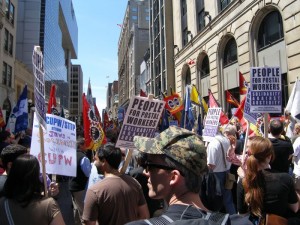 It's on! The Canadian Union of Postal Workers has officially embarked on a series of rotating strikes throughout Canada. The strike, the first in almost 15 years, began Thursday night in Winnipeg. It then continued on to Hamilton, Ontario on Friday and then to Montreal Sunday night. The strike will hit another Canadian city every few days indefinitely until an agreement with the Canada Post Corporation (CPC) is made.
The reasons for the strike concern major issues associated with the corporation's $2 Billion Modern Post program. The program induces over-working of staff, inadequate staffing, reduced pay, substandard befits and unsafe working conditions.
Negotiations have been in the works for the past 7 months and some progress has been made. However, the most important and outstanding issues have yet to be resolved. "CPC has made no secret that it wants to increase profits by having fewer workers work longer and harder," writes national president Denis Lemelin. CPC has already cut many more jobs than required to realistically adapt to decreased demand. This has resulted in increased mandatory overtime and fewer full time positions. Among many other concessions, Canada Post plans on cutting the starting wage for new hires by 18 percent, which will line the company's pockets with an extra 250 million dollars per year. The corporation also has plans to replace the 50 year old sick leave program with a significantly inferior Short Term Disability Plan, which would also reduce pay during absence by 30 percent.
This "restructuring" comes at a very interesting time. According to their own website, "Canada Post is one of the largest corporations in Canada in terms of revenue." Not to mention CPC also recorded the most profitable year in its history just two years ago. Could these cuts be the doing of a higher power?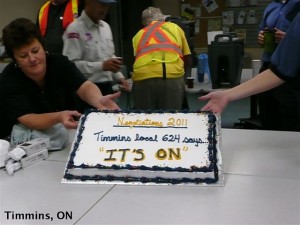 CUPW's last strike in 1997 ended with abrupt back-to-work legislation. This legislation, known as Bill C-76, effectively strips workers of their right to collective bargaining by declaring a given strike illegal. It also grants the government the right to impose heavy fines on unions and individuals, as well as sentence jail time for defiance. In 1978, Jean-Claude Parrot, then president of the CUPW, spent two months in prison for defying the back-to-work order.
It is my fear that Canada Post is counting on this kind of legislation from the Harper government to eventually get CUPW members back to work in unfair conditions, if an agreement is not reached.
The Harper government has certainly not wasted any time implementing its new found power to undermine the public sector. CUPW has been at the forefront of the Canadian Labour movement since its formation. In 1965, the union actually won public sector workers the right to collective bargaining!
This is bigger than the post, we need to support our posties in order to send a very real message to Ottawa. We need to fightback and show Harper that the working class and the public sector will not stand for such austerity and contempt!
NB: If you haven't already, you will probably hear or see the figure 1.4 billion in the media. This is the alleged price tag of the workers demands. CPC refuses to reveal how they reached this number and it is without a doubt a wild exaggeration!