Today marks the first day of Soñando Por Holbox, a public art festival taking place on the tiny island of Holbox, Mexico off the coast of the Yucatan Peninsula. Started in 2009 by local hotel owner Daniel Trigo, the festival has grown to include over fifty artists flying in from all over the world.
Festival co-organizer and Art Director Rubén Carrasco of Montreal-based street artist collective 5 Wolves No Pigs spoke with Forget the Box over the phone in advance of the festival's opening:
FTB: Google translate tells me "Soñando por Holbox" means "Dreaming for Holbox." How does this public art festival capture the spirit of its name?
Carrasco: Two years ago I went [to Holbox] for vacation and I met Daniel. […] He was inviting the artists on vacation to paint something related to the local people about their island; because the island is changing really fast like any place that attracts tourists. The island here is very very tiny, so the impact is huge. I suggested we plan a festival so the message isn't just through the walls.
The name [refers to] the dream of Daniel. [5 Wolves No Pigs] took over that project and we [made] it big. As a collective, we're supporting it and planning on doing it every year.
The [tourists] who go [to Holbox] are international. It's an international destination. It's very private because of the nature of the geographic location of the island. There're just 400 rooms in the whole island. It's also great because it's so small. If you go there, it's because you really want to relax. So when you walk into the island and the village, you start to see these walls all around. And then you start to question why they are there. You're going to ask the people working in the hotels why they are there. And people take a lot of pictures.
The village is about five blocks or seven blocks by three or four and that's it.
FTB: Are any of the artists in the festival from the island? What steps do the foreign artists take to understand the island's heritage and represent it fairly?
Carrasco: The island has about 1,300 local people living there. When we arrive, we spend 2-3 days talking with people around. Some families invite us over. Of course, we already have something in mind, but having a conversation with the people can change your first idea. It's a great experience.
The village is small, so at night, we're all sharing dinner together, taking breakfast together, all the artists. The experience is very intense because it's not a festival in a big city, where you see an artist painting one wall and then you never see that artist again. Here you see that artist for 6 days, you have a chance to talk to them, a chance to sit.
We also have multimedia, which is very cool because we [bring] this kind of art to the people of the island. There is feedback on both sides about inspiration and to show to the kids and local people we have the potential to see how art is developing.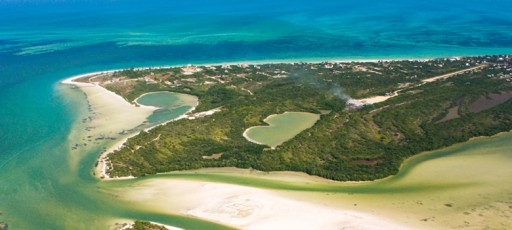 FTB: Do you see public art taking a more active role in environmental justice in the future?
Carrasco: Mexico, especially the south of Mexico, in general, hasn't developed a good way to control waste and pollution, especially when you're talking about spray-cans. Anything you bring to the island affects the island. So what we do is we use water-based colours, the ones you regularly use to paint walls, and we avoid and don't use spray-cans because of the waste. To paint a wall you're talking about minimum 50 cans, so when you go to 50 to 200, and you're talking about 30 houses… We're trying to promote no spray-cans. We understand it's a trend. It can be contradictory because many artists and street artists think there can be messages related to politics, related to pollution, to many things. It confronts the system but I find that we get involved if we use spray-cans. You see the spraycans everywhere. Especially for the island, we try to avoid that.
FTB: What makes Holbox different from other public art festivals?
Carrasco: It's more about the experience for the artists. In some well-established festivals, like Wynwood Miami, that are internationally recognized, [artists] go [for the recognition]. But for here, they're paying their own tickets to come work with us. It's more about the culture.
We're not doing something different in terms of intention – I just think something we're trying to rescue is […] these people and the culture. Wynwood in Miami was an area that was very dangerous before. It was a sketchy area. Now you go to Wynwood and it's full of galleries.
When you bring these kinds of festivals, you try to organize people. You try to incorporate them, local parties, with artists that are already recognized, professional names. They come to paint with a gang. We're looking to open opportunity for other artists. For example, there are artists from Mexico City, [who] don't have a chance to go out of Mexico but in this festival, they will be sharing walls with people from Spain, from other places in Latin America, from Canada, from France.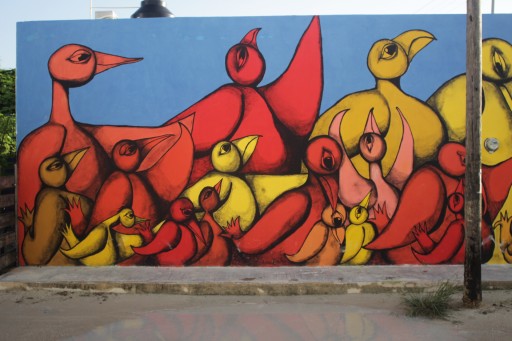 FTB: How has the festival affected local artists?
Carrasco: I go every year to the art festivals in Miami and the perception we have about art is different than someone that is just developing his own art to the island. So you don't think about the market in Switzerland, you don't know about Art Basel in Shanghai – you just don't care. So it's funny because if you see that you will find it naïve, but that's cool, so we invite them to be part of the festival.
We have about 3 local artists. One of them is a teacher and she knows a lot of material to [create] installations for culture. We invite local artists to approach installations through waste, using waste materials, to develop their piece. So we try to send a message through that so the kids can see that. So its also a part of the preservation.
FTB: What are some of the most challenging aspects of the festival?
Carrasco: You don't have all the supplies you usually have in a big cities. For example, last year, I was desperate to find something to mix my paint, so I found a coconut and used that to mix my paint. You really have to survive, you don't have any lifts, we don't have that there. It's really expensive to get one of those there. We use what we have.
All the artists feel that. They're living a different experience. It really becomes a small family for a week. And it's just a complete adventure.
Featured image is Ruben Carrasco's mural for last year's festival.