The streets of Brazil are on fire in anticipation of Carnaval – one of the world's largest and most extravagant festivals. Unfortunately, in Santa Catarina province where I find myself, the streets have literally been set on fire.
After a louco night of partying and dancing in the streets to the hymns of the lively Carnaval music in Florianopolis, the capital of Santa Catarina, I stepped onto the balcony of my hostel to get a whiff of fresh air and to take in the beautiful weather. In what could be something from War of the Worlds, I was surprised to see a spotlight shine down on me from overhead. The thumping noise of the helicopter in the distance signified something was wrong.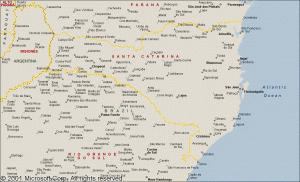 For the third night in Santa Catarina, masked bandits provoked mayhem by setting city buses on fire, attacking military or police bases, and lighting private vehicles ablaze with grenades and Molotov cocktails. 27 attacks, which included the burning of 15 city buses, took place in ten municipalities across the south-eastern Brazilian province.
Afraid to work on Saturday night, bus drivers refused to man their buses and the entire system in Florianopolis was forced to shut down at 10pm.
According to the government in Santa Catarina, the attacks were coordinated by the same group that launched 59 similar incidents in November 2012 in protest of new drug trafficking laws and the transfer of two major drug dealers to different jails. With cell phones inside of jail, going to jail does not really change much for head honcho drug dealers.
The unrest in Santa Catarina comes at a time when Brazil is still recovering from the shocking tragedy that struck South America's largest country just over a week ago when 233 young people mostly aged between 16 and 20 were killed in a club fire in the south of Brazil. Canadian connection: a group of volunteers from the University of Toronto have arrived in Brazil to assist the rehabilitation of the nightclub victims who suffered from severe smoke inhalation.
Just like any cliché book or movie, rains just started to pour after a full month of dry balmy summer weather in Florianopolis — it's called pathetic fallacy. What's more, the forecast calls for rain throughout Carnaval week in Rio de Janeiro – the Mecca of Carnaval celebration for South America.
If there is ever a worse time (obviously there can't be a good time) for tragedy and criminal activity to take place in a country it's right now for Brazil. Carnaval-time is undoubtedly the busiest month for Brazilian tourism as thousands of foreigners flock to the gorgeous country to take in its culture, beaches, party lifestyle and caprinhas (local drink made with cachaca, lime and sugar).
Right now, I can't tell you what will happen next. Hopefully just booze, beauty and samba bums.
Stay tuned to see what else I encounter at Carnaval 2013 (would you rather be freezing your ass off outside in -40 degree weather or swimming in a McGill University ice flood? Didn't think so!).