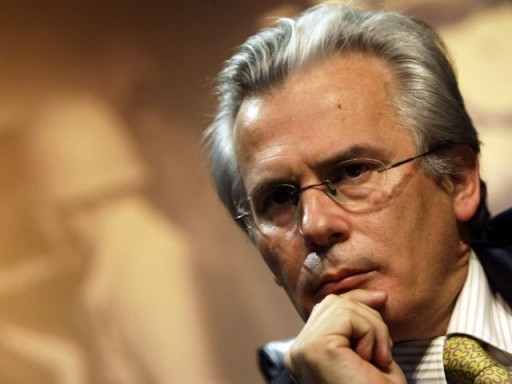 People love to invoke the name of Franz Kafka for the slightest fucking absurdity in their lives. Example: I waited in line at the post office for an hour. Then I was told by the clerk that I would have to put my own envelope in the mailbox! WHAT A KAFKAESQUE TWIST OF FATE! In truth, very few situations in our humdrum daily lives would actually make good material for one of this Czech/German/Jewish writer's novels or short stories.
Then there's the legal ordeal of Spanish judge Baltasar Garzon, a human rights lawyer and jurist of the very first order who is currently standing trial in Spain for allegedly breaking the country's laws. Perhaps the greatest living legal champion of justice for victims of human rights, crimes against humanity and war crimes, being accused of violating the law he was sworn to uphold and trotted out in front of his former colleagues on the bench to answer to their examinations. I absolutely think Kafka would recognize this.
First, a brief look at the event that made the man a hero to many of us advocates of international law and rocked the international community to its foundations. It may not seem this way now, but before 1998, the idea that a former dictator, let alone from another country, could be brought to justice for crimes committed by him or on his behalf by his subordinates years earlier, was laughable.
Garzon, on the basis of the increasingly accepted doctrine of universal jurisdiction, got the ball rolling with an indictment for General Augusto Pinochet, former Chilean tyrant and senator, for crimes committed during his 17 year rule as generalissimo of that country. However, due to a legal technicalities and Pinochet's allegedly poor health, his trial before the British House of Lords was cancelled. This was a watershed moment in international law and has been cited as precedent in any number of cases involving war crimes and crimes against humanity (Charles Taylor, George W. Bush, etc.) ever since.
The current case against Garzon smacks of political vendetta. The main element of the state's argument is that the Garzon has violated a 1977 amnesty passed by allies of the Franco regime in order to facilitate the transition to democracy and provide immunity for atrocities committed during the fascist era of the country's history. In his defence, Garzon has raised two key points: that crimes against humanity cannot be swept under the rug by virtue of any domestic law and that, since the crimes investigated (i.e. disappeared victims of the fascists) are ongoing, they remain subject to criminal prosecutions.
Garzon has made powerful enemies over the years for his fearless willingness to prosecute criminals, regardless of their status or location. Though his targets have often included notorious right wing extremists like Pinochet, it's worth noting his courageous attempts to bring their mortal enemies to justice as well, including the members of Al Qaeda and Basque terrorists affiliated with ETA.
While I am always in favour of national reconciliation, it should never be done at the expense of justice. How will Spain ever put the ghosts of the past to rest, if it doesn't allow this type of investigation into historical crimes to take its course? Garzon is a hero all over world for standing up for international law and human rights, this trial is a travesty designed to besmirch the reputation of a man whose name is synonymous with integrity and the rule of law.