Heathers – EP (Oct. 2013)
post-riot grrl / rock / alternative
Fairly new on the scene, local act Heathers (not to be confused with the indie-pop duo of the same name) recently released their first EP. This self-titled EP showcases what they term as their brand of "mean girl croquet rock" (a reference to Heathers one of the best films of the late 80's – seriously watch it).
I've had the pleasure of seeing the talented trio play live a few times and was excited for the release of their EP, which they recorded with Dorian Scheidt of Captivator Media. A friend at one of their shows compared Heathers' sound to Wild Flag, a supergroup made up of members of some of the more influential riot grrl bands like Sleater Kinney. Indeed, Heathers has its sound rooted in the riot grrl genre citing PJ Harvey, Sonic Youth and Savages as additional influences. They first had me sold when the trio delivered a kick ass live cover of none other than my favourite Sleater Kinney tune: One Beat.
It takes serious vocal chops to sing One Beat and these ladies deliver. Their debut EP showcases the vocal talent in Heathers very well, especially in "Assembly'. "Cicada" is our favourite track because it brings us back to the 90s in the best of ways with its catchy instrumental hooks.
Hear Them:
See Them: On November 30th at Cagibi with Doilies and Rise at Dawn
Joey Langlois – Spin Around Me (Nov. 2013)
indie / pop rock / singer-songwriter
From the first track of Joey Langloi's Spin Around Me, it's clear this young singer-songwriter has talent and loads of potential. A quick look at the album credits and acknowledgements show that there is an impressive amount of local talent working with Langlois supporting his musical project. In many ways, these names speak volumes.
Langlois's musical arrangements are moving and his impassioned vocal make for lovely songs. Lyrically, there is a journal like quality that make them somewhat more appropriate for a younger age group perhaps. However, the melodies and hooks are catchy and in many ways this matters more. Well recorded and well produced, Spin Around Me is a strong debut for a promising local artist.
Favourites are "Maybe Just Maybe" and "Growing on Me". There's a kind of Gavin Degraw quality to Langlois's tune "Pull Yourself Together".
Hear him:
Michael Cota – Apollyon (Nov. 2013)
experimental / noise / psychedellic
Experimental and psychedelic music aren't my go to kind musical genres. However, I've fallen in love with Michael Cota's (Archery Guild) newest solo album: Apollyon. In one sentence: I'm reconsidering musical life choices after hearing Cota's new beats.
In the last year, Cota has released three solo albums. This four track album has all the qualities of a great genre film soundtrack some kind of twist on Donnie Darko or  more along the Drive aesthetic, both films whose soundtracks kicked ass. The possibilities are endless. Apollyon is the kind of album one listens to imagining and introspecting during those fleeting moments where awake meets asleep blend propelling one into the wonderland reigned by Morpheus.
On the flip side, Apollyon, and most of all its title track, inspires kinetics: a kind of transcendental sweaty dance party experience with sweat running down bodies where make up is blurred in abstract paintings on the faces of lovers. Dissonance has a place in this musical recipe and although at times might be a bit too much for my harmony prone ears (like in 'Land'), this element works to bring in the umami. Our favourite tracks are 'Apollyon' and 'Wound Up', which features Magoni (The This Many Boyfriends Club) and boasts intriguing and tantalizing lyrics.
Hear Him:
Greg McLeod – Little Gwai (Nov. 2013)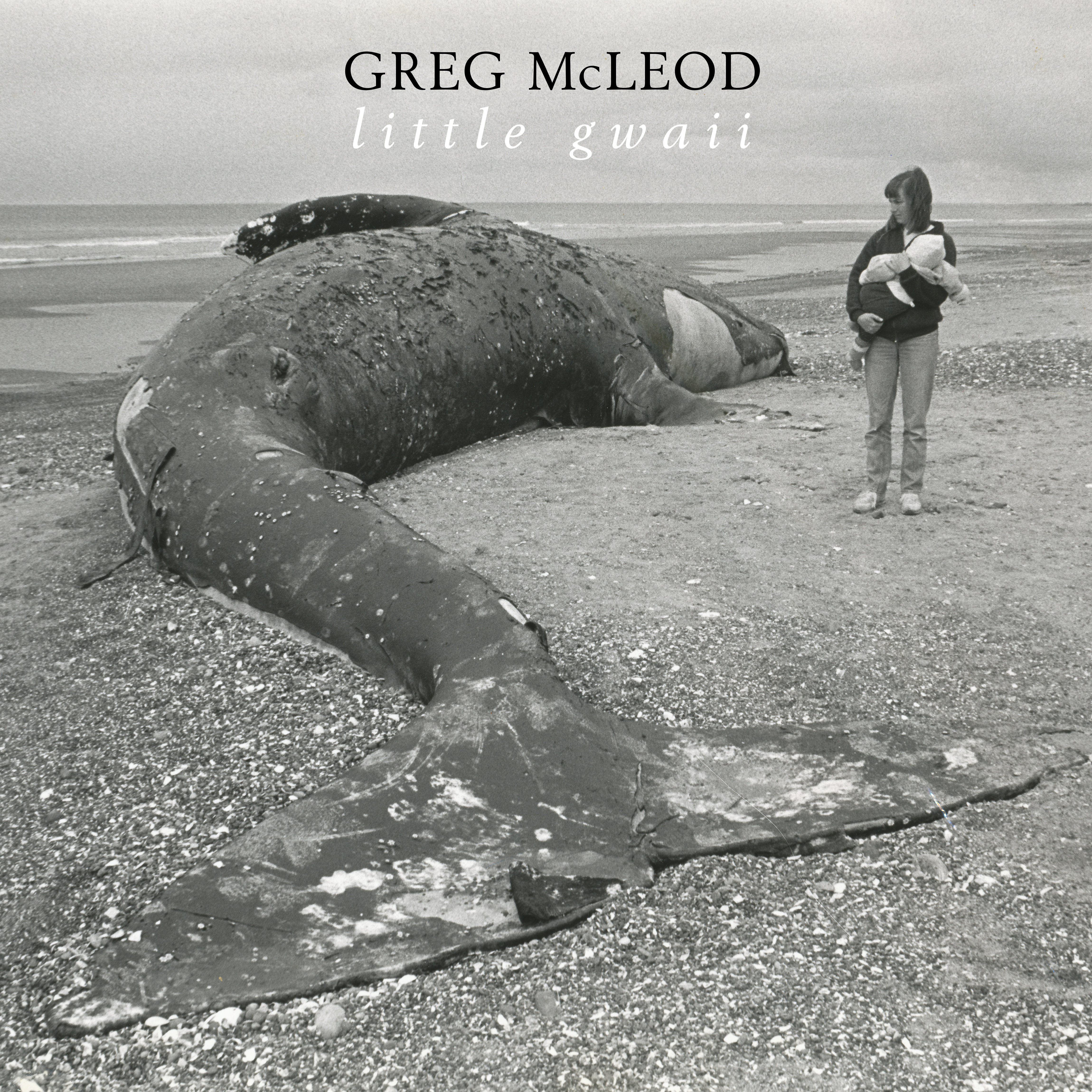 loop / hip hop / indie rock / folk
Since the end of local band The Argyles, frontman Greg McLeod  moved across the country and began playing for local west coast bands like The Oh Wells and, for a time, Jordan Klassen to name a few. In the last year, McLeod has released three solo albums, the most recent of which Little Gwaii, is a most pleasant surprise. McLeod's last two solo albums, "5 Best Songs" and "The Invisible Girl" were firmly in the realm of indie folk pop rock, with a hint of classical due to McLeod's violin background.
Little Gwai is a different beast altogether, a virtuous experiment in using the loop pedal as the pinnacle instrument in musical composition. This has added a spoken word and hip hop flair to McLeod's previous musical stylings – a unique kind of musical home brew. This musical direction highlights McLeod's talent at production (he produces and mixes everything himself) and his lyrical craft. Our favourite tracks are "Unfriend" and "Kill This", we'll admit to having spent an entire day listen to them on repeat and will happily do so again.
Hear him:
Les Monstres Terribles – Le Papillion de Nuit (Oct. 2013)
indie / rock / haunting, melodic /
I picked up a copy of Les Monstres' new release, Le Papillion de Nuit, a compilation of the B-Side tracks from the full length Le Loup et Le Lapin.
Quentin Mitchell's voice has a beguiling bard like quality that has not yet ceased to impress me. The arrangements and panoply of vocals in Le Papillion de Nuit are strong and haunting, unweaving the veil between worlds, telling and evoking stories of lost love, passion, and regret. All three songs, have the ability to use different sounds in tress like ways, managing to combine different styles together almost seamlessly.
If we were to think of the tracks as dark tales this is what they evoke: "Exes & Ohs" begins the compilation with its softer haunt prompting reflection and creating a soundscape the likeness of which is a cold and foggy field not too far from the sea, somewhere where love died. As for, "Uno" it has a definite classical quality, a sort of opera meets passionate dancing in the streets in the honours of matador's thing going on. The closer, "Letters from Purgatory" is a mystifying anthem of a chorale of undead carnivale workers enslaved by the madness of a phantom of the opera-like character hidden within a velvet draped carnival chariot.
Les Monstres Terribles have the ability to get imaginations in overdrive and to deliver difficult arrangements with flair both live and in their recordings. Pas terrible pan'toute!
Hear Them: