"Stay in control," a distorted voice tells you time again throughout the 85-minute Tauberbach, brought to the Monument National theatre by the Festival Transamériques (FTA) for two nights of packed houses. It's the kind of show that can only emerge from the lavishly state-funded alternate universe otherwise known as Northern Europe.
The German-Belgian dance theatre company Les Ballets C de la B, helmed by luminary director Alain Platel, is a major player in a part of the world that can afford to give a troupe of dancers three uninterrupted months to produce a piece collaboratively, and end up touring the world with a rider that includes 3000 kilograms of mass-produced clothing.
Strewn over the stage in piles from which Platel's seven dancers emerge (and into which they disappear to comic effect), the three tons (yes, tons) of clothes become the props, set, and habitat for actress Elsie de Brauw and her six acolytes to play with. Teasing the audience with repeated scenes of decadent non-language (like that pan-cultural idiom that Cirque du Soleil clowns speak in, but more intelligible), the athletic characters combine and disperse in a world so artificial that their bodies seem to melt into the polyester. Often employing cinematic techniques of otherwise "cheesy" slow-motion or rewound gestures, the dancers transfix you as they play on a mobile heap of Apocalypse Apparel.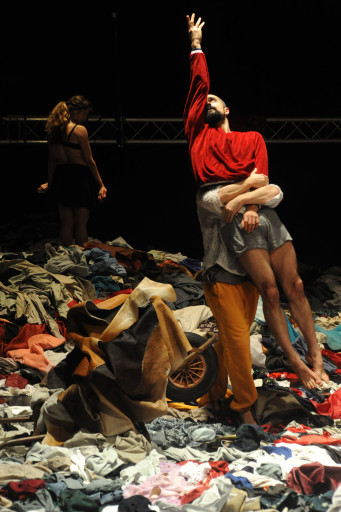 "I did not shit this house / There are no more innocent people. There are only wise guys in reverse," De Brauw's garbage-picking crone Estamira intones. So this, in a world where refugees to Europe are drowned at sea like so much jetsam, where landfills are so overflowing that ships of garbage are sent to poor countries to handle the overflow, is meant to tell us that we are complicit in Estamira's material oppression. We are sucked into the performers' often slapstick physical comedy and then rebuffed by scenes that seem unnecessary or excessive: the artifice and violence of this filthy world – that is only symbolically filthy – appeals to the child within us while repelling our anal-retentive adult tastes.
Tauberbach is the opposite of the nicely arranged electronic music that so often accompanies contemporary dance; it is an indictment against the empty black (or white) stage with a lap-top on it. "What a blessing nothing grows," we are told by the Beckett-like main character. If only we could say that of the extravagant quantities of man-made waste we dump into forests and oceans. Alas, no: the natural world recedes and the garbage keeps growing. And we dance in its wake.
Belonging to the generation of 80s legends that redefined "maximalist" choreography (Jan Fabre, Caterina Sagna, Carolyn Carlson, and the late Pina Bausch), Platel is a wizard of uncanny juxtapositions. While his last envoy to the FTA, Gardenia (2011), was an episodic character study of seven geriatric drag artists, Tauberbach takes inspiration from two artworks far removed from the realm of contemporary Tanztheater: Brazilian director Marcos Prado's Estamira, about a middle-aged woman and her entourage who eek a living off a garbage dump, and Polish interdisciplinary artist Arthur Zmijewski's film Singing Lesson 2 which features a choir of young deaf people singing well-known works by J.S. Bach. It's a typical Platel chiastic of the Apollonian and the Dionysian.
There's a reason that this work of vocal, visceral, baroque dance theatre also manages to be a crowd-pleaser, well two reasons, really: Ross McCormack and Romeu Runa. The former with his up-close-and-salivating vocal techniques and muscular presence, the latter with his Ivo Demchev-like back-bending animalism, are like extraterrestrial siblings: complete control and complete abandonment. Bach in a garbage pile. Everything.