Montreal is just as cool as Brooklyn, according to Steve Ferrara and Amy Priya Santos, the pair collectively known as Sunshine. The two Brooklynites have spent a lot of time traveling back and forth between the two cultural epicentres since their band's inception in 2009. So much so that Montreal is something of a second home to them and their network of friends has become like family.
"We've played other cities but I feel like, outside of our general home base, we have the strongest connection to the Montreal scene as far as our music goes," Santos said.
The band cites several reasons for this. Logistically, it makes more sense for them to travel here than other cities with similar music scenes like New Orleans or San Francisco.
"It's probably the closest city out of the New York area that we feel has a really interesting art scene that we can commute to really easily," said Santos.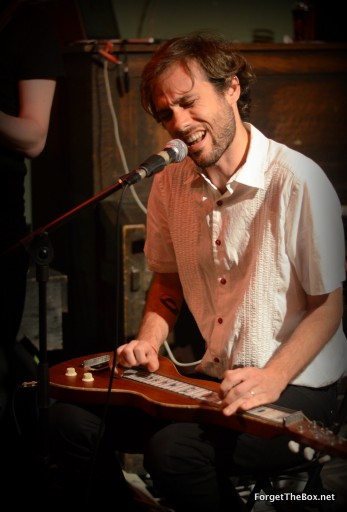 "There are so many intricacies here. I like how people are politically active but they're also artistic," Ferrara added.
Additionally, they have built up lasting relationships with many people in the Montreal music scene.  As a matter of fact, the duo have recorded a good part of their forthcoming album here.
Collaboration is an important feature of the band's music. Santos and Ferrara explained that, in the beginning, it was crucial to establish Sunshine as just the two of them. Without any permanent members other than themselves, the pair were free to collaborate with as many other musicians as possible.
This fluidity has led the band's music to evolve into an eclectic blend of sounds and influences. The album they are currently working on, which will be their first, will surely showcase all of the diverse musical talent they have chosen to work with. The album will feature trumpets by the Rev. Crawford Forbes; drums by Montreal's own Joe McLean, among others; conga and harmonica by Aaron Jaekel; organ and slide guitar by Mike Lambert; and more.
Jaekel, Lambert, and McLean recently joined Ferrara and Santos on stage when Sunshine brought their blues-influenced indie rock to Montreal audiences as part of this year's Infringement Festival. They had everyone in a packed Barfly all riled up and rowdy. The band played their soulful, dance-able songs with contagious energy and exuberance.
Their repertoire consists of a mix of original material and classic songs, such as the one they finished off their Infringement set with to great effect: 60s smash hit These Boots Are Made For Walkin'.
Following their Infringement set, Sunshine headed back to New York to finish recording their album. They expect the album to be ready in the fall, at which point they will be back to play Montreal.
* Photos by Chris Zacchia